J24 European Champs title goes to Greece
06 September 2022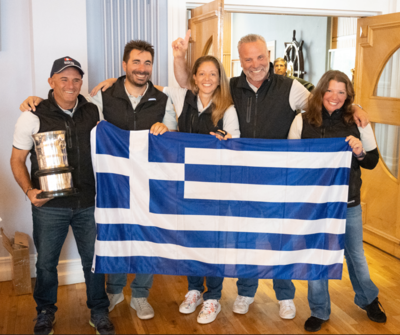 Grey weather does nothing to dull Greeks' performance
Saturday morning presented a seascape where it was difficult to see any contrast between the two greys of the sea and sky. With a light southerly breeze following a flood tide, the challenge for the top four teams would not only be to cover or attack, but to sniff out a couple of knots more wind than their neighbours.
Denny Vaughan (Seattle's Corinthian Yacht Club) had a less than glamourous start, but his team on "Easy Street Records" clearly had some inspirational tunes coming from the sound system and worked through the fleet to take the race win, matching their Race 1 result.
While the Greeks ("Jmania"), the Germans "Schwere Jungs", the Irish "Headcase" and the British "Cacoon" were caught up in their own battles for the lead over on the supposedly better right hand side, the Under 25 team from Kinsale Yacht Club sneaked off to the left with Denny and snatched a tasty 2nd place. This was no flash in the pan. The KYC team had been chalking up consistent results all week and ended up just one point behind the overall winners. Skipper of "Kinsailor", Micheal O'Suilleabhain has recently taken on one-design keelboat sailing and is a form to watch.
After some high scores for the leaders in the final race, "Jmania" ended on equal points with "Cacoon" and took the European Championships title on countback.
The new champions took their week's racing seriously but certainly didn't shirk from nights out. Regatta Chairman Richard Kissane had to turn out the HYC lights on more than one occasion while the Greek, Irish, German, American, Italian, USA and GBR sailors partied hard.
When the applause had died down, Greek J24 Class President, Christos Kifidis, invited the fleet to compete for the 2023 World Championship title in Thessaloniki. Word on the street is that the Kinsale team already has flights booked!
Click for link to A.Blaney photo gallery
Registered in the Republic of Ireland. Registered No. 81187