One Much Adored Hunter Legend 36 On the Market in Torrevieja
03 November 2021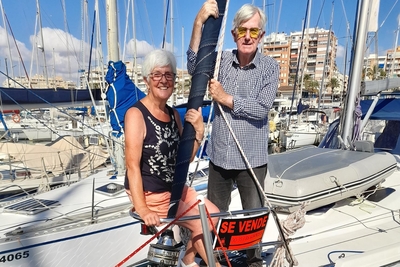 Who wants to buy a magnificent Hunter Legend 36 moored in Torrevieja? Yes, our boat is up for sale which, when sold, will mark the end of an amazing 16 years of cruising for us.
It all started way back in 2006 when we departed HYC on board our Halberg Rassy 42, Safari of Howth. We had purchased the boat from the late Ian Morrison in 2002 and spent 4 years preparing for the great day when we would both be retired and free to roam the oceans of the world. Of course, Pat and the late Olivia Murphy had set a fine example before us and were generous with their advice to us cruising novices.
We hadn't gone too far down the Irish Sea when I started writing reports of our adventures for family, friends and fellow members of the Cruising Group in HYC. The then Captain of the group, John McInerney, suggested I submit the reports to the club's online Newsletter. As I am no Winkie Nixon, I was very reluctant to embark on such a literary challenge!
However, by the time we reached Gibraltar, I was so impressed and proud that we had succeeded in getting that far and also I found the location and history of Gibraltar so fascinating that I sat down and, as if writing an essay for Leaving Cert English, I wrote the first report that was submitted to the club's website which was then organised and run by John Deane. The rest is history as they say and recently resulted in the private publication of all those reports in our book entitled "Sailing the Dream'', a copy of which is in the club library.
When we replaced Safari of Howth with La Lumiere of Howth in 2014, the plan was to take it easy and potter around the Med. To that end, we sailed from Howth down to Torrevieja in 2015. Having had a Halberg Rassy, we were more than a little anxious about how a "plastic fantastic" boat like a Hunter Legend would perform crossing Biscay and going down the rather infamous Portuguese coast. We needn't have worried as we covered the 1,500 nm or so without incident. It gave us great confidence in our Bilge Keeler and for the next 4 years we enjoyed many cruises up and down the Mediterranean coasts of Spain and France.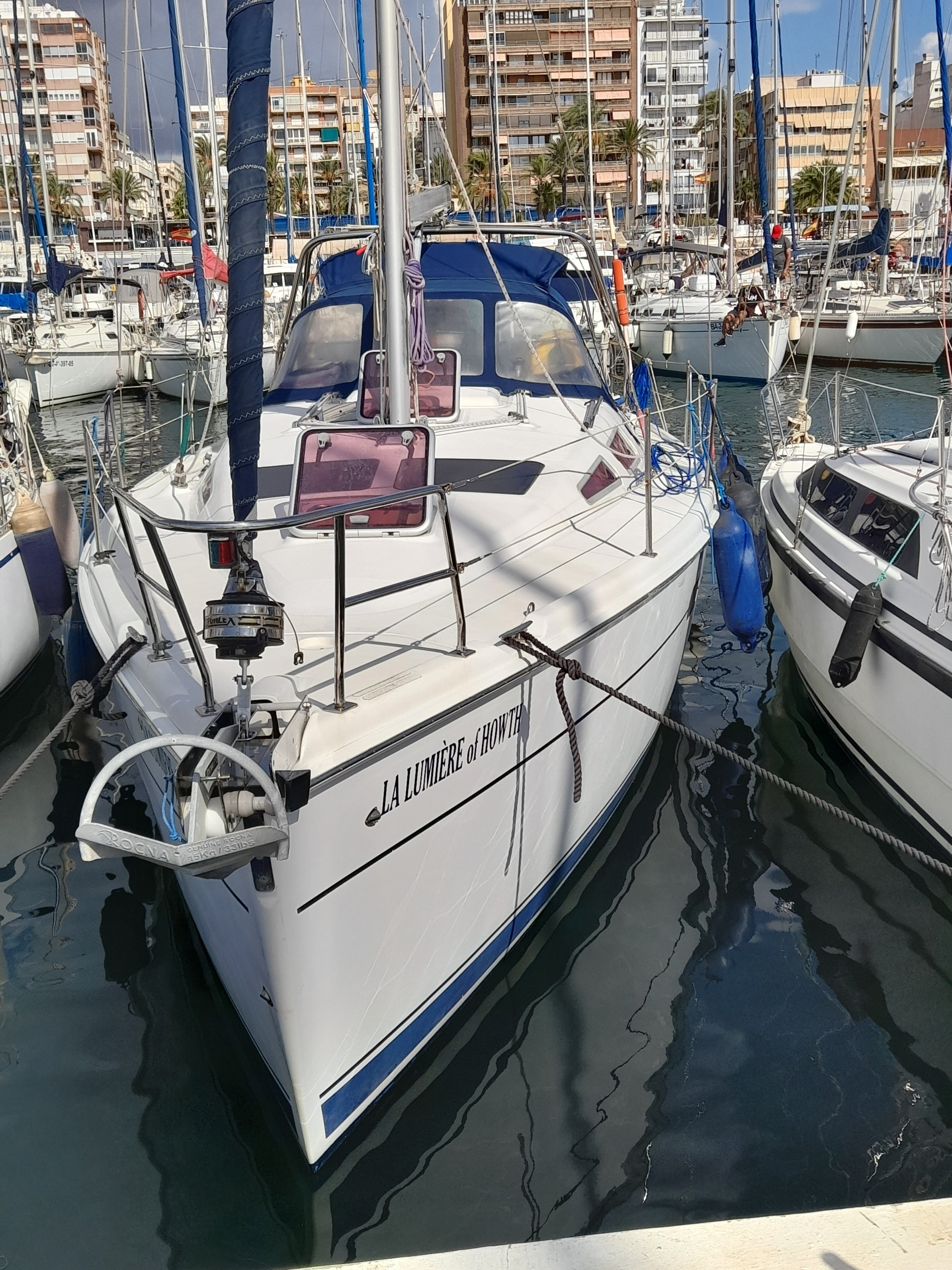 La Lumiere in Torrevieja
Then Covid struck and temporarily put an end to our cruising. After an absence of 23 months, we finally got back down to La Lumiere 3 weeks ago. Once again, we were both delighted and relieved at how well she had withstood the vagaries of very strong winds, heavier and more prolonged rain than normal and of course the intense summer heat and all that over 2 summers!
We had employed the marina electrician to go on board every month to start the engine and check that all was well. However, his brief did not include cleaning, so we have been scrubbing and polishing since we arrived! The boat is now immaculate and in great working order. We have also replaced the plastic windows in the sprayhood which had become opaque, had the engine serviced and the bottom cleaned and checked. All is well and ready to go.
However, even though the boat is in great shape, we are not as sprightly as we were 2 years ago. We no longer have the energy levels required for safe sailing and cruising and the opening of a new discotheque just across the water from our berth here in Torrevieja has somewhat spoiled this location for us. Of course, we could move to another marina, as there are many to choose from, but we have decided that the time has come for us to hang up our cruising shoes and confine our boating to home waters.
We won't exactly be racing around the cans again in Howth but you might spot us motoring sedately past those same cans in Panella, our Antares 760 motor boat, which we acquired in May 2021. We are so looking forward to participating in the Armadas organised by Admiral Gerry O'Neill to the far-flung corners of Dublin Bay and in good weather sometimes beyond!
As this will be our last report from foreign parts after 16 years of sending reports to the HYC website, we would very much like to take this opportunity to once again thank all those members of HYC who not only got us started in sailing but then proceeded to support us in realizing our sailing dreams, in particular Cyril Guerin and Eddie Brennan who did the Atlantic Crossing with us and finally to all of you who read those reports and gave such enthusiastic and encouraging feedback, a huge thank you.
Carmel and Ken Kavanagh
We would like to thank Carmel & Ken for their series of articles over the years and wish them the best of luck in the future on nearer shores.
Registered in the Republic of Ireland. Registered No. 81187