A Tale Of An Admiral, Two Commodores & A HYC Pennant
30 August 2021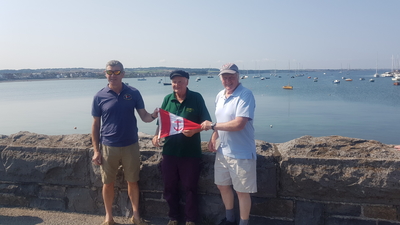 It was a delightful sunny day for our impressive fleet of yachts and motorboats to venture forth for our Annual Armada to Skerries.
Liam O'Callaghan Commodore and his joyful band of members of Skerries Club welcomed our HYC Cruising Group fleet of over 20 yachts to his delightful hometown harbour last saturday 28th August. Liam had reserved the outside area of the Sailing Club and arranged for picnicking, bar services and facilities for our merry group. Liam also arranged for a ferry service for the yachts using their visitors moorings.
Therese Birmingham was celebrating her 21st Birthday on " Bite the Bullet". David Hopkins on " Mare" brought along his dog "Miffy" for company. Percy and Aine on " Hair Raising" had just returned from their Atlantic Challenge voyage.
Skerries Sailing Club had previously asked for Assistance from HYC with regard to identifying the existing flags hanging in their Bar. While carrying this out " Admiral Gerry O'Neill" had noticed they had no flag from our Club. So on this fabulous occasion, Gerry and our Commodore Paddy Judge rectified this anomaly and formally presented Liam O'Callaghan with the HYC Pennant for display behind the Skerries Sailing Club Bar.
Following our picnic, gentle cool winds picked up offshore allowing many members a sailing voyage return to HYC.
Many thanks to all participating members for attending this event. A special thanks to Gerry O'Neill.
Willie Kearney
Cruising Group Class Captain
Full Gallery of photos from the day here
Registered in the Republic of Ireland. Registered No. 81187