Greystones Armada Go Into The Blue With Strawberries & Cream
19 July 2021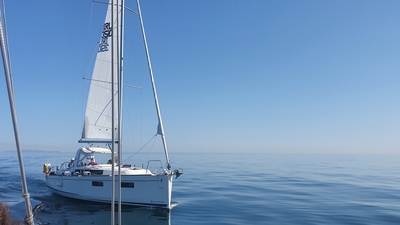 A large fleet of 16 yachts promptly left Howth on Saturday at 9.30 AM to catch the tide.
Andy and Joan Knowles had their first maiden long voyage in their new Jeanneau Merry Fisher 895 motor boat Skua.
Carmel and Ken Kavanagh also joined the group with their new Beneteau Antares 760.
Mediterranean weather greeted us with little wind while crossing the placid Bay. The Oscar Trainor passed by on the inside of the fleet with the guidance of the Dublin Port Authority. Magnificent scenery was encountered while passing Bray Head with the sloping yellow and green plains approaching Greystones Harbour.
The Greystones Sailing Club Regatta was in full magnificent display with a rainbow of spinnaker colours and its own sailing fleet. Unfortunately, John McCabe's yacht "Free Spirit" became entangled with a lobster pot line and had to be taken in tow by Clifford Browne's yacht "Rhapsody". Greystones Marina were radioed in advance and arranged a diver to be on standby to kindly free John's propellor in the Marina. Alan Corr, Harbour Master, had allocated a special area in the Marina and welcome for our fleet. Picnics and take-aways were partaken by all crews amongst the merriment atmosphere followed by strawberries and cream on this magnificent day in a picturesque setting. It is regrettable we could not dine with Greystones sailing Club but we will return again when circumstances allow us to do this. Many thanks to Admiral Gerry O'Neill on "Gerryatric" our lucky mascot who brings good weather with him for all events.
I have enclosed a Gallery of photographs taken of the event including the presentation of thanks with a special card to Alan Corr (Harbour Master) by Gerry O'Neill.
Many thanks to all participating yachts.
Willie Kearney
Cruising Group Captain
Registered in the Republic of Ireland. Registered No. 81187