HYC Armada Enjoys First Outing of Summer '21 to Lambay
18 May 2021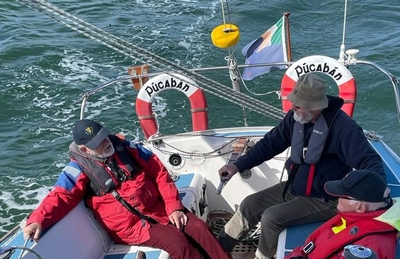 Thankfully, as predicted, the strong wind and rain cleared at 12.30pm on Saturday allowing the HYC Armada Cruising Group fleet to venture out of the Harbour and leave Howth.
The question on everyone's mind was 'How does Gerry O'Neill always get the sun to shine on our Armadas?' Has he got supernatural powers ?'
It was still not a day for the fainthearted however, on arrival at Lambay Island, the sun finally opened up and the swell eased, allowing picnics to be held on board by all 18 participating yachts.
The HYC Commodore Paddy Judge joined our hardy group on "Si Gaoi" and appropriately led the fleet to Saltpan Bay where he let the Admiral of the fleet Gerry O'Neill know in advance that it was unsuitable for anchoring and that the fleet was to instead anchor at the entrance to Lambay Island Harbour. So a fantastic day was had by all. Garry Macguire on Pucaban had Kieran Purcell on board equipped with a drone.
Drone footage of the beautifully kept fields of Lambay Island, its harbour town and the Cruising Group Fleet is attached below. Photos taken during the voyage are also attached.
Update: Gerry O'Neill is organising another Armada on saturday 5th June 2021 subject to weather, south to Killiney Bay.
For more information and updates email Willie Kearney
Willie Kearney
Drone Video Footage taken by Kieran Purcell
Drone Video Footage from Paul McLernon
Check out the Photo Album Here
Registered in the Republic of Ireland. Registered No. 81187