Tony and Linda Olin start their DeDannan cruising season
11 June 2018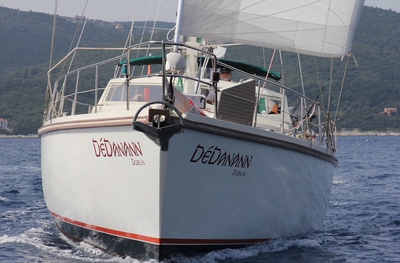 The winter in Ireland was long, having returned for christmas and leaving DeDanann on the water at Yachtmarine, Marmaris @ €500 per month which was reasonable as the marina here is well sheltered and security is good, they look after the boats well here and we encountered no problems on our return.
We are late returning to DeDanann this year, I was dragged by the heels shouting to help the boys carry out some refurbishment works to some fine old Georgian buildings that we have on Mountjoy Square, they have started to spend some money after years of austerity now that property is coming back into value and rents are healthy again, I never really mind working on site, but I find working in the office gruelling with the changes in the way business is now done, internet banking, talking to machines when dealing with utility companies, no humans at our local bank anymore -just machines on the wall, the human touch is going out of business and one is just an account number more and more as the years go by.
My office always had a banjo and guitar sitting in their stands, most lunch times Eoin and I would strike up and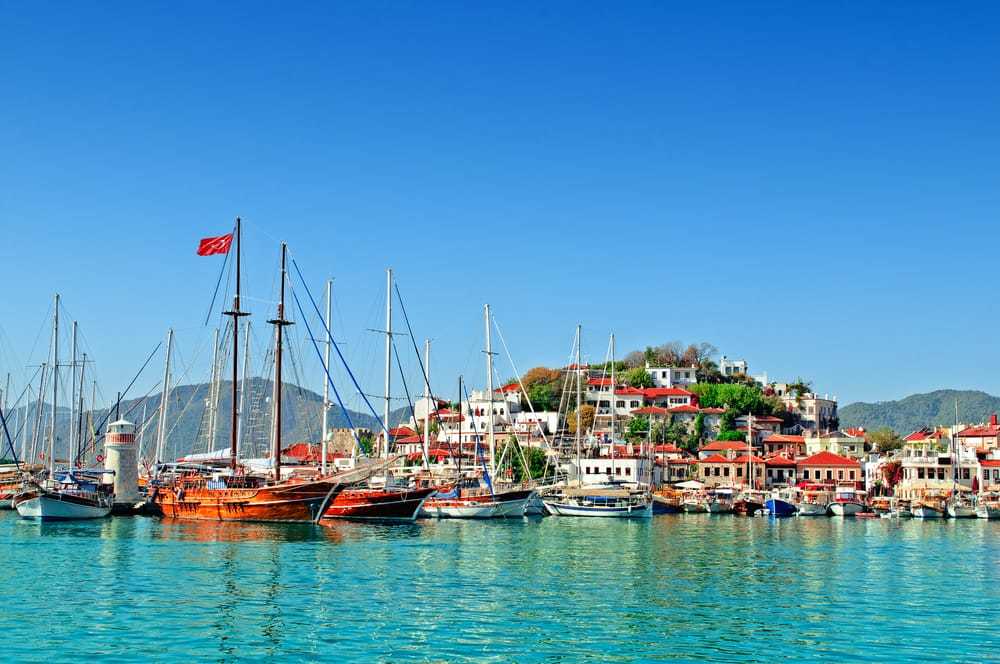 play a few tunes, a few musicians working nearby that we knew would regularly call to us for lunch and we would play sessions there, no business would ever be done in my office during lunch or phones either land or mobiles would be answered between 1.00 and 2.00, that sadly all stopped over the years that I have gone, one can't go for lunch but the boys are constantly taking mobile calls, and doing business has no boundaries anymore, they certainly look a hell of a lot more stressed than me and I think they are suffering from 'cellular fatigue.'
I found myself coming home in the evenings dreaming about the wonderful cruising grounds of the Mediterannean, this is what kept me going knowing we were heading back soon, even Alfie would look up at me drearly every morning as if to say "when are we going back to the boat".
We had some boat works carried out whilst away, a very tasty new stainless steel solar arch with three new solar panals giving 500 amp hours, added to our existing deck panals that we had fitted two years ago giving a total of 750 amp hours into our domestic battery bank of four heavey duty battery's, we are now very much self sufficient to keep two fridges and our freezer running 24/7 without running either engine or generator to charge them. We can also now lift our tender up onto the davits very easily that are attached to this new solar arch, which means no more towing of the tender and the hassle of this when mooring up in ports and marinas.
We had a difficult journey getting back to Turkey this year, flying to Istanbul with Turkish airlines then a five hour wait for our connecting flight to Dalaman and big problems with checking in Alfie, we have noticed that they are not at all fond of dogs in the Muslim countries like Albania, Montenegro and Turkey that we have cruised, and this is reflected in the way the airlines deal with Alfie. We usually fly him with the Greek airline Aegean and it is no problem as the greeks love animals and he is well looked after by them. In anyway, we are here now, and Alfie is happy as Larry basking in the sun and swimming every day, he's great company and a great auld sea dog.
Our arrival on the boat was met with the usual problems of laying up, the fresh water pump packed up, the water heater immersion also, a new starter battery was needed, sanitising of the water storage tank entails putting in 3 litres of bleach and pumping it through all the taps until one can smell it, then leaving it sit for at least 24 hours, then pumping it out a couple of times to remove the bleach before normal use, after this we only buy bottled water for drinking, cooking and making tea is taken from the tank. I fit a second electric toilet as it is so much more easier for visitors who find operating the manual pump difficult, with built in macerator pump it is far more hygenic and a lot better for the environment, there was a good bit of fitting of this and all this work kept me busy whilst Linda got stuck into the cleaning, laundry and provisioning for the summer ahead. I had serviced the engine and generator before laying up and it was only tensioning back up the fan belts and new fuel filters etc before setting off for the summer.
Linda is enjoying shopping at the bazaar and market here in Marmaris where great value can be found for most things needed. Marmaris is a pleasant city, with lots of shopping, it has a wonderful fruit a veg market where food is for pennies, fine restaurants that are cheap by Irish standards, we had a really nice dinner for four in the very nice Pineapple Restaurant overlooking the port with our friend Memduh and his son Mert, excellent food, good wine, lots of Raki for the turks and good Turkish hospitality and service late into the night and all for less than €200 including a decent tip for the waiters.
The Sanayi, is a commercial area, small workshops of every sort where one can find some fine quality steel and wood workers, mechanics and electronics, fibreglass workers and anything that needs fixing on a boat or motor vehicle can be found here at reasonable prices, a lot less than in the marina's.
I was quoted €2050 for a new ocean-going liferaft in the big marine chandlery here and €110 for a new starter battery, our neighbour, Jarda (Yarda) from check republic, is many years living on board here, he took me to the sanayi were I bought the very same items for €1280, a saving of €780 and they delivered to the boat that day.
With the boat provisioned and the works complete we set off in fine weather through the bay of Marmaris back into the Aegean Sea heading south west along the Carian coast to Ekincik some twenty odd miles distant, the wind was light as we motor sailed in a slight swell, it didn't take long before Alfie and I were feeling the dreaded mal de mer coming on, the first few days of the season are always a bit of a problem until we find our sea legs again.
I had noticed that we were only making 4 to 5 knots and the engine was running a maximum of only 2000 revs, a dirty propellor and bottom or the wrong primary fuel filter came to mind as being the problem. I think it is a big mistake and a false economy to lay up for the winter on the water, I may put on my dive gear and get cleaning and replacing anodes soon.
Ekincik, eventually came into view, a wonderful setting tucked into the pine and olive clad hills that surround this cove. We tied up at the My Marina pontoon assisted by waitors from the restaurant, they come out to greet you in their boat and do everything including connecting electricity and water. The charge is only €20 if you patronise the restaurant, this is a high end facility, it is kept in spotless order with crystal clear turquoise water for swimming, it is a most relaxing and pleasant setting to spend time.
We booked a table at the restaurant that first night, it is a good climb up the hill through the forest, just as we arrived a fleet of high end cars pulled up, body gaurds got out first, the restaurant owner and all the waiters were standing to attention at the entrance, some rather important guy emerges from his car watched closely by the guards who are keeping a sharp eye on me, the restuarant owner greets him by shaking and kissing his hand, they touch foreheads left and right, he is then introduced to the chefs and waitors who are impeccably turned out and standing to attention, as we all entered the restaurant there was a large round table that was beautifully set out for them, on enquiry by Linda to our waiter as to who they were, it turns out he is a government minister and obviously an important guy over here, although, there are elections here in a few weeks time and depending on how they go, he may very well find the next time he comes to eat here, he may not get such a grand entrance.
We took a boat trip up the Dalyan river to see the ancient rock tombs of Carian Kings going back to the fourth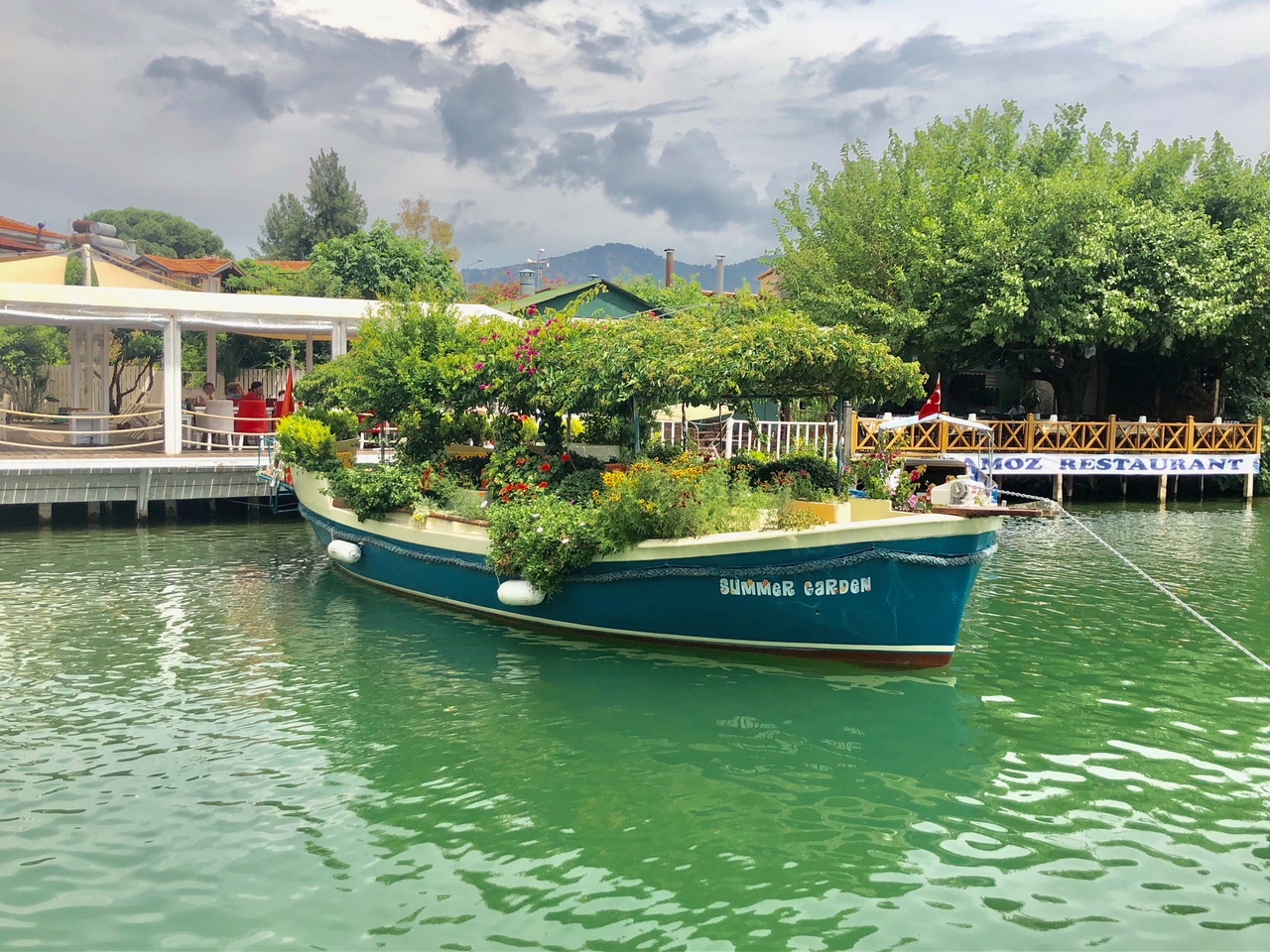 century, lunch at a nice riverside restaurant and then further up river to relax in the ancient mud baths, the stink of sulphur is appalling and takes getting used to, then a wash down and into the hot spa to relax, i had a red rash across my chest and shoulders for some time,I could feel the stinging effect of the sulphur on this as we sat in the spa, the rash was as good as gone the next day. The cost of the entire trip of over five hours was €150 to include lunch and drinks, amazing value for a great day out.
We moved on towards the small city of Gocek some thirty miles distant, again the wind was light from the south as we motorsailed at our reduced speed of four knots. The coast along here is high and rocky, mostly covered in pine forests with goats and sheep grazing on them. We dropped anchor in Kapi Creek, a small cove tucked into the islands as one comes into the bay of Gocek, it has a restaurant and is popular with the local boats on weekends. I put on my dive gear and went down to scrub the bottom and the propellor, hopefully this will sort the problem of motoring at a reduced speed.
We spent a few days here relaxing and taking life easy, its hot during the day but its nice and cool for sleeping during the nights. Waking early in the mornings to the sound of cocks crowing, goat bells ringing, the birds in the forest singing and the Imam at sunrise calling his flock to morning prayer is very much a part of cruising the eastern Mediterranean.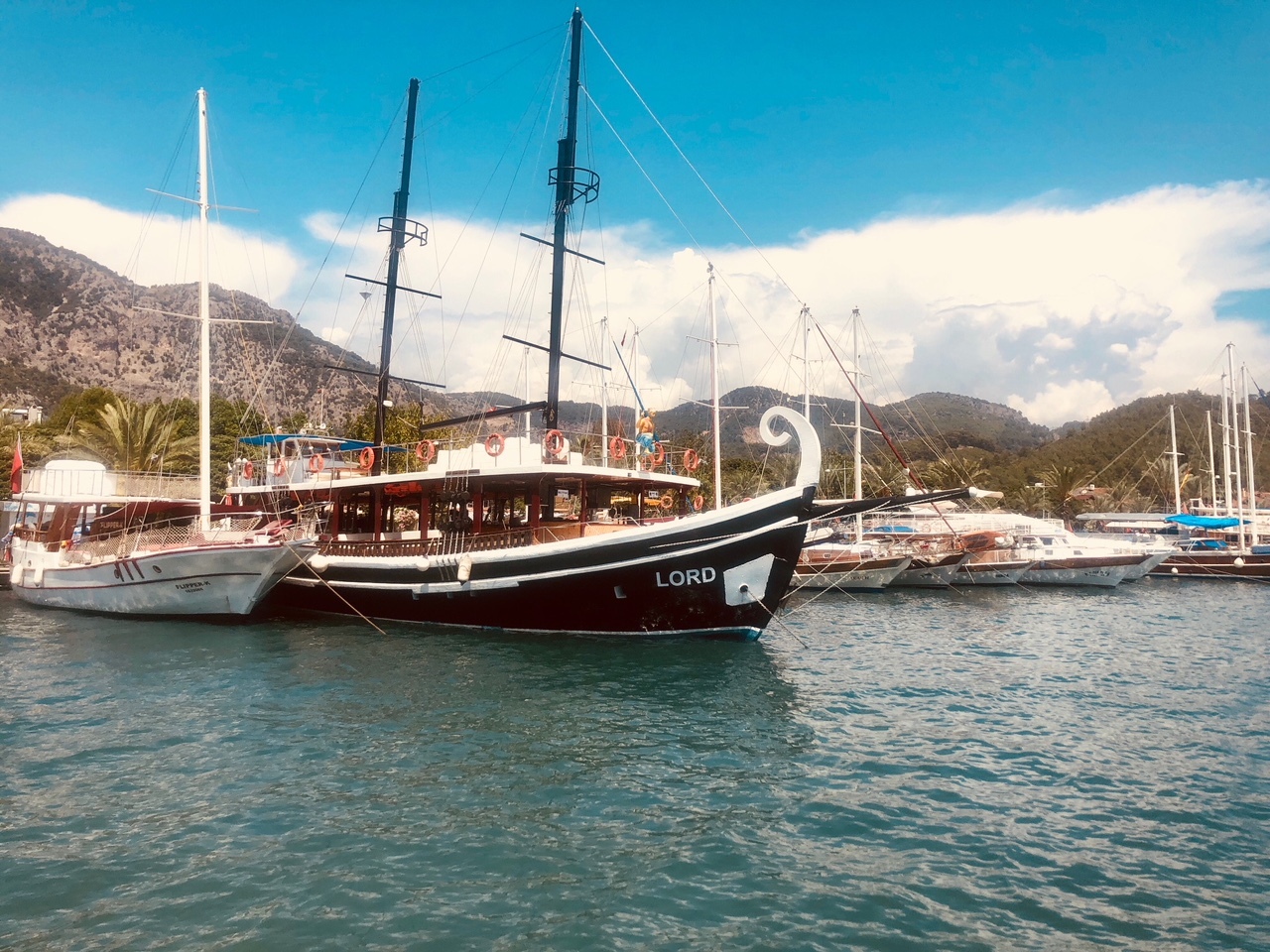 We then headed for the town of Gocek and took a mooring in skopea marina, we have come here to have some work finished that was started in Marmaris, the company doing the work have a dreadful record of finishing things and getting their customers to pay well in advance,I only heard about this after engaging them and parting with a sizable deposit up front, at the time of writing I am hopeful that they will complete the work started, having resisted their efforts to part with more money before the works are finished I wont be out of pocket by too much if they mess us about. My late father used to say" he who pays the piper calls the tune" - pay him upfront and your f!!!!!
Gocek is a small town of one thousand people and two thousand boats of every describtion, the locals are mostly employed in the service to these boats, it has about six marinas and many boats on anchor in the well sheltered bay, being close to dalaman airport it has a few rather up market hotels and country clubs but things are quite here at the moment, the restaurants are not doing much business and the gulets are not moving much from the town quay.
There are elections about to take place in june, the Turks talk more freely about the infamous president Erdogan, they say the economy is in tatters and they seem to blame him, one can see huge posters and red flags with his picture on them hanging from all public buildings and bill boards everywhere, but when you go into the small shops and business's and on the gulets you see framed photographs hanging pride of place of the late Mustafa Kamel (Ataturk), Erdogan will never knock this man off his pedestal.
My late grandmother who nearly made 100 was a republican, intelligence officer and member of the cuman na mban, in her tiny hall hanging pride of place were framed photos of Pope John and Michael Collins, as she went to bed each night she would kiss her hand and place it on each of them, Collins hung above the Pope.
We will knock about here for a week or so and explore the many coves and little islands before setting off into the Aegean again towards Finike, we have no agenda this year, maybe we will return to Greece or head for Cypress and into the red sea towards India for next year.
DeDanann out:
Registered in the Republic of Ireland. Registered No. 81187