Asgard 'Reunion Voyage' announced
27 November 2017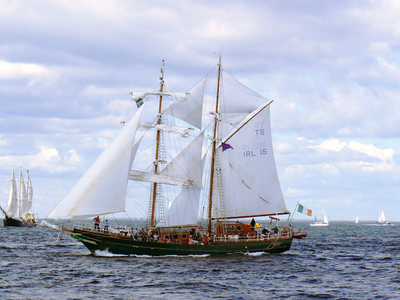 Sail Training Ireland today announced their Spirit of Asgard Reunion Voyage to be held from 12th – 18th of May 2018. The voyage will celebrate the spirit of the Asgard II Sail Training Tall Ship. Twenty eight former Asgardians will come together for a six-day voyage around the Irish sea on board the Tall Ship Pelican. In conjunction with the voyage, a gala ball will be held for former trainees, families, and friends.
The Spirit of Asgard voyage and ball will take place ten years after the tragic sinking of the much-loved Tall Ship Asgard II. The event will bring the former Asgard II trainees together to relive their amazing experience by taking part in a tall ship voyage and to share their stories and experiences. This voyage will serve to highlight to young people today that the same opportunities are available today via Sail Training Ireland's annual programme of voyages.
"Born in Limerick with very little opportunity to sail on the sea, I took my first voyage on Asgard II at the age of 23 years. I sailed on Asgard II every year to 2008 starting as a trainee and progressing to watch leader. This life changing experience opened my eyes to a whole new world and great memories. Now faced with a new challenge as an amputee, Sail Training Ireland have given me the opportunity to fulfil my ambition get on board again" said Frank Hogan.
Sail Training Ireland has continued the work of Asgard since her tragic sinking and has placed over 1600 "Asgardians" since 2011. The charity promotes youth development and education to people from all backgrounds and abilities on the island of Ireland by providing access to sail training voyages. In this challenging and fun environment, the trainees learn about themselves, leadership, responsibility, resilience, team work, overcoming adversity, friendship, and cooperation. As a bonus almost, they learn about sailing and the sea.
"We believe this experience builds resilience and an inner confidence in those that take part. In some cases it can be life changing. We are looking forward to hearing the stories of past Asgardians and how the experience changed their lives" according to Daragh Sheridan, CEO of Sail Training Ireland.
Anybody interested in taking part in the Spirit of Asgard Voyages or attending the gala ball should apply at www.sailtrainingireland.com or call 01 816 8866. For other voyage opportunities see the full voyage calendar on the site. No experience is necessary.
Registered in the Republic of Ireland. Registered No. 81187