DeDannan sails to Istanbul and Tony tells the tale
02 November 2017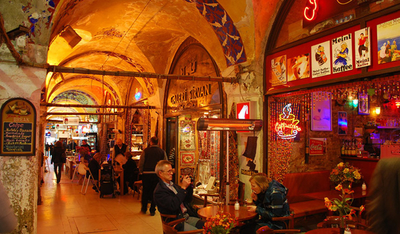 It's early August, were tied up in the port of Bodrum. Linda is gone home to Dublin for a few weeks, poor auld Alfie is not at all well having picked up a nasty infection from a splinter in the paw, it's hot, very hot here in Turkey, it's so hot that both Alfie and I find ourselves down below with the aircon running from mid day to tea time usually sleeping through most of it.
The temperature is excess 40 degrees and even the locals are struggling in the sweltering heat of the afternoon sun.
I've taken Alfie to the vet, she found a splinter embedded deep into his paw most likely picked up in the pine forests of Yedi Adular, he is on an antibiotic to fix him up but in this heat, he is really not too well and is not at all happy wearing a plastic neck collar to stop him opening the dressing. Vets here cost about half the price they do back home.
We paid our outrageous bill of almost a grand for six days here at the marina in the very nice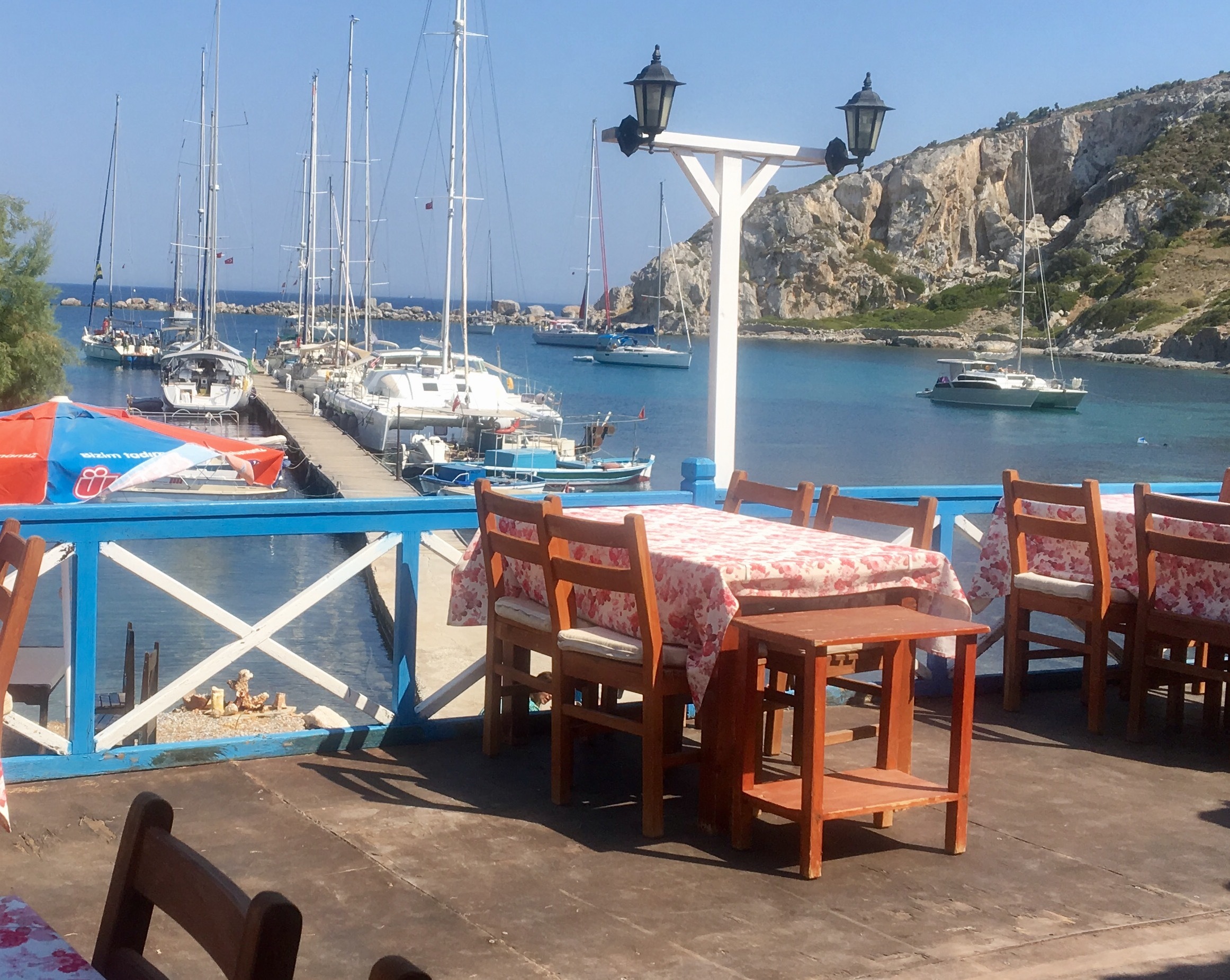 port of Bodrum and set off heading south across the bay of Gekova for the ancient port of Knidos some twenty four miles distant, the sea was lively in the twenty knot west wind that was gusting up to thirty knots at times, we were sailing at eight knots under mizzen and Genoa with the main sail furled away, Alfie and I were enjoying the coolness of the wind after a week of sweltering heat ashore.
We took a direct route across the bay of Gekova past the island of Kos to our destination which takes one into and out of Greek waters for an hour or so, needless to say, I did not switch on our AIS for this trip as "technically" one has to clear in and out with the Turkish Coastgaurd and this involves paper work and fees, there were no Coastgaurd boats about as we went through and we had no problems.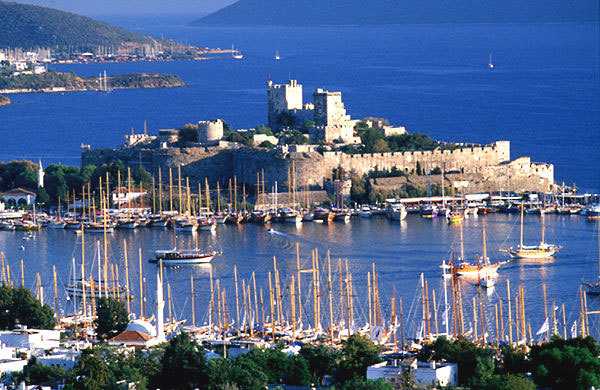 This stretch of sea was the main area up until quite recently for the crossing of literally thousands of refugees from Syria and Afghanistan to the beautiful Greek island of Kos, it felt really eerie!! sailing through what was a watery grave to thousands of unfortunate men, women and children fleeing war in their homelands, one could not help but feel the presence of those poor souls drowning in these waters not so long ago. The panoramic view of the Gulf of Gekova, looking over to the castle at the entrance to Bodrum to the north, the forested Datca peninsula to the south and the Greek islands of Kos and Symi to the west, I expect, was a very different sight to people struggling for their life in the dark of night in these waters.
I had brought a small bunch of roses earlier that morning in Bodrum to place in the sea as we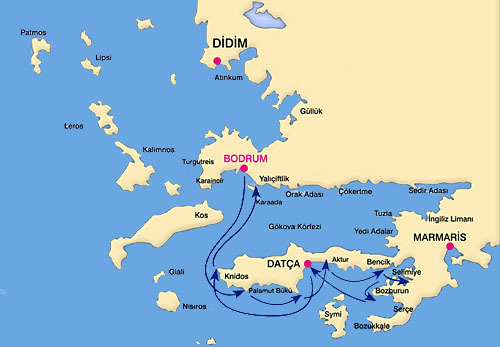 passed Kos, it didn't do those poor souls much good but it made me feel a little better. We should really have wintered in Kos on DeDanann last year and helped out with assisting the locals with the refugee crises, it was a missed opportunity to do some good.
The refugee drownings have all but stopped in this area now, I had visited Kos by tourist boat a few days ago and one could not tell that this was at the coal face of the refugee crises until recently, the town is being cleaned up with lots of refurbishment works going on. Tourists seem to be returning and the local business people are more upbeat after years of turmoil on this island.
I could not wish for a finer people than the kindly Greeks to offer me refuge if I were in the same position as the people who were lucky enough to make it to this island.
We had a cracking sail port to port to our arrival at the old Venetian harbour of Knidos, one has to be careful coming in here as the water gets shallow and the ancient breakwater has sunken to just below the surface, many yachts have grounded on the rocks here I am told.
We tied up to the rickety pontoon belonging to the only taverna in the port, after a fine lunch of fresh sea bass and some wine it was time for Alfie and I to have our afternoon siesta and get out of the heat of the mid day sun.
That evening a Turkish flagged yacht with an Irish family on board tied up and I was duly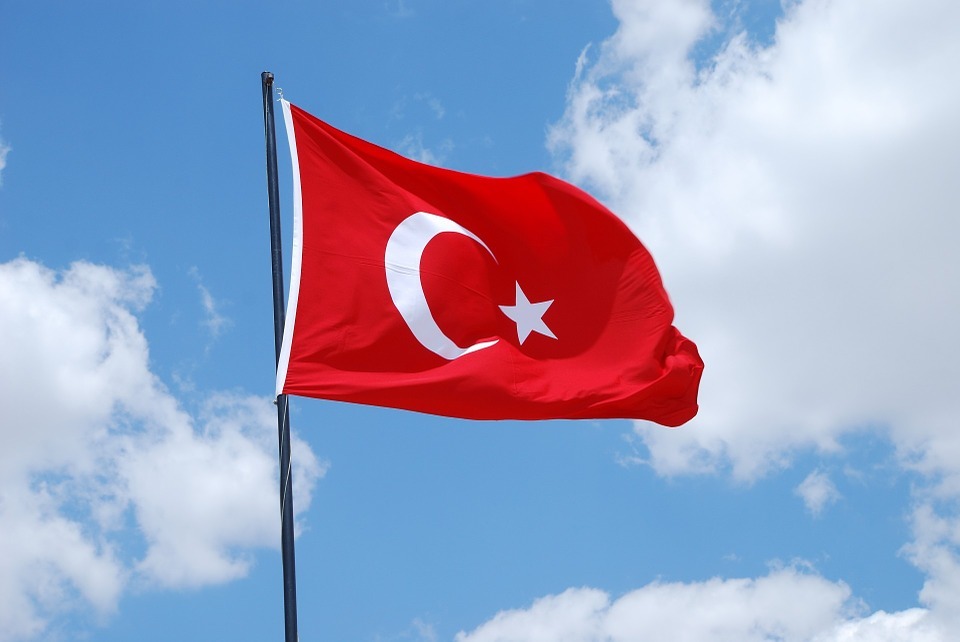 invited to have dinner with them in the taverna, the skipper is a security consultant for many years to the infamous president Erdogan, we were later joined by some English and German crew and a good night was had by all.
Knidos is the site of a Venetian amphitheatre that sits overlooking this small port on the very edge of the Datca peninsula, it is also the site of an army lookout post which is manned 24/7 by the military, the view across the Aegean to the Greek islands is amazing from here. Apart from the taverna their is nothing else here and it is miles over the hills to the nearest village, but it is a peaceful place with a certain charm to it.
We spent several days here relaxing, a very nice Turkish family from Istanbul tied up and they were most hospitable, I think they may have taken pity on me being on my own, they just couldn't understand how I could sail a boat the size of DeDanann singlehanded, and when I told them that in four years of cruising on her I have never worn a lifejacket or ever felt the need to wear one, they were astonished, mind you, I've seldom ever worn a hard hat and survived over forty years on building sites.
Over dinner one night, we had a discussion about the coup and president Erdogan, they were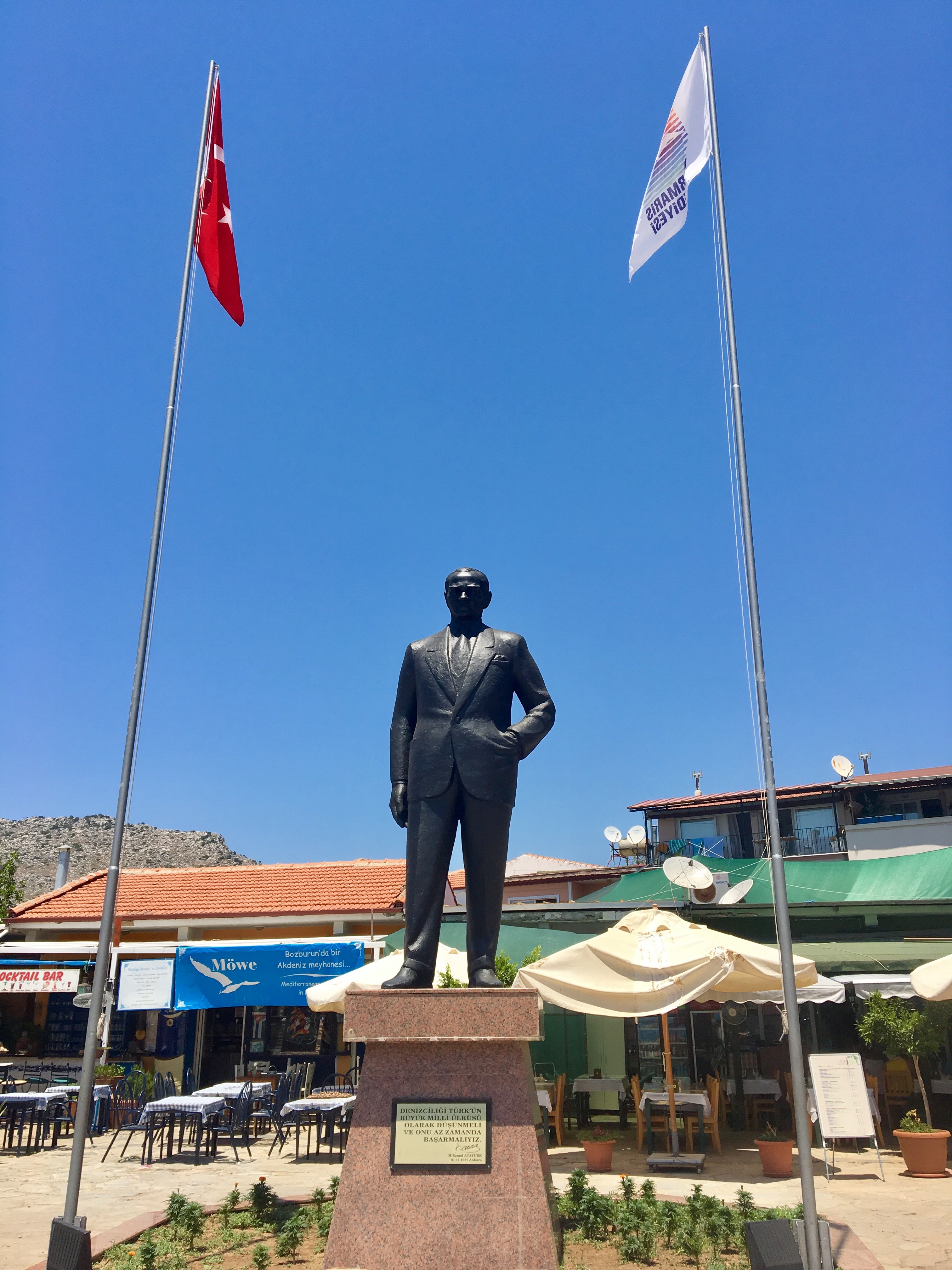 opponents of this government and Erdogan's regime, they were both university educated professionals and saw Erdogan as the biggest threat to the democracy that the Turkish people have enjoyed since the much loved General Mustafa Kemal (Ataturk- father of Turkey) came to power so many years ago. One sees framed photographs of Ataturk in the shops and Tavernas every where we go.
As we talked they would be mindful of who could hear what we were talking about, they would stop the conversation when the waiter was about, they told me of knowing a couple who were arrested and removed in handcuffs from a dinner party in an Istanbul restaurant who were overheard speaking out against Erdogan, they were removed by detectives and held in custody for a week having been reported by a waiter. President Erdogan is a touchy subject best not mentioned by foreigners here in Turkey, politics and religion are subjects I am always careful to avoid.
Our time was up in Knidos and we set off for the port of Datca (Datcha) some twenty miles distant, the wind was light from the west so it was out with the cruising chute for a slow but pleasant sail along the Datca peninsula, it reminds one of the bailey on a summers day.
As we got within a mile or so of the port the wind came around from the north blowing a gale off the high hills, I was thankful for the top down furling system that I was able to run downwind and furl the chute without leaving the comfort of the cockpit.
We motored into the port with twenty five knots of wind on the nose, I was about to go to anchor until the late evening when the wind goes down until I was beckoned onto the town quay by two marineros who would take lines, as I would be reversing into the wind I felt it was safe enough to do singlehanded, so having lined DeDanann up, I dropped anchor some eighty meters out and with plenty of revs came flying back into the berth, just as we were ten meters off the quay I stopped the chain running out and with full revs in reverse let the anchor dig in hard until the windlass groaned under the strain, the skipper of the adjoining boat was getting very excited and putting extra fenders out, the whole crew who were on charter were moaning and groaning about touching off their boat, one learns to completely ignore Assholes like these and to concentrate on the job in hand.
The anchor dug in well, and with full revs on I just let out the chain, meter by meter until two meters off the quay at which point I casually walked to the stern to pass the mooring lines ashore to the marineros, it was a text book Mediterranean mooring in high winds.
Datca is a nice place to visit, lots of tourists come here, mostly Turkish and Russian at this time, like the other tourist ports they are really missing the EU and American tourists who the local traders say are the bigger spenders, several traders that I have been talking to tell me that the Irish are the best all round spenders of all, we are sorely missed in the tavernas and bars for our good humour and late night drinking sessions.
I had a visit from an Irish couple who saw DeDanann come in, one a cousin of HYCs Tony Browne, they had a very fine Turkish gulet chartered with some friends from London were they all live, they very kindly invited Alfie and I on board and a good night was had drinking into the early hours.
I was out rambling after dinner in the port one night, I called into a rug shop, there was a young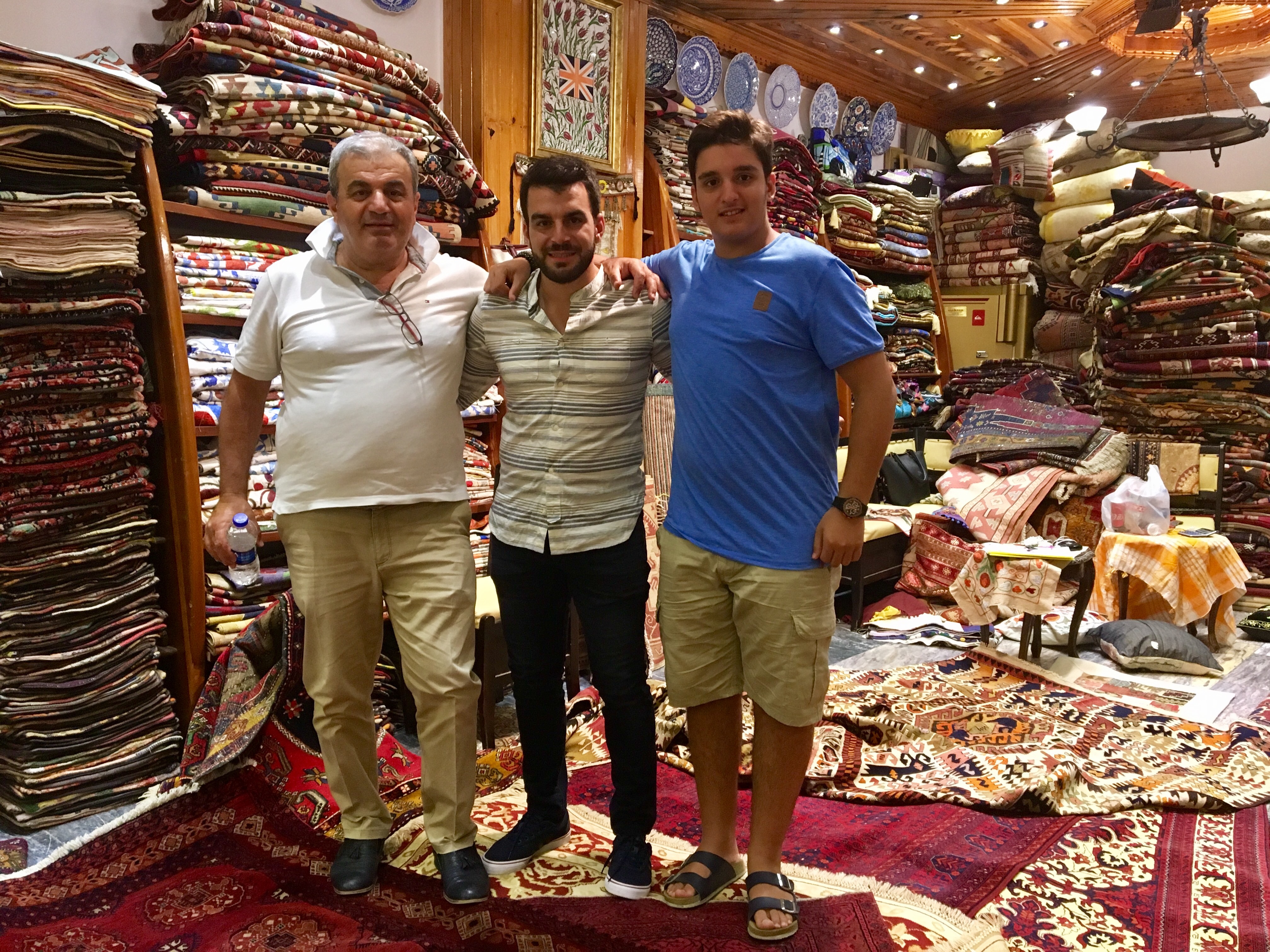 lad sitting minding the shop and I thought he won't be that interested in the hard sell at this late hour, he asked would I like any assistance and offered me some chai, "no said I, I am just browsing" he makes a phone call, five minutes later his older brother Ahmet arrives on a scooter, you are looking to buy some rugs he jesters, "No! I am just browsing" - My Friend!! we have the most wonderful rugs in Turkey for you, five generations of my family have been in the rug business in this town, believe me, my friend!! you have come to the right store.
Pour some chai, he sternly orders his younger brother, the young fella pours from a fine silver tea pot into some very fancy glass and silver cups, the serious business of relieving me of several hundreds of euros has just begun, rug after rug is pulled out and spread across the floor, with prices being quoted from a few hundred to several thousand, more chai and a history lesson on the making of rugs in this part of the world is the distraction whilst they await the arrival of their father who has been relaxing at home.
A big old Mercedes pulls up and in walks Hassan, arms wide open with a warm greeting, it was like meeting a very old and dear friend, we drink more chai as Hassan tells me of all the rugs he has sent over many years to the fine houses of Ireland, he has many many friends in Ireland, no doubt, they too have left this establishment relieved of their cash. At this stage I knew I was not leaving that shop without a rug, it's passed 01.00 am and I'm tired, to cut a long storey short, I parted with five hundred euros for a rug that was made seventy years ago by six women who would, I am told, have spent six weeks making this fine Turkish rug, - I really need to cut down on the wine at dinner.
After a pleasant few days in Datca we moved on west to the port of Bozburun some twenty five miles distant, the wind was from the west as we tacked our way at a leisurely pace across the bay, as we approached the land the wind died off and we motored the last few miles among the little islands to the very well sheltered port.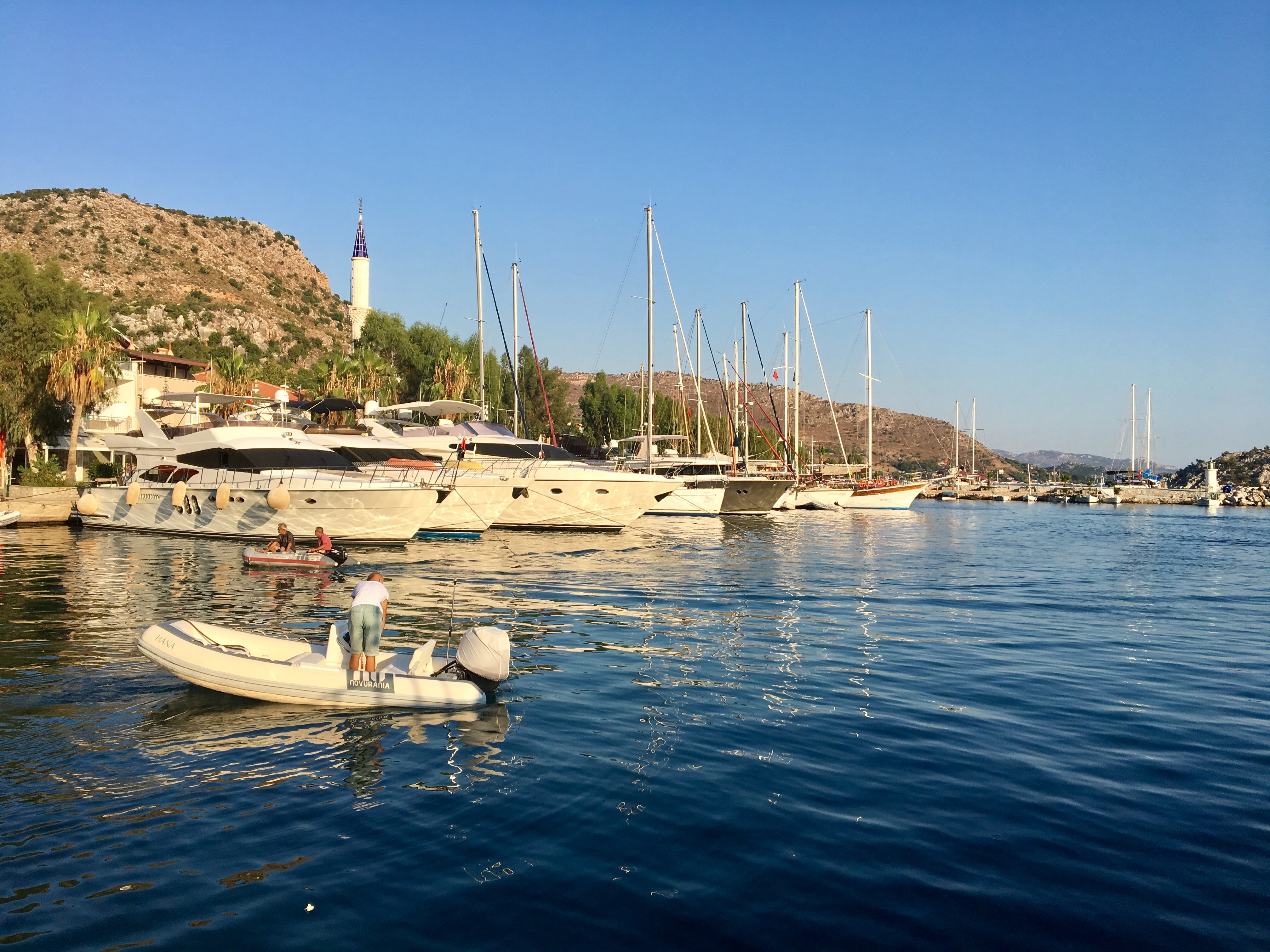 Their were lots of boats on anchor in the shallow waters outside the port as we meandered among them, the port looked full, we poked our nose in to have a look and a young marinero beckoned us into a grand berth on the town quay at €20 per night, with electricity available for the aircon, the sweltering heat of the sun would not seem so bad.
Having tied up and tidied the boat i slipped across the few meters to Osmans Taverna for some lunch, I was greeted by a nice scots lady who is married to Osman the owner, I thought it strange, that on the trip across I was playing my mandolin and had learned a scottish tune called the "Skye boat song" it was in my head and then the first person I meet was a scots woman here in this secluded part of Turkey. Alfie was also making friends with the local street dogs who were knocking about the taverna, they were all having a great time chasing after each other as I enjoyed a fine lunch of fresh fish and a nice Greek salad washed down with some very nice local Turkish wine.
The usual call to prayer at 15.00 from the adjoining mosque was our qui to return to the coolness of my cabin on DeDanann for our afternoon siesta.
This area is well regarded for the building of Turkish Gulets, I was out on my bike one morning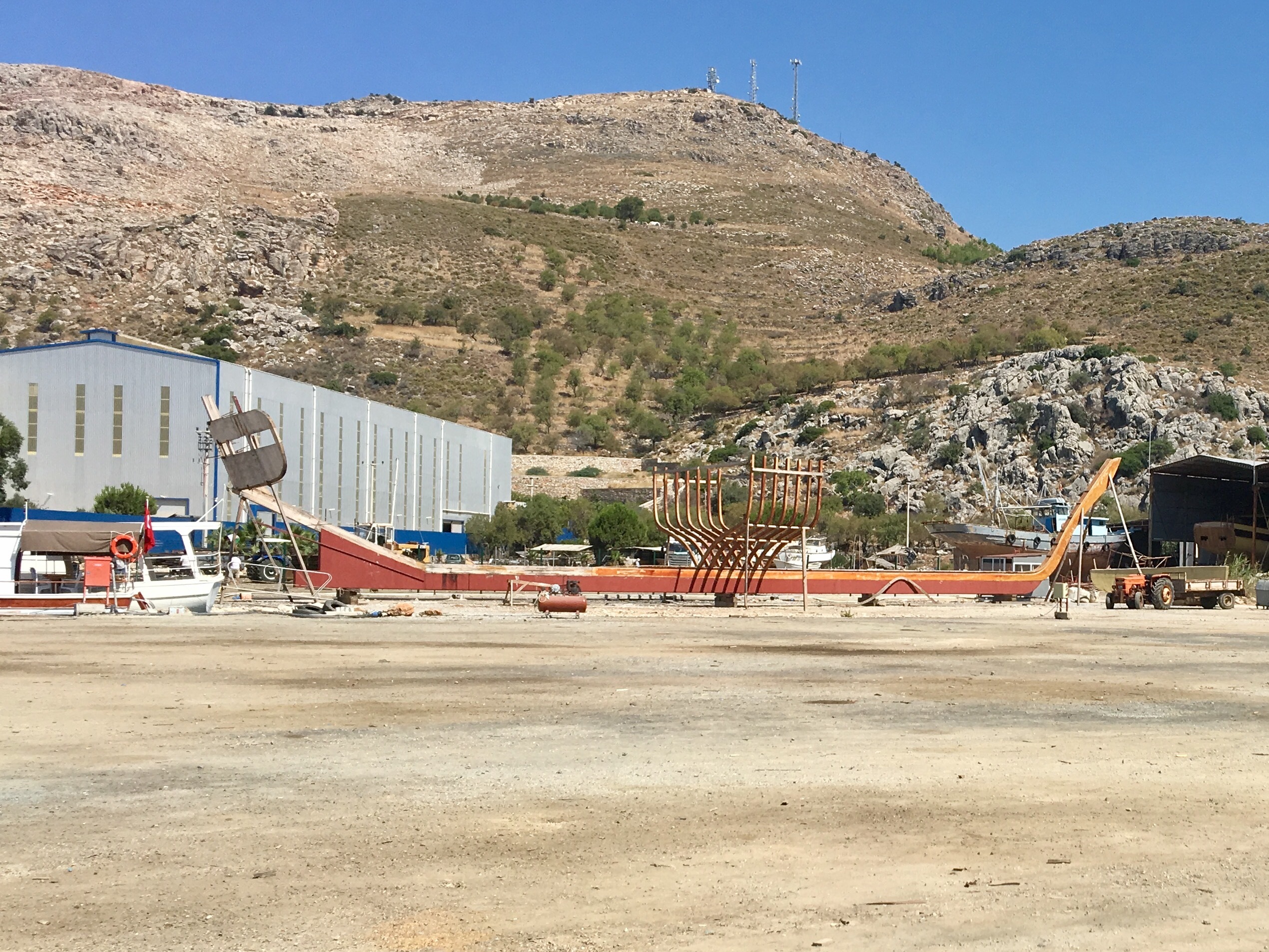 and passed several open boat yards along the coast, the yard would consist of a field, a small rickety wooden shed, and hardly any machinery other than a band saw and some hand tools, yet under construction would be several huge Gulets all hand built from local timber felled in the forests around here. I was taking some photos at one of these yards and was invited to join the guys for some chai, I got a great tour of the yard and the methods used to build these fine boats, skills handed down from father to son, they are very skilled craftsmen of the old school and no shortage of young lads learning their craft here. I was astonished that they could build such enormous boats without even a crane or forklift at their disposal, everything is man-hauled and all the scaffolding was just timber poles lashed with twine, it reminded me of working with my father on the building sites during the summer holidays in the sixties, no electricity on site until the first people moved into the new houses, no forklifts or diggers, only hand tools and lots of man hauling and hand digging of foundations.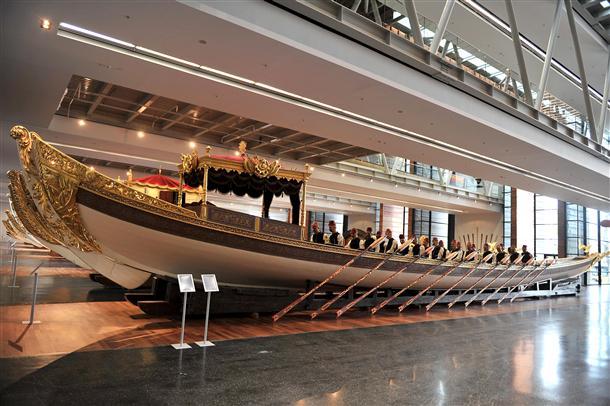 I moved on to another much bigger yard, again, I was on the road side taking photos when the gate man came out to invite me to visit the yard, a quick phone call to the boss and I was taken to his office, more chai was taken, he had his brother show me the yard and some of the boats under construction and repair, they were finishing a Gulet for an Arab client that was costing four million euros, it was the business, the fitting out was superb, designed and built by this yard for a large family and small crew with fine accommodation for all, built to sail well in good wind, enormous engines and generators and everything a family would need without being ridiculous. I was not allowed to take any photographs as were the clients instruction but they had no problem with me looking her over. They told me that on launch day the tradition here is to have the local butcher sacrifice a goat by cutting its throat and smearing its blood on the bow, I think I'd prefer to sacrifice an nice bottle of Irish whiskey smashed on the bow to christen her.
I had intended to stay only a few days, but it was so pleasant and relaxing here that I stayed for several weeks, small ports like this are great for finding good company as all the skippers and crew socialise and get to know each other easily and this makes for having a good time, with no other tourists about one gets to sleep well at a sociable hour, apart from the wailing of the imam at 05.00 am every morning. As the imam started to chant a resident street dog called Osman would join in the howling along with the imam, there was just no sleeping through this, I would get up and have some tea on deck watching the older men quietly tottering along to the mosque for their morning prayers. My friend Memduh tells me as a boy growing up in Istanbul he enjoyed listening to the different imams chanting along acoustically, some were fine singers, but now with huge loud speakers he feels it is not so pleasant.
Linda was coming back from Dublin, Liz the Scots woman organised a limo to pick her up at midnight from Dalaman airport, a two hour drive there and back for €50 was bloody good value.
We hung about for a few more days and then headed out among the small islands, our destination a small well sheltered cove called Bozuk Baku some eighteen miles distant where we dropped anchor for the night. I had been eating all the time in the tavernas for the last few weeks and was fed up with that, Linda had brought some nice Irish sausage and rashers back with her, so a nice Dublin coddle was the menu on DeDanann that night.
The next morning we upped anchor and set off for the port of Marmaris some twenty five miles distant, five miles off we spied another nice bay called Ciflik, a couple of tavernas had pontoons running off the beach into four meters of water and we took a mooring on one of these, free electricity and water if you have dinner with them was fair exchange, one can stay on these pontoons for say a week and only be required to dine with them the odd night, they are all very relaxed about this over here and we ended up staying two more days before setting off for the short trip to the large port of Marmaris.
The entrance into the bay of Marmaris is narrow, it then opens into a huge well sheltered bay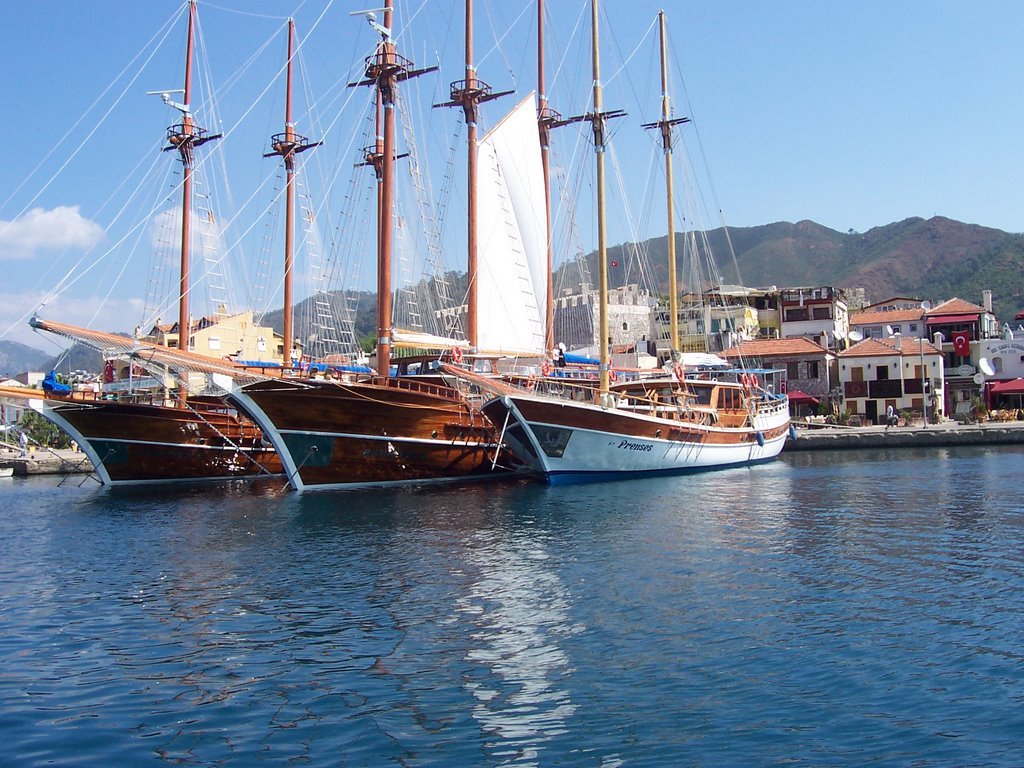 with the city and marina of Marmaris ahead, the water is deep in here, nine meters in the marina and too deep for anchoring off outside in comfort, the huge town quay is reserved for Turkish flagged yachts and gulets, the gulet captains guard this selfishly and don't take kindly to foreigners tying up there. We took a mooring in the Netsel Marina at €100 per night having first gone to the fuel dock to avail of their pump out facility, it only costs a tenner to pump out and register it on the blue card. The marina was half empty and they told us to moor side on as there was so much space.
Its September now and it's still sweltering hot here, one really appreciates the comfort of aircon on the boat in this temperature.
Marmaris is a big city with lots of very nice waterfront looking out onto the bay, it has a bazaar, and no end of clothes shopping, it's a fine city to visit but it is sweltering hot in the summer and the disco bars that open until the early hours are noisy for sleeping. Like all the marinas we have visited in Turkey, they have great facilities for the visitor and are well run and spotlessly clean. The marina chandlery is very good, East Marine, it was formally West Marine and the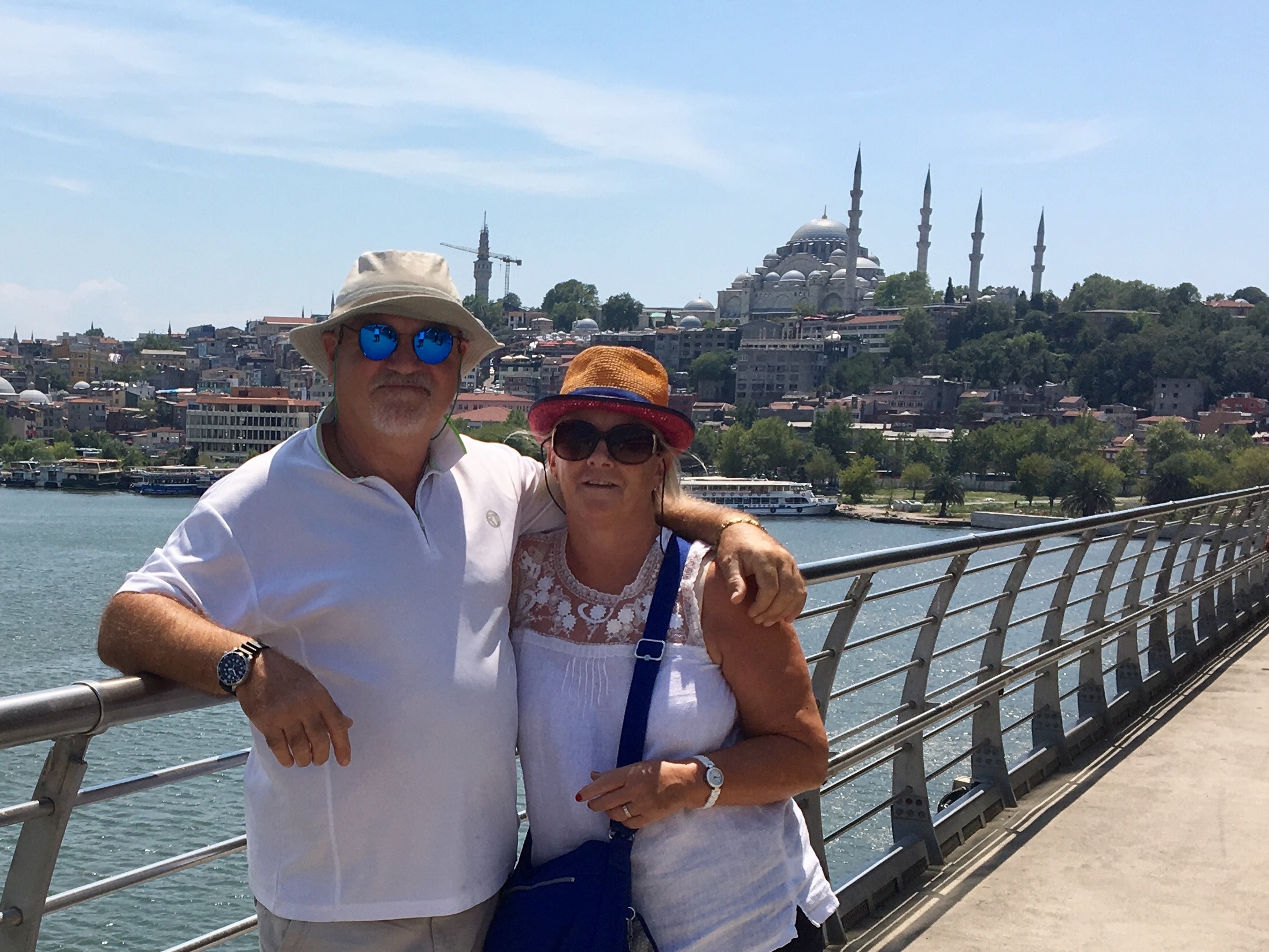 first European branch of this group outside of America, we have met the founder and owner of this group, Randy Ripost, from California, he was moored beside us for a few days in Albania two years ago, he started off selling rope out of his garage and now has hundreds of stores all over the USA, one can buy everything for a boat at reasonable prices in this fine store, I bought some very good quality clothes at 50% discount here.. There is a street around the corner from the marina and there must be fifty or more chandlery stores on it, I jest you not, one can buy literally anything from a needle to an anchor there.
We were looking for a safe place to leave DeDanann for a few weeks in order to travel to Spain for our eldest son Eoin's wedding to Ciara Barker in the very nice town of Nerja, in Andalusia. This was promising to be a good get together of the two Howth families and indeed several members of HYC and the lifeboat would be attending. We got a good price from Yacht Marine not too far from Marmaris at €500 per month, so we took ourselves off there, it's not so upmarket as Netsel but it is a much more pleasant and cooler place to be with many live aboard sailors here, it has a great taverna and a lively bar, supermarket and great technical facilities on site, the dolmus runs into Marmaris every half hour for three euros and everything we need is here. We are presently moored beside a German old timer who is a longtime live aboard here, now I'm known for hoarding junk, but Jesus!, this guy is in a league of his own.
We travelled to Istanbul for a week on our way to Spain for Eoin and Ciara's wedding, we booked a nice hotel looking onto the Bosporus, this is a very busy seaway running right through the city of Istanbul, bulk carriers and tankers in large numbers making their way to and from the Black Sea, ferries and pleasure boats navigating across the fast currents that run through here, it's a busy place with many huge ships on anchor in the bay awaiting pilots or to tie up in the docks of Istanbul which is a major trading centre in this part of the world.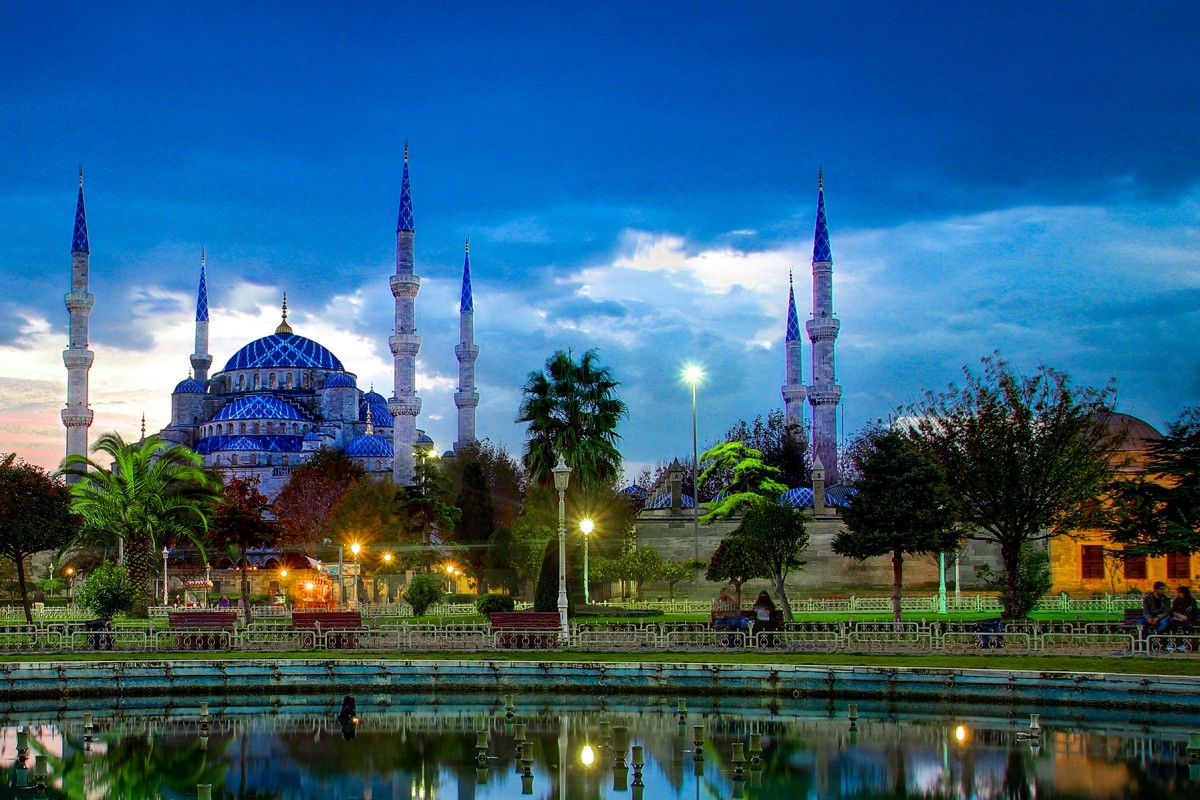 We visited the wonderful Blue Mosque, it was a bit overcast and cool as we walked from our hotel, we were approached on arrival by a very pleasant young Turk who offered to take us past the long que and tell us the history of the mosque for a modest fee, one look at the length of the que had me reaching for my wallet very fast, in anyway, he took us straight in and just as well, for we were only inside the door when a ferocious thunder storm kicked off, the noise was like nothing we have ever heard before, it rained sleet the size of golf balls with buckets of rain coming down on the poor souls outside, the wind was only ferocious with rain coming in through the many windows that were all open high up in the mosque.
The security people acted fast and opened all the doors to allow the people outside take shelter inside the mosque, I have never seen so many people so distressed in one place in my life, the poor children from all over the world were just terrified, indeed Linda and I were frightened ourselves, it was like the world was coming to an end.
It eventually blew over and we left the mosque to a city that looked like it had been bombed, cars upended, trees that have stood for many years blown down on the traffic in the busy streets, buildings flooded, the streets were sometimes not crossable as rivers ran through them for several hours, several people lost their lives close by in that hour, several tourist boats were caught on the Bosporus packed with passengers, it was only mayhem in the city..
The following day the sun was back and the people of Istanbul got things back to normal very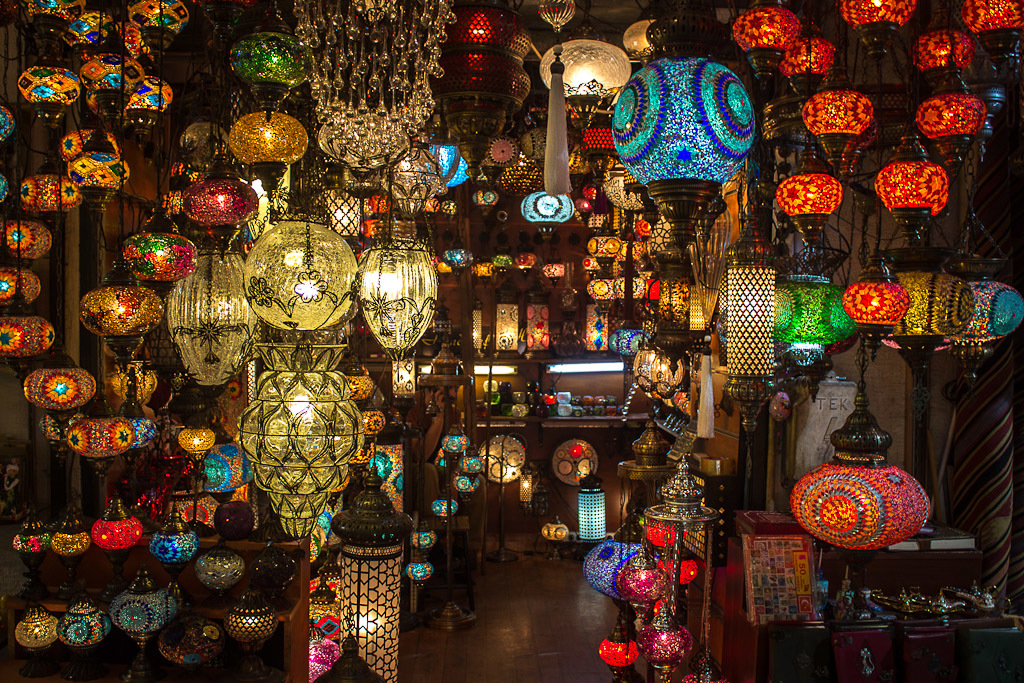 fast, we took ourselves off to visit the Grand Bazaar, well one can't come all the way to Istanbul without a visit here, the aroma of coffee and tea, the spices, the chocolates, Turkish delight, the colours of the fantastic fabrics and rugs, the lighting that hangs from the ceilings of many of the shops, it really is a wonderland of bric a brac, the buzz of the place is really worth feeling, a great place to sit in one of the many cafes drinking chai and taking in the culture of this great city.
We were amazed at the amount of people living and working in the city, it was like Henry Street on Christmas Eve every day here, we took the open tourist bus, it's simply a great trip for the money and worth doing, jumping on and off at ones leisure is a great way to see the city. We found the people all very pleasant and helpful in a very genuine way, we saw no security issues, policing is kept very low key but they are everywhere ready to move in fast if needs be, or, so I am told.
Our time here in Istanbul being up, it's off to Andalusia for a wedding.
DeDanann Out.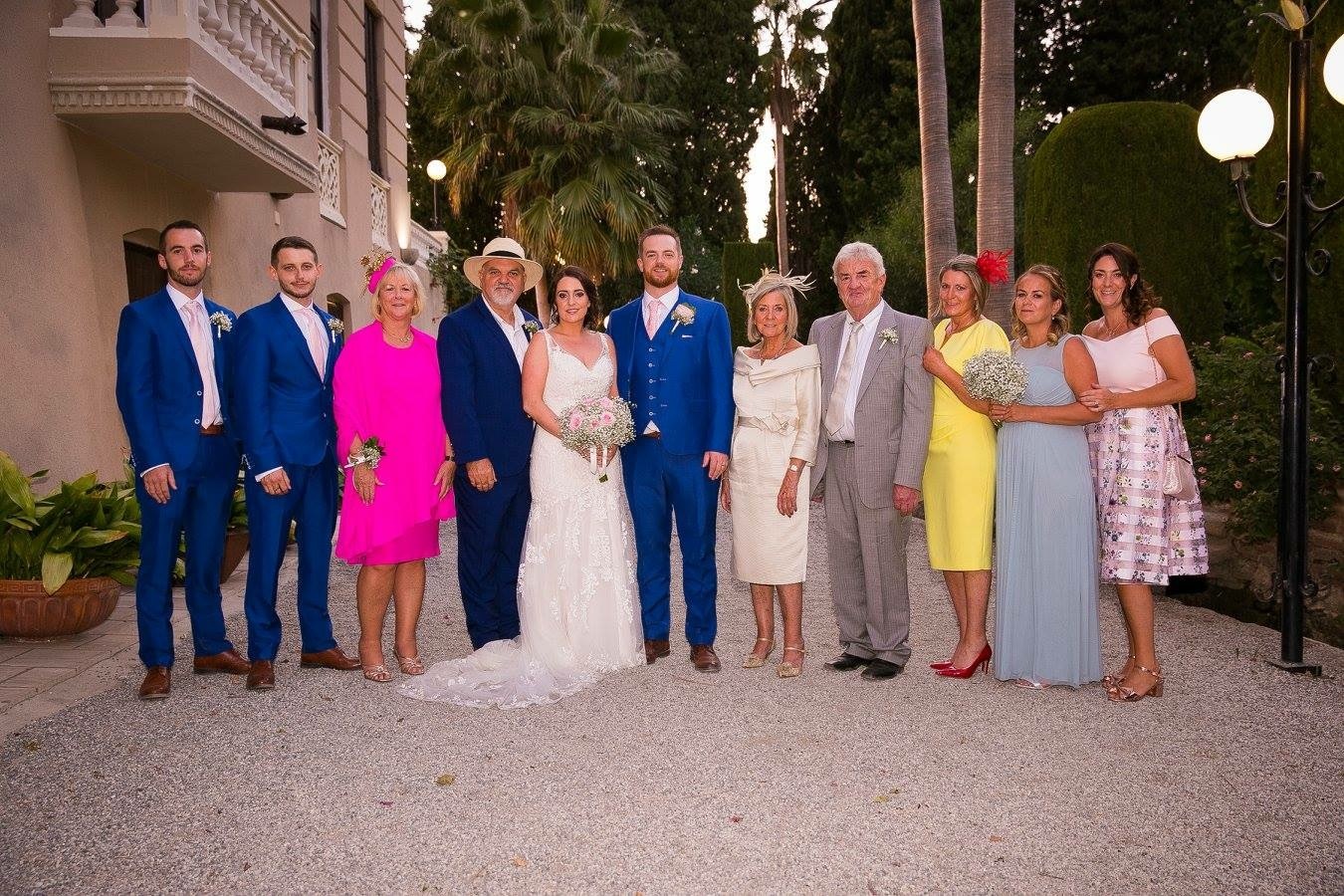 Registered in the Republic of Ireland. Registered No. 81187