Cruising Group complete 2017 'Armada Series'
04 October 2017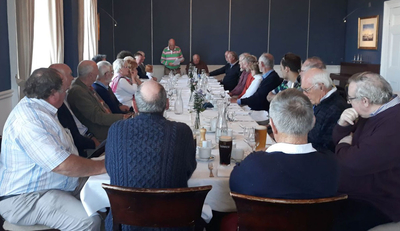 On Saturday last 30th September an ARMADA of seven boats with over 30 crew members from the Howth Cruising Group attacked the National Yacht Club in Dun Laoghaire and completely took charge of the dining room. Not only was the attack from the sea as a number of attackers travelled overland thus attacking in a pincer movement.
Admiral Gerry O'Neill led the attack and during the excellent "brunch" he was presented with a specially commissioned Admiral's attire organised by David Appleyard while Joe Nolan presented it to the Admiral.
This was the last of our ARMADA series for 2017 and we would like to thank the Gods for giving us such superb weather. We look forward to the 2018 series.
Photographs here by Edel Gilmartin, Geraldine Corr and myself.
Pat Murphy
Cruising Group Captain
Registered in the Republic of Ireland. Registered No. 81187