Delights (and some frights) for DeDannan in Turkey
11 September 2017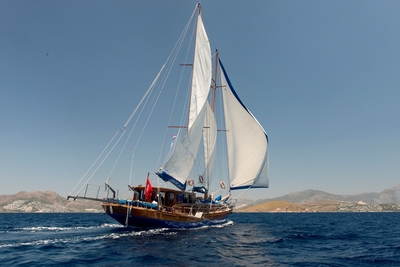 We were tied up at the town quay in Pathmos on the Greek island of Kalymnos, it's now the 14th June and time we set sail for the crossing to Turkey. We had made arrangements with a customs agent in the port of Turgutries to clear in at the marina there on our arrival, after a pleasant sail in the usual north west wind that prevails down here during the summer we tied up at the customs quay and were met by our agent and a port police officer, the formalities were both simple and efficient and took no more than thirty minutes, the whole business cost about €220 for a ninety day visa and two year cruising log, we were advised to obtain a blue card from the marina office before setting off from the port, the blue card is a system of registering how often you pump out into an official pump out station the contents of your black/grey water holding tank, we were hearing horror stories about cruisers being done for enormous amounts of money for discharging at sea.
The marina here in Tugutries is new, its very well designed and built to a high standard of workmanship, the landscaping and facilities are impressive, but it is very rules based and almost soulless place to stay, it was not even thirty per cent full, the yachts that dwell there are all over fifty feet, all newish, they are cleaned and maintained every couple of days, but they never seem to go very far, they have all the bells and whistles but look forlorn sitting there. The foreigners have all left, all the yachts we saw fly the Turkish or Delaware flag and are owned by people from the big cities in Turkey.
Turgutries is a small tourist town, it's a pleasant place to visit with lots of holiday hotels, tavernas and shops, it has a small bazaar and there is good value in clothing to be got here, one can buy good quality knock off labels of every brand known to man or woman in that bazaar. Business is not good since the coup last year, the traders are all complaining, the only tourists are the Turkish and some Russians, they are sorley missing the Europeans the Yanks and Australians that would flock here at this time of year
It was nearing the end of Ramadan and the tavernas were not selling any alcohol, the town mosque was busy with hundreds of sandals lying all around the entrance, along with the five times a day chanting through many loud speakers high up on the minarets as the Imam called his flock to prayer, one is left in no doubt that this is a Muslim country. Food, clothing and indeed most things are not expensive here, although we spent only four days as the marina were charging us €110 per night plus electricity and water, it's no wonder the place was empty.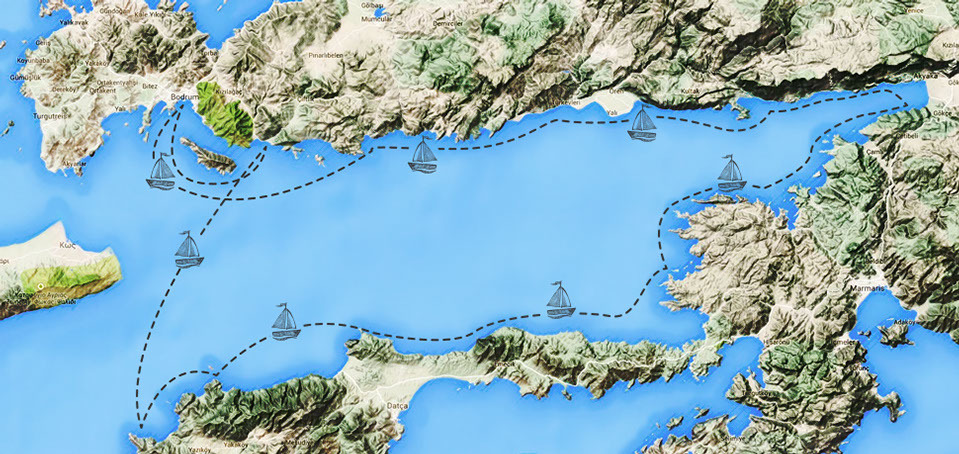 We set off on an easterly course through the Gulf of Gekova, (Yakova) the prevailing wind here is from west north west, it blows most days at 15 to 20 knots, increasing to 25/30 in the late afternoons for an hour or two before settling down to 5 or 6 knots by sunset, the sea is well sheltered on the north coast of the Gulf and we got some cracking good sailing almost every day we were on the move.
We arrived at a small cove some twenty miles from Turgutries to drop anchor for the night, the water is deep in all these coves and the Turkish skippers favour taking a long line ashore having dropped anchor in often thirty meters of water, they have this off to a fine art and can do it quickly in lots of wind.
Our attempt this evening was not so good, we dropped the anchor in about twenty meters and reversed back to within thirty meters of the shore, there was about ten knots of wind on the beam, I jumped into the dinghy with the long line to take ashore as quickly as possible and fix the grappling anchor into the rocks, the blasted engine wouldn't start, I pulled the guts out of both it and I until I was breathless, Panic!! with Linda as DeDanann started off towards a very nice Turkish gulet, I decided to forget the dinghy and swim the line ashore, I jumped into the water and pulled on the long line that was coiled up ready on the deck, however, in a panic, didn't I forget the grapnel anchor was attached, well it came off the deck and hit me in the face as I looked up and smashed my nose, the blood only poured out of me as I made a grab for the stern ladder that Linda dropped down to get me out.
DeDanann was now on a collision course for the Turks and it was too late to avoid it, the Turkish skipper, an elderly man with his family on board, made no fuss whatsoever, he tied us off to the gulet and ordered his grandsons to swim our line ashore and then pull DeDanann tight to our anchor, indeed, we have found the Turkish skippers most helpful and very capable sea men. We were too far from any hospital or clinic, so after a good clean up with some sea water a few paper stitches and anti inflammatory tablets we settled down to a calm night on anchor.
Our next port of call was cokerteme, as we sailed into the bay several fast tenders came tearing out from the taverna pontoons looking to tout the business, they get very excited competing against each other wanting you to come to their taverna, offering free mooring, electricity and water, we settled on one guy who had very good English, he took us to this completely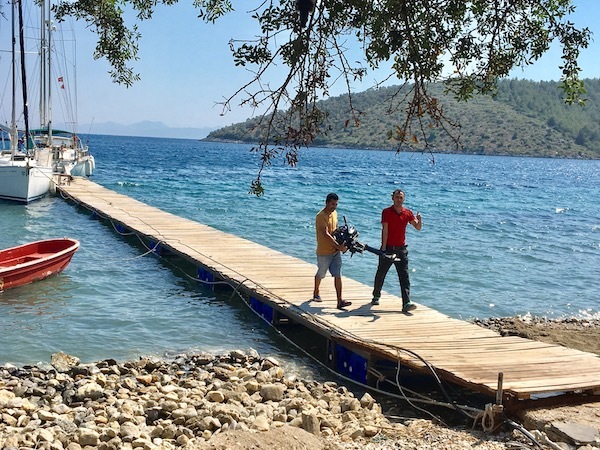 ramshackle pontoon and tied us up, we were a bit disappointed at first as their was a really nice pontoon at the next taverna that would have suited us better, however, we decided to stay and after tidying the boat we went to have some lunch. The boat man was also the waiter, a nice guy with those very dark Turkish looks, he was enquiring as to what happened my face, I had the look of someone on the wrong side of a punch up, I was telling him what happened and the problem of the engine not firing up on the dinghy, I am good mechanic man, I take engine to fix whilst you eat, and after serving up a fine lunch he heads down the pontoon with the younger waiter, off with the engine and they take it into the taverna, fix it to the back of a chair, out with a few tools and strips the carburettor apart all over the table, he goes off for a sowing needle and cleans out all the jets and puts it all back together, then back on the dinghy and the two of them head off out into the bay for a test drive and to tout another yacht seen coming in, now that's what I call multi tasking and all in the time we ate lunch. We spent a few days here and it was all very enjoyable.
We crossed the Gulf of Gekova (Yakova) to Sogut (Shutt) in twenty knots of west wind and a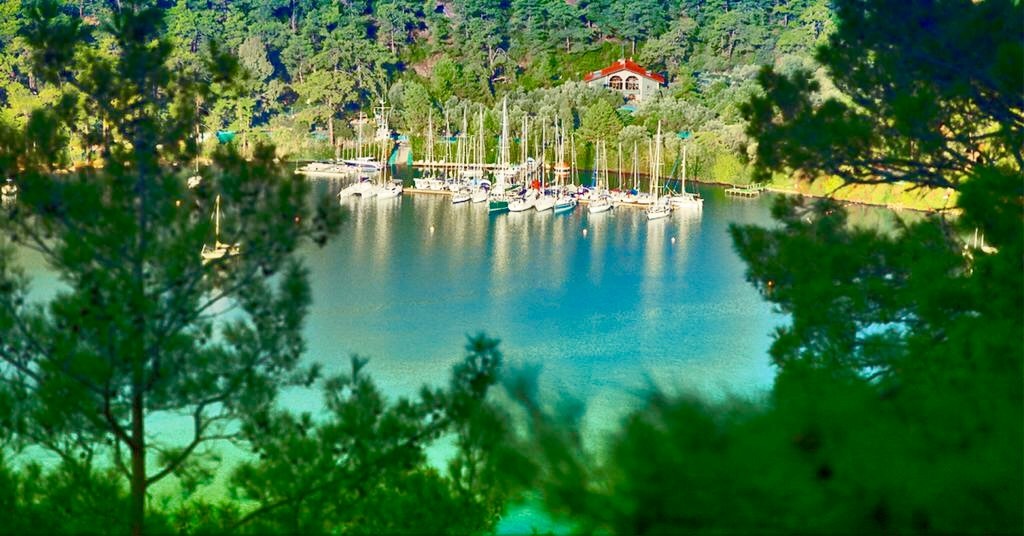 good beam sea running, we tied up at the Global Sailing Center pontoon in this very nice well sheltered bay that is completely surrounded by lush green pine forest, this is a truly wonderful facility for the training of teenagers from the cities in everything from dinghy sailing, kayaking, surf boarding, snorkelling and in particular educating them to respect the sea and the natural environment that surrounds them here. They stay in hostel type accommodation on site for several weeks, their parents are not allowed to visit after the first day so as not to instil any fear of the water in the kids, they were all having a great time in the water all day and enjoying other social activities that was very well supervised at night. There is a huge Avery with lots of native birds, rabbits, Guinea pigs cockerels, hens and tortoise, there are four club dogs roaming about and a few club cats, there's a very good taverna and bar for visitors like us and a grand little village twenty minutes walk away.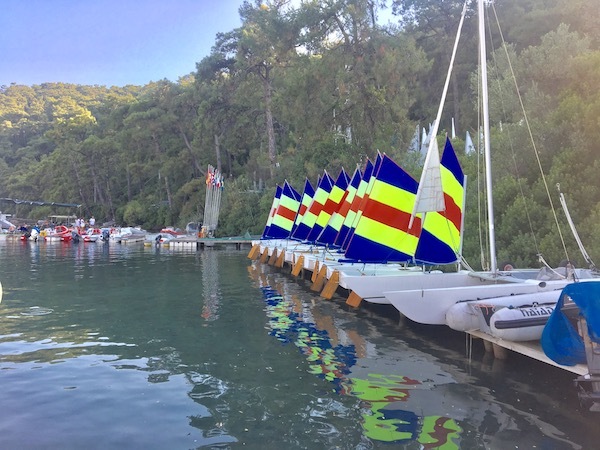 This was all started many years ago by a local man called Sadun Boro, he was the first recorded Turk to circumnavigate the world in his 34 foot ketch, Kemal, having set out from Istanbul in 1965 and come home in 1968, he then did many long ocean voyages with his young family before setting up this fine academy of sailing were he lived on his boat to the day he died in 2015. His dying wish was to be buried under the pine tree that his boat is moored to, this request is presently being debated in the Turkish parliament, in the mean time he lies in the Cemetary in Marmaris. His love of nature and the sea is very evident in the way this academy is run, it truly is a wonderful asset to those who have the good fortune to come here. Sadun wrote several books about his adventures, sadly, only in Turkish, he wrote a pilot book on Turkish waters, I had a loan of it and have to say it is the finest pilot book that ever I set eyes on, the quality of the photography, the mapping and charting is something you won't find too often, as I don't speak any Turkish, God Heikells book will have to suffice.
Whilst staying here for over a week we met up with our friend Memdhu from Istanbul, he keeps
his yacht Papalina here when not cruising, he flew in from Istanbul especially to meet us and we enjoyed his company before he set off single handed out into the meltimi and the Greek islands that he loves so well. We exchanged gifts, chocolates and Turkish delight for Linda, and a bottle of Jameson Whiskey for him, so much for muslims not drinking alcohol, Memdhu loves Irish Whiskey and can fairly put it away.
Our time was up in Sogut, we let go our lines and meandered along this beautiful coast full of coves and pretty anchorages until we arrived at what's known as Yedi Adular, or seven islands, we motored into a well sheltered cove surrounded by a pine forest running high up onto a hill, a boatman from the only taverna came out when he saw us and tied us off onto one of their bouys, then took a long line back to the shore, we put in our request for a table for dinner that night and arranged for him to come collect us and take us back in his tender. We had a most enjoyable dinner of fresh fish, dessert,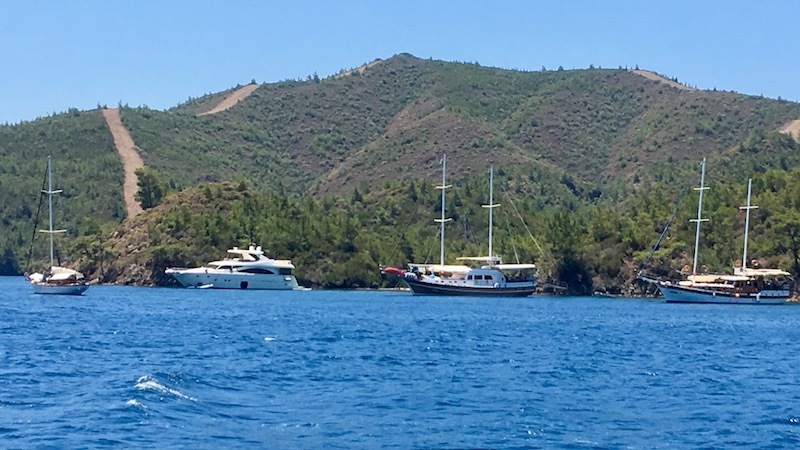 good wine and hospitality and all for no more than €40. The next morning at 07.30 our boatman was knocking on the hull with fresh bread straight out of the oven, fresh eggs from the henhouse and fresh oranges all for coppers. After breakfast I fancied a dive in the crystal clear turquoise water but it was too deep at over forty meters to the bottom almost tight to the shore, so I settled for a swim and some fishing to while away the day as we hung out here for a couple of days.
These coves are very nice to relax in and take in the beauty of the surroundings, the noises of the birds in the day and the wild animals at night, the darkness is almost unbelievable, we were in bed one night, it was about 01.00, all was quite when "bang, bang, bang" and the squealing of some poor animal getting it very close bye, we both sat up in the bed thinking what the f!!! was that, then several more were shot over the next couple of hours as we drifted back to sleep.
The next morning, we slipped out from the shelter of the islands to head back across the gulf of Gekova to the port and Marina at Bodrum, we had a great sail in the warm westerly winds all the way to the old Venetian Castle of St Paul that was built to protect the natural harbour here, we would have preferred to go to anchor in the shallow water under the castle outside of the entrance to the harbour, but Linda was heading back to Dublin for a couple of weeks and it would be easier to be in the marina with baggage for getting to the airport, so we took a berth in the marina for a few days at a shocking €160 per night.
Bodrum is a very vibrant town with lots of tourist accommodation, some fine tavernas and great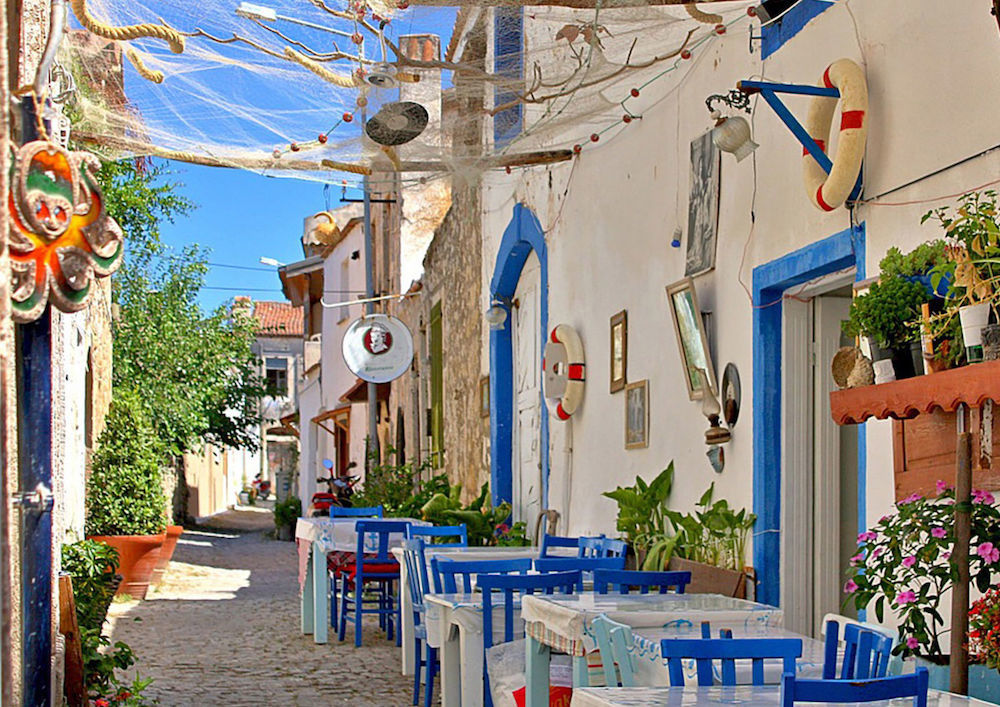 for shopping, the castle is a big attraction and worth the visit, there was a hundred gulets touting business on the town quay, things have not been good for them since the coup. I had my hair cut by a local barber in the port, the Turkish barber is world famous, it was the best ever for a tenner and took over half an hour, they massage your neck and shoulders before you leave.
We were expecting to see a lot of security people and guns with the political unrest here in Turkey, but we hardly saw a policeman and it is all very peaceful, we did notice the huge Coastgaurd boat here in the port was fully crewed, armed and sat at the ready 24/7.
With Linda gone home I will head south in the direction of Marmaris and let you know how that goes in our next report.
DeDanann Out.
Registered in the Republic of Ireland. Registered No. 81187