La Lumiere goes marina–hopping along the Spanish Costas!
27 June 2016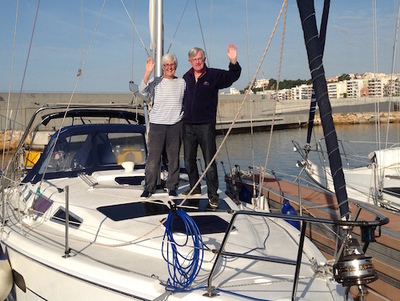 'Upon our return to La Lumiere of Howth on April 28 in her new home at the Real Club Nautico de Torrevieja, planning our 2016 cruise began in earnest. We decided to go up to the Golfe du Lion to visit some friends who live near Canet - en - Roussillon which is roughly 425 nm from Torrevieja. We also wanted to call into as many marinas as possible along the way so that in future they would not be "terra incognito!"
But first some important parameters had to be agreed upon with the skipper:
There would be no night passages.
There would be no heroic feats of sailing.
There would be no gunk-holing up remote estuaries.
Only quiet storms would be allowed! (A little unreasonable, I know!)
Terms and conditions were finally agreed upon and off we set on Wednesday May 11, returning on Friday June 24, 44 days later after a mostly enjoyable cruise.
The Marinas we visited:
During the course of the 850nm, we visited 19 different marinas. On the Costa Blanca there were 4, Torrevieja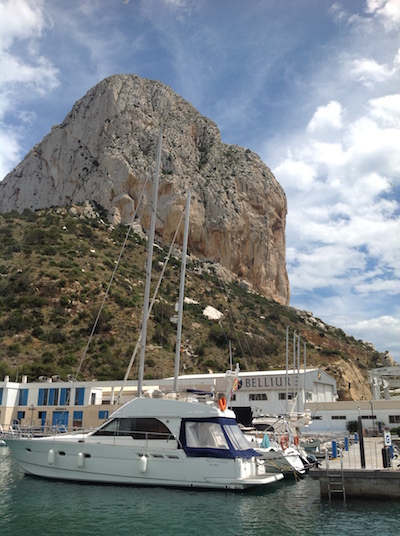 itself, Alicante, Altea and Calpe. On the Costa del Azahar we called into Denia, Gandia , Valencia, Canet d'en Berenguer, Castellon de la Plana and Benicarlo. Of the marinas on the Costa Dorada we visited Sant Carles de la Rapita, Cambrils,Peurto de Vilanova I la Geltru, Port Ginesta and Puerto Olimpico ( Barcelona) and finally on the Costa Brava we overnighted in Blanes, Palamos and L'Escala, finally crossing the Spanish/French border into Canet- en – Roussillon in the Golfe du Lion where we spent 12 wonderful days with our friends, Marion and Francois Lamiaud and where we were joined by our daughter Susan for a 6 day visit.
A word about the marinas:
The most expensive and worst marina was Palamos, a real dump of a place on the Costa Brava. It is privately owned, in very bad repair with toilets and showers that would have been closed down by any self- respecting health authority. They charged €56 per night for the privilege of staying there, whereas Valencia, an excellent marina but rather a long way from civilization, charged a mere €12 in May, going up to a High Season price of €15 in June! The average price overall worked out at about €30 per night with the exception of Canet-en-Roussillon which has a flat charge all year round and for our 36 footer it was €24 per night.
The marina with the best facilities was without doubt Sant Carles de la Rapita, located in the Delta of the river Ebro. It is an excellent marina run by the British company MDL. We were pretty familiar with it as we had spent some time there on Safari of Howth. However, it must be said that the facilities here in Torrevieja would also be in contention for that 1st prize!
We really enjoyed the time spent in Alicante where the Club Nautico is right in the centre of things. Cambrils and Blanes were very pleasant holiday resorts as were Canet d'en Berenguer and Altea. In Alicante, we qualified to spend 2 nights free of charge because they have a reciprocal arrangement with the Real Club Nautico de Torrevieja. Howth Yacht Club, please copy!!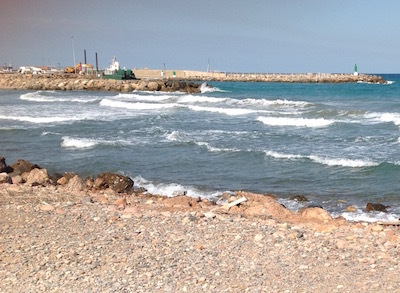 It goes without saying that we were delighted to acquaint ourselves with so many different marinas in our new home- cruising ground. We noted many things of interest to us which will make return visits much less stressful. For instance, the height of the pontoons. If low then we must berth stern-to, if high we have the option of berthing bow- to which we prefer. We also noted those which had fingers rather than the lines from the quay/ pontoon; then the lay-out of the pontoons can also be a big issue. This information is all essential knowledge to reduce blood-pressure levels upon entering a marina for the first time! To be informed to go to berth, eg D (Delta) 396 upon arrival, is of little use when you are totally unfamiliar with the lay-out of the marina and of course this can give rise to some hearty exchanges between skipper and crew and, indeed at times with the on-shore marineros as well! But to be fair, in all cases, even in the smallest of the clubs, there was always a marinero on duty 24/7 to take the lines. Once again Howth Yacht Club please take note!
Wind and Weather:
On the way up to France, the weather was surprisingly cold for May. There was absolutely no question of sailing in shorts and Ts. Jeans and warm fleeces were required with the wet gear always near to hand. The weather on the way back was much more what one would expect in the Med so working on the suntan was somewhat delayed!!
The wind follows quite predictable patterns here -no wind in the very early hours, then generally starting from NW, freshening and going to SE by the afternoon and then dying off again in the evening. Naturally there are occasions when this does not happen and when unexpected strong winds appear from equally unexpected directions!
On the way up we tended to depart in the late morning in the hope of having a decent sail, arriving in the early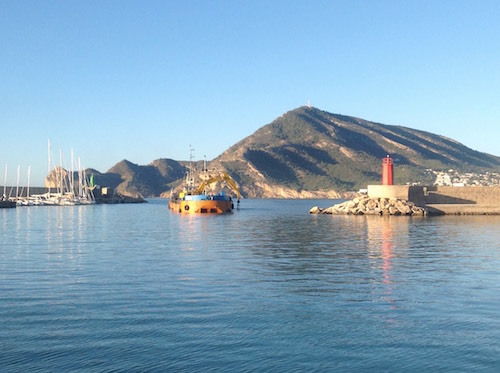 evening when the wind had abated, thus making berthing a whole lot easier. Mostly we motor-sailed but on a number of memorable occasions we had wonderful sails. We sailed most of the way up to Alicante on the first day moving smoothly along at 6.00 knots. Then from Alicante to Calpe we enjoyed another pleasant few hours sailing. After passing Capo de Nao, we sailed past Denia en route for Gandia, doffing our caps towards Denia in honour of Gerry O'Neill and his band of merry sailors who became legends in that port! (we called into Denia on the return leg). We got in another pleasant few hours sailing on the way to Valencia and after that it was mostly motor-sailing either along with light airs, or against northerlies and quite often into both wind and swell.
On the way back down it was a very different tale. We had to have departed our berths by 0700 to arrive at that day's destination by 1300 in order to avoid endless motoring into moderate to strong south-westerlies. As it happened there was rarely any wind around in the early hours and so we motored most of the way back from Canet- en- Roussillon to Torrevieja!
Highlights, lowlights and silly incidents!
Specifying "quiet storms only" turned out to be a bit unrealistic! We were caught out twice – the first time was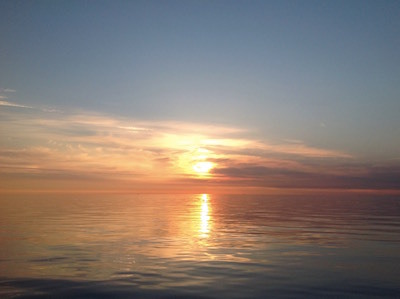 upon our arrival into Sant Carles de la Rapita which is notorious for sudden gusts of very strong winds blowing down from the high hills on either side of the Delta. Towards the end of that day's sailing the weather took a turn for the worst. An hour of torrential rain was followed by dense fog which eventually lifted only to be in turn followed by one hell of a storm as we entered the marina. We would have been unable to tie up in the berth allocated by the marina. Given that we were registering 40 knots, we were forgiven for going into the first safe berth we encountered in a section of the marina normally reserved for Mega yachts and catamarans!
The second occasion was upon our arrival in Canet-en Roussillon situated in the notorious Golfe du Lion from where all the dreadful Tramontanes (north-westerly storms) emanate. Just after pulling away from the waiting pontoon after having been allocated a berth, a massive wind blew up from nowhere and we just had to pull into the first available berth where we spent a most uncomfortable night. However, that was quickly rectified the following morning when things had calmed down and we were moved to a wonderful berth for the remaining 11 days.
The silliest thing to happen involved me – what's new on this boat? We always kept a vigilant eye out for lobster pots which tended to appear in clusters with the occasional loner to keep us on our toes. While passing the Islote de Benidorm on the passage north, I was fondly remembering a Kavanagh family holiday spent there in the early 70's, when I noticed a rather large round lobster- pot mark directly behind the boat which we had obviously just run over but without any thump or bump! I, then, suddenly realised it was one of our two large "ball" fenders which had untied itself and fallen off the stern! A quick unscheduled "man overboard" exercise ensued and the fender was rescued! It's hard to believe I could be so remiss after the many thousand fenders I have tied on in my day!
An unexpected turn of events:
The total enjoyment of the cruise was somewhat marred when Ken became ill on the return journey. He developed a heavy cold and nasty cough accompanied by a high temperature which necessitated an unscheduled five-day stopover in Canet d'en Berenguer between Castellon de la Plana and Valencia. Although a small marina somewhat off the beaten track and with a rather dramatic entrance, the berth was a wonderful finger berth, the staff in the marina were very supportive and helpful and the local hospital far more efficient than one could ever hope to encounter in Ireland.
I am glad to say that the skipper fully recovered and we were able to continue on our journey, albeit in short stages, until we arrived back safely in Torrevieja on Friday June 24 and I can now report that all on board La Lumiere are back to a state of excellent health once again.
Does this cruising life ever run smoothly?'
Carmel & Ken Kavanagh
Registered in the Republic of Ireland. Registered No. 81187