DeDanann rounds the Eastern Peloponnese
22 June 2016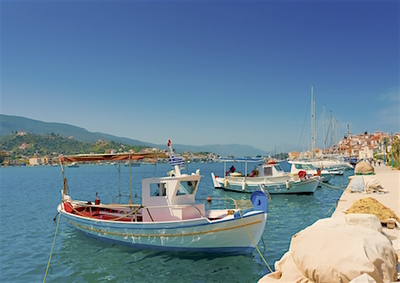 Tony Olin continues his cruising reports from the Eastern Peloponnese, berthing at Porto Kayo, Kythiria and the photogenic Monemvasia... 'Having filled up with fuel water and provisions at the marina Katakolon we were seen off by some English cruisers that we have met along the way here in Greece, the talk with all the British cruisers is of the upcoming Brexit campaign, those that we meet all seem to be in favour of leaving the EU, when they look at our Irish/EU ensign that we always fly, well they don't actually say anything, but you can tell it's not to there liking, they like to remind us in that very conservative British way, that Ireland did very well out of the EU, they choose to forget that our grandparents built a fine economy where Irish people prospered without the help of anybody after independence.
The high winds of the previous day's had died down and we had a slow sail tight along the rugged coastline as far as limeni, a nice little cove with a tiny village which has only one taverna, it was late in the evening with the sun going down when we dropped anchor in seven meters of good holding mud, Linda had been marinating a couple of juicy looking steaks that she had acquired from the local butcher earlier in Katakolon, cut from the fillet is the only beef she will buy down here, what they believe to be premium beef here in Greece would be considered very poor quality beef back home, she has to marinate them for hours in olive oil a crushed oxo cube, sea salt and black pepper to get some taste into them before cooking, there is no doubt about it, we have some of the finest food anywhere in the world back home.
The following morning after breakfast I took Alfie ashore in the dinghy for a quick run, I didn't bother to fit the outboard as we were going to head off on my return, whilst rambling about ashore the wind started to roll off the steep hills that surround the anchorage, I didn't hang about and started to row back to DeDanann, the wind was pushing us out to sea as we made our way back, I found myself struggling and getting tired very quickly as we were blown off course, an Irish yacht with five grand fellows aboard was heading out of the anchorage at the time, they obviously thought my waving for help was nothing more than animated waves of goodbye as they all waved back and kept going, Madre Di Dio, I was absolutely knackered when I made it back to DeDanann, in future the outboard, a small anchor and twenty meters of line are going on board before going ashore with the winds down here.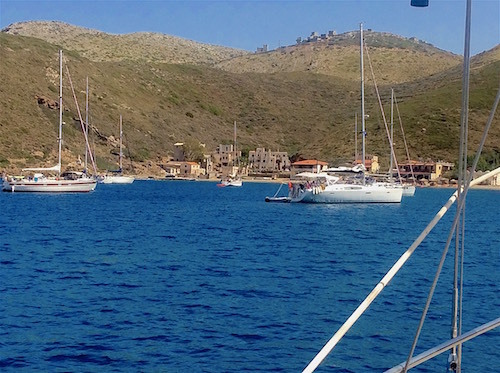 Porto Kayo was our next port of call, it's not a port at all, but a well sheltered anchorage surrounded by very steep hills, it has a little beach and three tavernas, despite it being the "back of beyonds" there was plenty of cruisers like ourselves anchored off, we dropped anchor in four meters off the beach with the local karabatic wind blowing off the hills as it does down here in the evenings, we crossed anchors with our neighbour, he wasn't too happy about that, he waited till our anchor was set before telling us, I wanted to leave it till the morning when we were both leaving but he insisted we move it now, we pulled him up with our anchor and off we headed down wind towards the shore tangled together, as I was trying to pull the anchors apart with the boat hook, Linda motored us back out into deeper water to the screaming of our new neighbours " you are towing us" as they ran about their boat in a state of panic, in anyway, we got the anchors untangled and thought it better to move to the opposite side of the port to reset it for the night with no damage to anything other than to our pride, such is the life of the cruiser. Later in the evening, having had a cup of cha, I slipped over in the dinghy to apologise, a couple of little devils of our Teelings Irish Whiskey and we were all pals again, them little devils have got us out of more trouble over these past years I can tell you.
The following morning the wind was howling from the west as we upped anchor and set off to the east and Nissos Kythiria, (island of Kythira) some forty odd miles away, looking forward to a cracking sail with the fresh westerlies behind us as we barrelled along out of the port with reefed main and mizzen set, the wind literally disappeared when we got out to the open sea, so on with the motor until a couple of hours later when the wind came up from the south east, the scirocco, @ 25 knots, we made great speed 9 knots all the way to Kythiria. Our approach to Kythiria was through a narrow Channel between it and the Peleponese, five huge ships were in the Channel as we arrived there, this is a busy shipping lane, we were called up by the bulk carrier South River, "Sailing vessel DeDanann, echo India Oscar Sierra seven, this is South River, we are coming up on your starboard quarter in twelve minutes, can you please change course twenty degrees to port to give us some parallel with the land", this we did and sure enough twelve minutes later they passed close by, AIS is wonderful in these situations, if for no reason other than you can easily identify approaching vessels by name and call sign, instead of calling, vessel in the vicinity of (Lat and long). We are also using the ISA TRX app all the time at sea, we find it very good, even though we have AIS on board I use this app in situations like this all the time.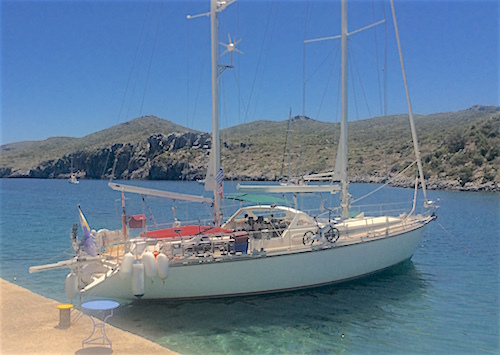 Our arrival soon after in the little port of Peligia on the north east tip of Nissos Kythiria was easier than we thought, we were well sheltered from the scirocco that was blowing hard at sea as we came along side the harbour wall in this very tidy little port that had four meters depth, water and electricity and no charge for any of it. There was only one other yacht in harbour belonging to a very elderly couple, he is Polish and herself an English woman, both in their eighties, we have met them over the years cruising Greece, Matt was a flyer of aircraft in the Royal Canadian Navy during WW11, he was telling me over some of my whiskey about being stationed in Derry, (very mindful not to call it Londonderry) based on lough foyle, he would fly out over what was known as the Enniskillen corridor out to the Atlantic and hunt down the U boats that were operating in wolfepacks, he took out his first submarine off Donegal as she dived for cover, when the war was over he married and settled in the UK, having transferred to the Royal Navy to become a sailor as there was no longer any position for flyers. He was reminiscing about his life sailing the seven seas in both ships of war and his noble yacht Scotia Mist, he was telling me about responding to a May Day he heard from a large American charter yacht in the Caribbean many years ago, when he enquired as to the nature of there distress, he was told by a novice skipper that they had run out of fresh water, and the women on board were not at all too happy!
A few days here enjoying some nice walks and knocking about the little village that would remind you of any rural coastal village during the summer in Ireland, we said goodbye to Matt and Joyce and we set sail to round the dreaded cape Maleas, the site of many wrecks, with its over falls and strong currents, well it was like a mill pond as we rounded her on this the first day of summer, we motor sailed all the way to the port of Monemvasia, trolling for tuna fish, with no luck I might add, with deep water and some current this area is rich with big tuna. There was room for us to go alongside at the very end of the quay, we put out our fenders and readied our lines just off the harbour entrance to dock, another skipper came along and stood by to take the lines off Linda as we motored to the wall in seven meters of water, just as we approached the end of the quay we grounded on a bank of submerged rocks that come out over six meters from the wall on the harbour side, it was only then, our helpful skipper decided to tells us in his rather posh accent "there are rocks there you know" Really, I replied, you should have told us, "f!!!!!! Cretan" I thought as I proceeded to reverse off the jaysus rocks to the amusement of all and sundry. The Cretan then had the nerve to tell me that "we were not the first to hit those rocks" I thought to myself, I hope I have the opportunity to pilot you and your fancy yacht in some where soon.
Monemvasia has an ancient walled town high up on a big rock, (enough about rocks), it is very nice to visit, with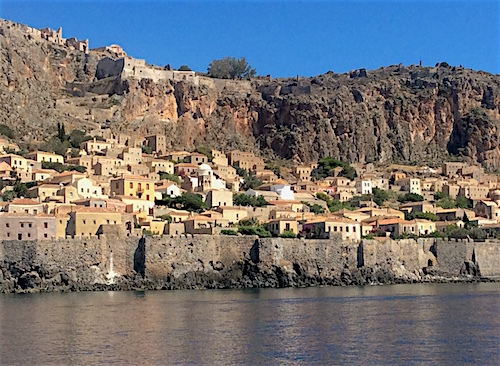 people back living there with very nice tavernas and little Nick nack shops and of course several little church's built by the various inhabitants over the centuries, Venetian, Turkish, and Greek. We would do a nice walk there each morning, take natural orange juice and fresh coffee as we listened to morning Ireland on the iPhone in one of the cafes that looks over the Azul sea to the islands of Milos, Spetses and Idhra. We met a youngish Irish couple with three young kids cruising the Mediterrean in their yacht, both doctors living in Australia having taken a couple of years out, educating the kids themselves as they go, they had teamed up this year with two other Dutch and South African families doing the same thing, all the kids having a whale of a time in the water and flying about the place in kayaks, safety in numbers for them I thought cruising with kids, these kids will grow up to be great sailors, what a lesson in self confidence and self reliance to carry them through life, who needs boring algebra when you can have this.
Our time here in Moemvasia being up we set off in a flat calm twelve miles due north to the anchorage and tiny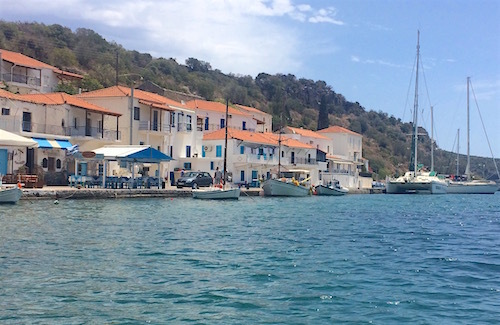 port of Yerakas, well sheltered by steep hills and a dog leg turn to starboard makes this an ideal port to take cover if the weather turns, it has two tavernas on the very shallow town quay, most yachts go to anchor in here, a grand peaceful port is Yerakas, there is a pleasant walk for miles on the flat along the shoreside or a great climb to the ruins of an ancient village high on the hilltop, a nice little graveyard overlooking the village and sea, I thought how lucky the inhabitants were having such a peaceful place to have their eternal rest. The locals here are a friendly laid back lot who appreciate the business the yachts bring in, the tavernas are not of great quality, being run in the summer months by fishing families were the mother and daughters do the cooking and the fishermen serve up, badly I might add, but they are cheap and the food is wholesome, your guaranteed fresh fish every day mind.
There is a cave in the hillside opposite, you go in with the tender and it opens out into a wonderful setting, the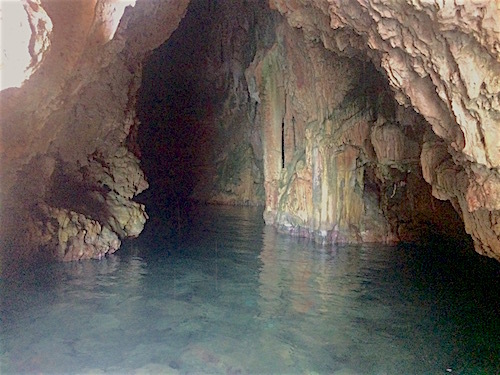 light is reflected from the sandy bottom up through the crystal clear turquoise water, or one could swim into it from the boat and really enjoy a good snorkel, Alfie loves these little adventures, I was thinking when in there wouldn't this be a wonderful attraction on Ireland's Eye. We met our French friends Claude and Anna here, they are years knocking around the Mediterranean, Claude is a good fisherman, he had a gift of some very fine yellow tuna steaks for us from a tuna that he caught on the way in, it was over twenty five kilos in weight, all the boats in port were feeding on tuna for the week, I parted with some of my Teelings Irish Whiskey, fair exchange being no robbery, Claude and Anna like a wee dram before hitting the sack and my whiskey is always a treat for them. Anna speaks no English, she told us a story, through Claude, over dinner one night of her being of polish decent, born in a concentration camp during the WW11, her father survived being what was then an essential worker, but her mother didn't, she was repatriated with her father after the camps were closed down, her father lived to a great age and received a pension by way of compensation from the German government to the day he died. Stories like this makes one feel proud of our grandparents, both my grandfathers and one of Linda's fought in that war so that people like Anna could live to tell their story all those years on.
When we drag ourselves out of here we will cross the Argolic gulf and commence our cruise around the saronic islands and what's known as the Attic coast near to Athens.
DeDanann Out'.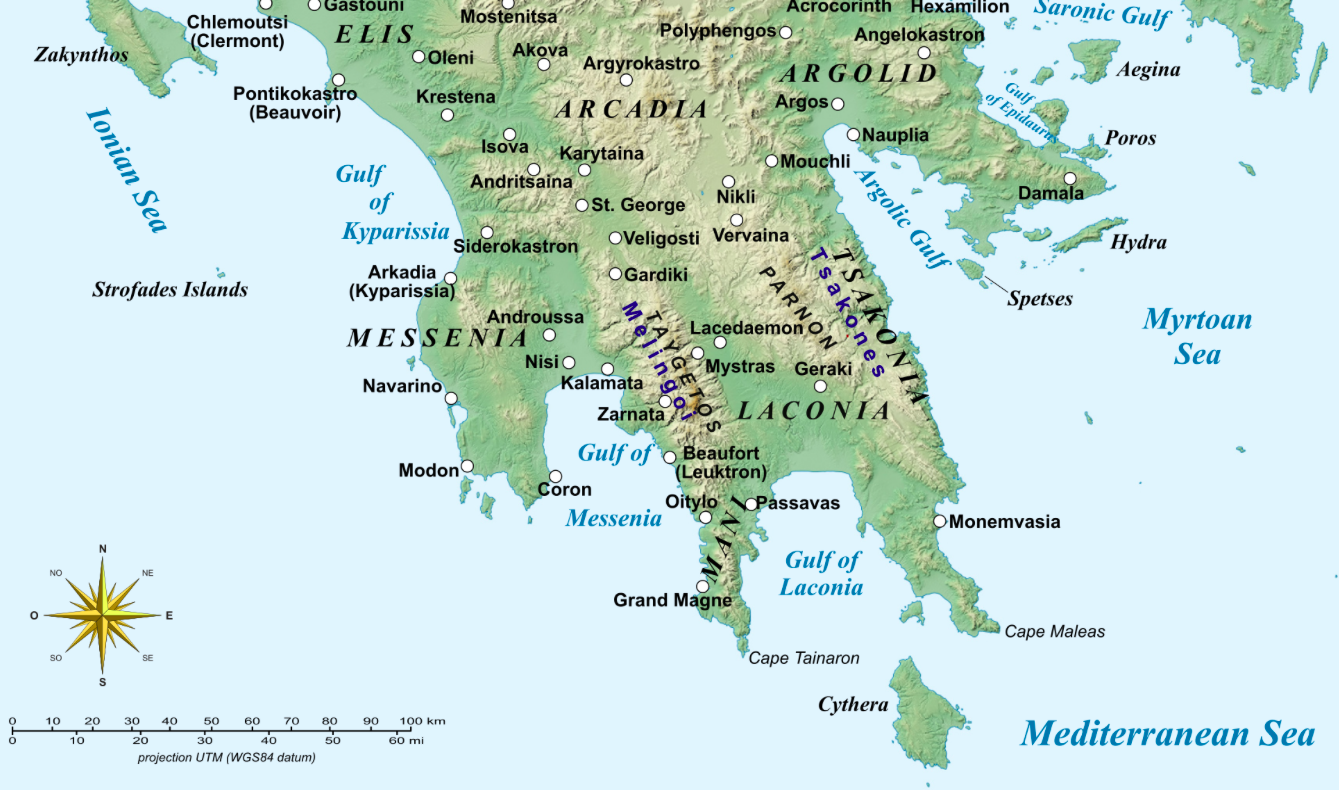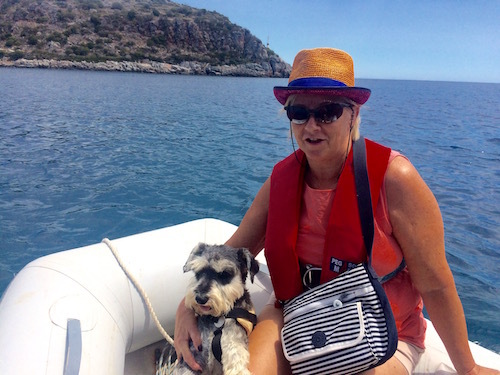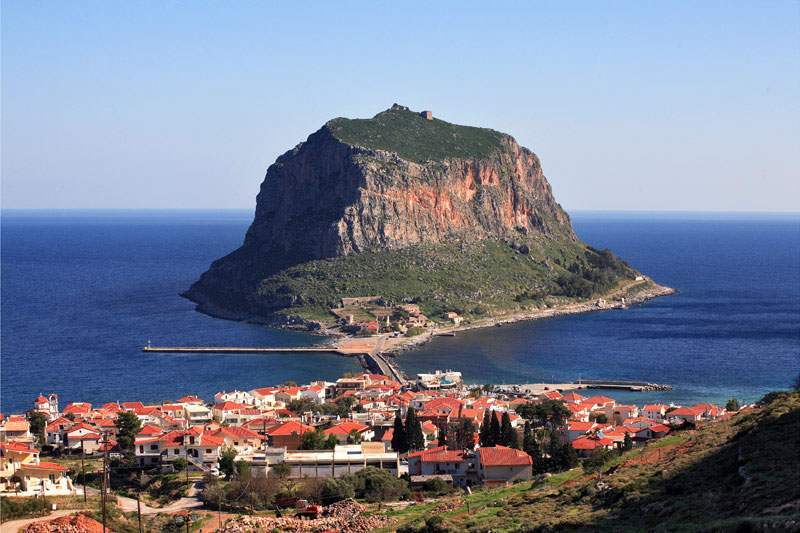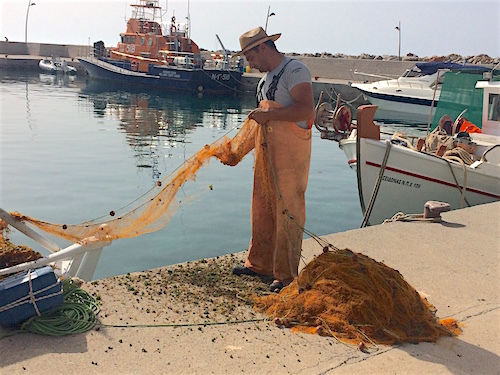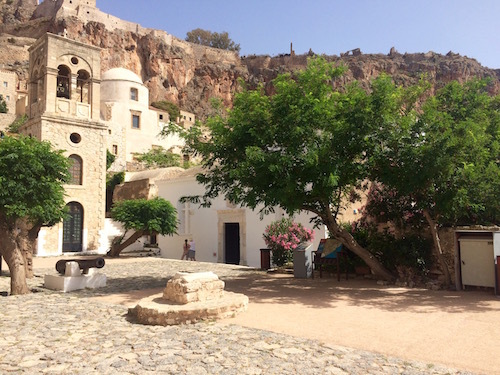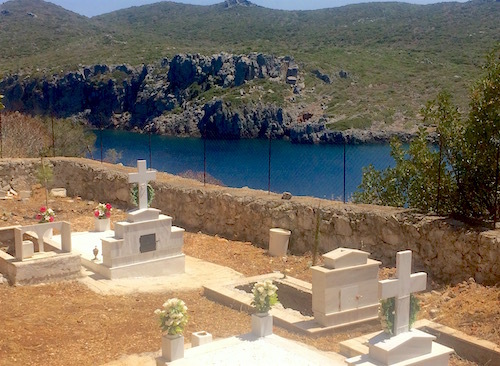 Registered in the Republic of Ireland. Registered No. 81187