HYC Cruising Group - Start of Season Breakfast
17 April 2016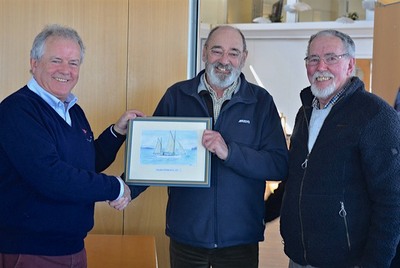 The traditional HYC Cruising Group start of season breakfast took place on Saturday 16th April. A buffet breakfast was enjoyed by 48 members and friends of the HYC Cruising Group. The plan on the day was to eat, heave and cruise east towards the Spice Islands, or East Kish or East of Rowan Rocks. (Skippers Choice of destination).
During the event the traditional "whip round" for the RNLI took place, this year €350 was raised and donated to the Howth Branch of RNLI.
The Asgard Trophy is a miniature of the famous vessel in a bottle; this was donated as a trophy for the winner of the line heaving competition by Kevin Crothers. He also donates a print of a painting of Asgard as a keepsake for the winner every year.
Joe Nolan was last year's All Ireland Line Heaving Champion; after the breakfast Joe was presented with the print of the Asgard painting, which was donated by Kevin Crothers.
The weather on the day was clear and crisp. There was a steady northerly wind. The circus maximus was readied on the apron and the All Ireland Line Heaving Championship was all set to start at 11.34.
Gary McGuire produced the traditional line, which has been used for this event since its first heave in 1989. In the interest of fair play the line had been treated with a top secret H2o molecular engineering process which made the line heavier on one end. The HYC cruising group are firm believers in equal opportunities; the ladies and gents used the same base and the same line. There was a rumour that competition had been won on a number of occasions by ladies.
This year there was very close competition, among the ladies and gentlemen. The top three heavers were way ahead of the rest and within 784mm between first and third place!!!
The ladies furthest heave was by Aine Carroll and runner up was Carmel Kavanagh.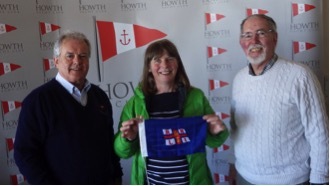 Aine was presented with an RNLI flag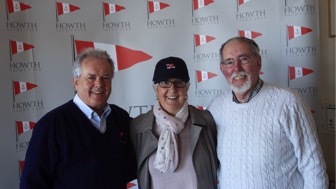 Carmel was presented with an RNLI cap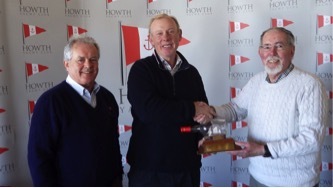 The furthest heave was achieved by Mike Medcalf and he was declared the overall winner. Mike was presented with the Asgard Trophy.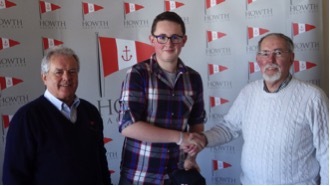 Runner up, with the second furthest heave was Evan Crothers. Evan was presented with an RNLI cap
After the Line Heaving Championship, to cool down after the excitement, a fleet of stalwarts set sail towards the East and enjoyed a mini cruise in the fine weather. See a further gallery here
Registered in the Republic of Ireland. Registered No. 81187