Dave Cullen on Checkmate XVI take 3rd in the Miami Ocean Challenge - C&C 30 series
27 February 2016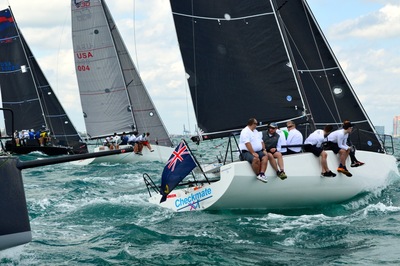 Just back from the Miami Ocean Challenge which was part of the C&C 30 series. These Mark Mills boats are the latest fast keelboat to take the US by storm and are billed as the next Mumm 30 or Melges 32. I was racing with Nigel Biggs on Checkmate XVI with a mixed Irish/UK crew bolstered by Neil Mackley of North Sails UK and Curtis Florence, a Canadian professional sailor based in the US and former Rolex Canadian Yachtsman of the Year. The plan was for me to helm but Class rules dictated that I was put further aft for some tactics and runners.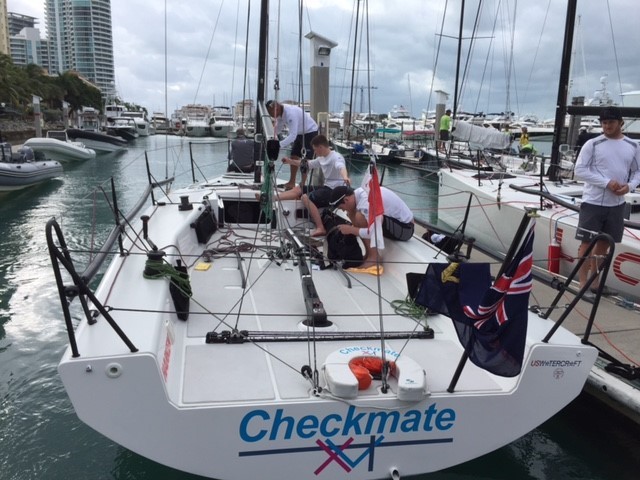 Although only six boats participated, all were professionally run campaigns and the best analogy was that this circuit was the 30 foot equivalent of the TP52s. North Sails and Quantum both had researchers following the action on the water with some teams also having professional coaches for debriefing.
Our practice day on Thursday comprised several starts and some short courses in about 15 knots and we proved competitive. Unfortunately a systems crash meant we had no instruments for the regatta as didn't have enough time to get a replacement for Friday. This proved a big disadvantage for us.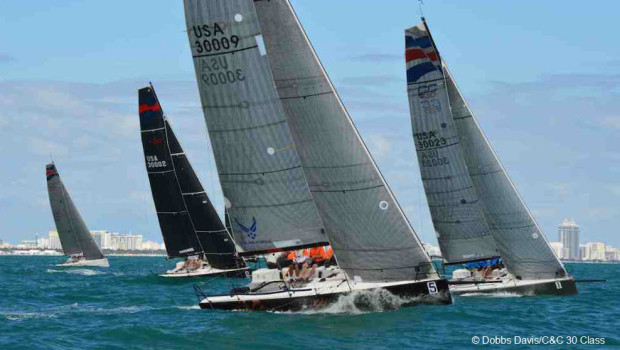 Fridays racing was postponed as we were kept ashore with big winds and we were eventually set lose at 1:00pm to compete in three races sailed in up to 28 knots. The abiding picture etched in my mind was blasting downwind at 22 knots and the only visible part of the boat above water was the tip of the winch handles. Three decent results of a third, second and first had us joint leaders on day one with sore limbs but big smiles.
Saturday proved a bit easier with average winds of 16 – 22 knots and every boat had a fair share of good and bad results in the four races sailed with Checkmate finishing the day one point behind the leader. These boats are so close, six of us arriving at leeward gate at same time proved a test of nerves but the boats are very stable so very controllable.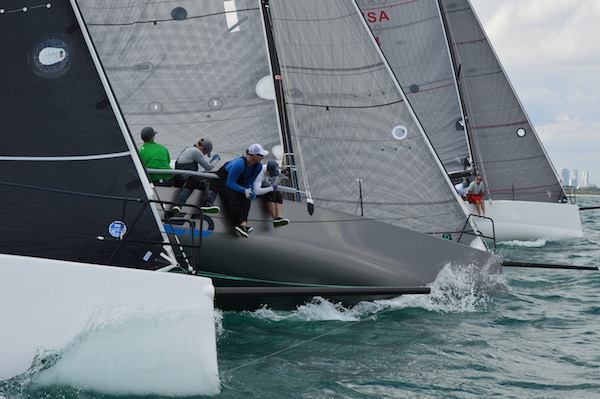 Sunday was 12 -1 4 knots and a bad start in the first race scuppered our chances of an overall win with a fifth place. Despite good starts in the 9th and 10th races, being caught on the wrong side of a shift on the first beat of both races saw us slip to a disappointing although credible third overall. For a boat with the least amount of time on the water, this was a respectable result but it was also clear where we could have improved with the punishment for a simple crew or handling error being 3-4 places.
The event was won by Dan Cheresh's well sailed Extreme2.
It was hard to beat racing in 28 degrees, big seas and winds but the final cost means another trip to Santry for a shoulder operation having been washed into the pushpit. Was it worth it? Definitely!
For more, check out http://c-cyachts.com/2016/02/21/5038/
Author: Dave Cullen
Registered in the Republic of Ireland. Registered No. 81187