ROMEOs raising funds for Aoife Hopkins' campaign
11 January 2016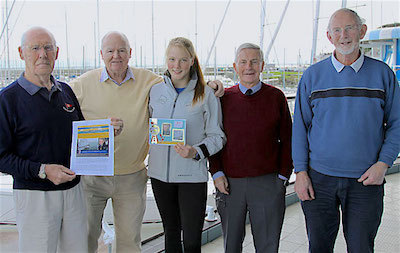 The ROMEOS (Retired Old Men Eating Out), completed their 2015 programme of outings with a visit to Dublin Port. At 9.30 am on Friday 18th December at Howth Yacht Club, 40 ROMEOs boarded a bus provided by Dublin Port. On arrival at the Port headquarters in the Docks they were given a very interesting and informative audio presentation on the current and proposed future port layout. This was followed with a comprehensive bus tour of the complete port area with commentary on route from a public relations member of staff. It appears the future plans for the port does not envisage further land reclamation but rather the removal of a portion of the current land mass to facilitate a larger turning area for cruise ships with a length of over 300 metres.
On being dispatched back at the Club at 1 pm the 40 were joined by a further 16 friends and together they indulged in pre-Christmas lunch liquids.
An enjoyable lunch was had while being entertained with a 13 minute slide show loop of past outings projected on two portions of the ceiling using two projectors organised by Pat Murphy. The "old codgers" showed their support for the younger sailors when they collected, during the lunch, €500 for the Aoife Hopkins Olympic Campaign.
Another great day thanks to the initial idea from Cyril Geran and the organising abilities of Gerry O'Neill assisted by his "secretary" Gerry Sargent.
Report by Pat Murphy
(Top photo: Gerry O'Neill, Chief ROMEO (Retired Old Men Eating Out), presenting Aoife Hopkins with a beautiful card and insert of €500, to support her Olympic campaign, collected at their Christmas lunch. Also in the picture are Cyril Geran, Gerry Sargent and Pat Murphy.)
Registered in the Republic of Ireland. Registered No. 81187