DeDanann returns to Greece
11 November 2015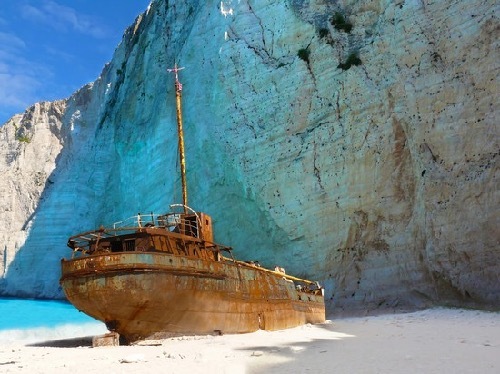 We untied our mooring lines and slipped out of the Diporto Vella Venetzia, sailing club to commence our journey back to Corfu, we had intended to do this trip in one run some 500 nm which would mean three days non stop at sea with a good NW wind, however, having giving the weather forecast some thought, we decided to cross back over to Croatia and run south between the shelter of the islands through the Kornati national park group of islands as far as Cavtat taking in two night stops on anchor then a thirty five hour run from Cavtat to Corfu.
We set off from Venice at 13.00 for the anchorage at Veruda, just south of Pula, some 70 nm on course 120* our ETA midnight, the wind was fresh from the NW blowing 12/15 kts, the sea as usual choppy outside Venice as we made 5/6 kts under full sail, the wind dropped off as the sun went down, so on with the engine and we settled into motor sailing for the night.
Thirteen miles out of Veruda the engine suddenly died to tick over, I thought it may be fuel starvation or a blocked filter, I lifted the engine hatch and got down with the torch to inspect the racor fuel filter, no sign of fuel starvation or water in the filter, I asked Linda to fire up the generator which takes fuel from the same tank and it ran for some time with no problems, so, I thought the prop is fouled but the sea is too lively to go diving in the dark, we were only making 2 kts under engine and sail, we settled in to a long night limping our way to the anchorage in Veruda. An hour or so later the wind came up and we were back making 4/5 kts, there are rocks to port as one approaches Veruda and I was most concerned that if the wind died off as we passed we could easily find ourselves drifting onto them, it would be too deep to put out the anchor, so we changed course to give a safe offing of several miles which saw us limping into the anchorage at 03.00, we dropped the anchor in flat calm water in this well sheltered bay and hit the sack in jig time.
The following morning after breakfast I put on the goggles and was delighted to see a nylon fish sack completely covering the prop, I cut it off in a couple of minutes and we were ready to make way again.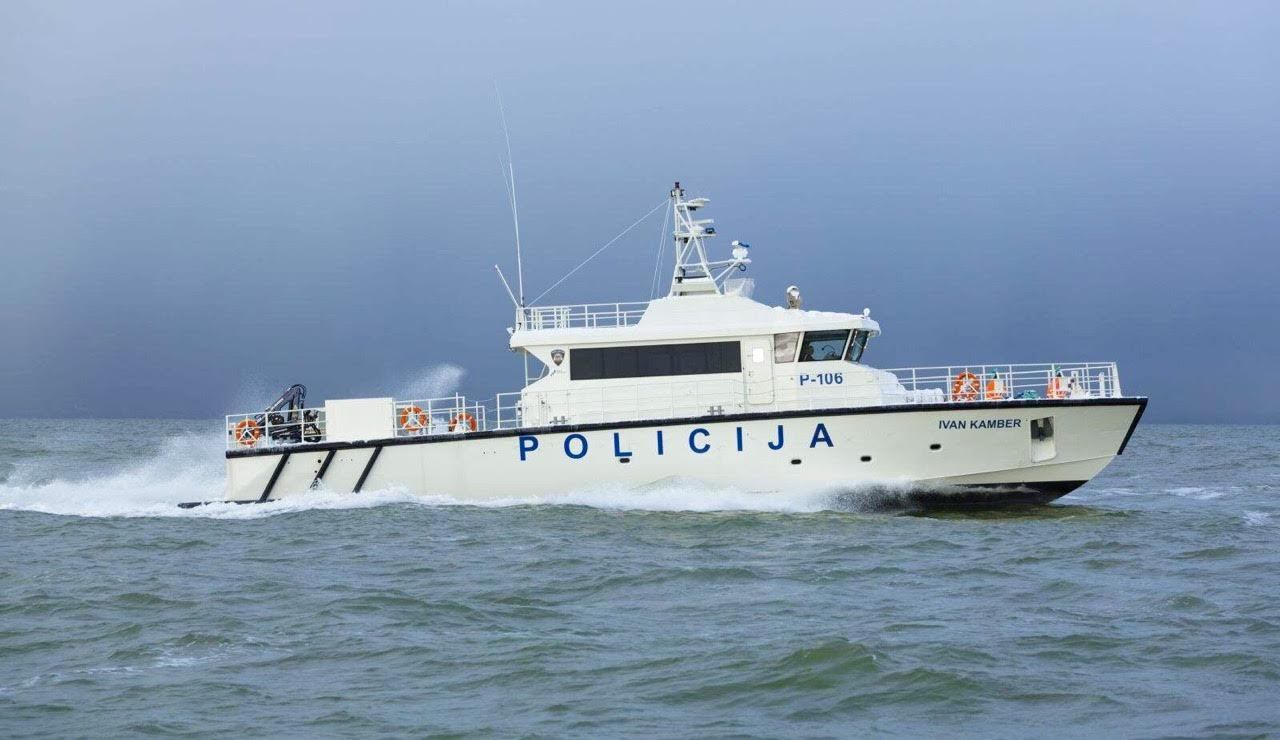 We set off on our journey south at 11.00, the sea was quite choppy and the wind blowing at 15kts from the NW, we were going well hoping to get in another 60/70 nm before going to anchor for the night, two hours out we saw a police boat approaching us at speed, we thought nothing of this as it headed in our direction, as it closed on us I took up my camara to take a photo of them, then the blue lights came on and they sounded their siren, several crew came on deck hailing us to heave - to, an officer informed us that we were under arrest and to follow them back to Pula, our jaws dropped, "under arrest for what", I asked, customs administration, he replied, well what does that mean, customs administration, I asked, you are under arrest, now come about and follow us he, replied.
We motored behind them on what was looking like a three hour trip against the wind to Pula, they changed course for port Pomer some two hours away, calling us up to say as the sea was so rough they would deal with us there.
On arrival at Pomer I was asked to accompany them into their boat, it felt like one of those trips to the headmaster when I had been caught mitching, I was asked what my last port was, Veruda, I replied, I got that stern look from all of them, and the port before that, they enquired, Venice, I replied, why didn't you clear in at Pula last night which was your first port of entry, they enquired, I started to explain about the prop but they didn't want to know, in anyway, fines of €1070 were duly issued, I asked what proof of all of this did they have, they printed off a copy of our AIS route out of Croatia some weeks earlier and our route returning to Croatian waters at 21.10 last night right up to the anchorage at 03.00. It turns out they check all traffic entering or leaving their waters to see have they cleared in or out, flagging those for arrest that have not complied, I cursed that AIS.
How long do I have to pay these fines, I enquired, you pay now by plastic or cash was the reply, what if I don't have the funds to pay now ? You have sixteen days to pay the full fine at any bank or post office, came the reply, OK , I pay within the sixteen days, they didn't like that I can tell you, after checking our cruising permit which was still valid and all sojourn taxes were paid, they told us to go immediately to the police at Mali Losenj some five hours south of here to clear back in.
After having some lunch we set sail again for Mali Losenj , the weather turned nasty with thunder and lightning, we arrived at the town quay in Mali Losenj in torrential rain and 25 kts of wind at 23.00 and tied up for the night, it belted rain with thunder all night long, the following morning I went to the police station to clear in, a very surly sergeant told me to go to the port police hut in the port, that I should know that this station doesn't deal with boats, I was quickly dismissed and sent on my way.
I walked to the port and spent some time looking for the port police hut which is about a mile from the town quay, I turned up at the hut soaked to the skin having got caught in another thunder storm, the two officers in the hut were watching a film on the tv and it was clear that I was disturbing them with my arrival dripping rain all over the floor, I explained the situation of having been arrested at sea and sent here to clear back in, why did you not clear back in at Pula yesterday when you were arrested, I explained that we diverted to Pomer as it was the nearest port, why did the arresting officers not clear you in, I don't know, they sent me here was my reply, a phone call was made, it turned into a right row, they spoke Croatian, I couldn't understand what they were saying, he put the phone down and shouted at me, you can pay double now, I'm issuing more fines for not going to Pula, why did you not pay the first fine yesterday, he enquired, I have sixteen days to pay, I said, you will pay these fines today he advised as he proceeded to stamp our passports and mess about on his computer, he then got up, put on his coat, and drove me to the post office on the town quay, when we got to the door of the post office,I asked, what was he taking me here for, to pay these fines now, he replied, at this stage I had enough of their crap, I told him in no uncertain terms, that I would pay the fines when I am ready to pay them, this infuriated him, he poked me in the chest and said, I wouldn't hang around here too long if I were you, well your not me, said I, thanked him for the lift back to town and I then walked away. I just couldn't believe the carry on of these people and their treatment of tourists to their country, an EU country at that.
The following morning when the weather had cleared we untied our lines and bid Croatia farewell, needless to say, i didn't switch on the AIS, set course for Corfu some 385 nm and off we went with no intention of paying any of their ridiculous fines. We crossed between Croatia and international waters some 220 nm from Mali Losenj two days later, our hearts were beating a hooley as we left their territorial waters fleeing like a pair of fugitives.
We settled down to another 35 hours at sea, the wind would come and go and eventually died off leaving a big sloppy Adriatic Sea to motor sail through, life onboard becomes uncomfortable in these conditions, with no wind, rolling from side to side in the short steep seas, we were sorry that we didn't keep to plan A and do Venice to Corfu in one hit. Sixty miles north of Corfu we were closing the coast of Albania some six miles to port, with conditions being as they were, the port of Vlore was looking very appetising, we were both tired after several days at sea, ten hours to Corfu, or one and a half to Orikum Marina in Vlore, we let our hearts rule our heads and set course for Vlore.
The entrance to the marina is very shallow, you come through a narrow dredged channel that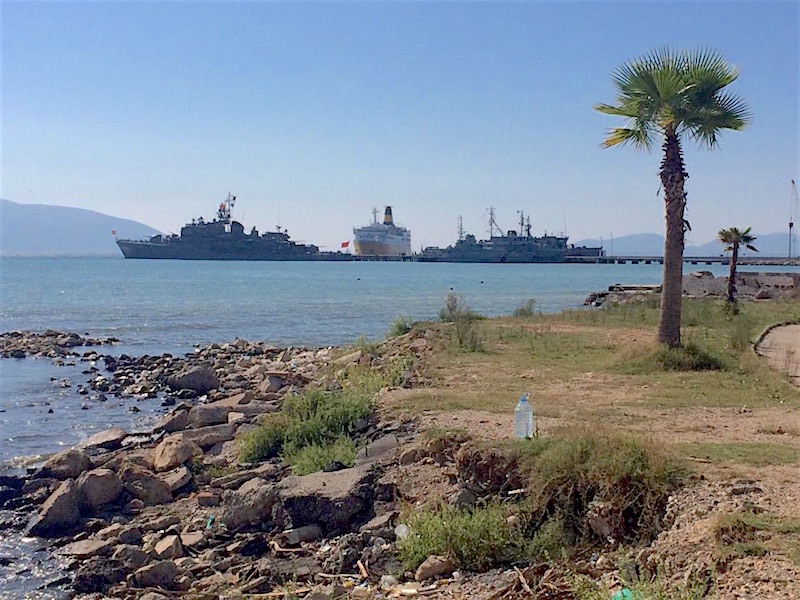 does a 90 degree turn to port, one gets the impression that you are heading for a dead end, when you turn hard to port the marina opens up, we tied up with the help of some very pleasant marineros and the usual port police man stands by to inspect passports before you step off the boat, the port agent then takes boat papers and passports for stamping up, a charge of €80 for this is a rip off, the marina charged €45 per night. We tidied up DeDanann, took showers and headed out to a local fish restraunt were we had a fine meal for less than €25 to inc a bottle of good wine. The following day the weather was stinking with more thunder and high winds, so we took ourselves off to the city centre for some shopping, the taxi ride into the city is interesting, you can see the poverty as one passes little shacks of corrugated iron, with hens, goats etc living among the people, as we entered the city centre there were cattle loose grasing on the roadside and on the island in the centre of the road,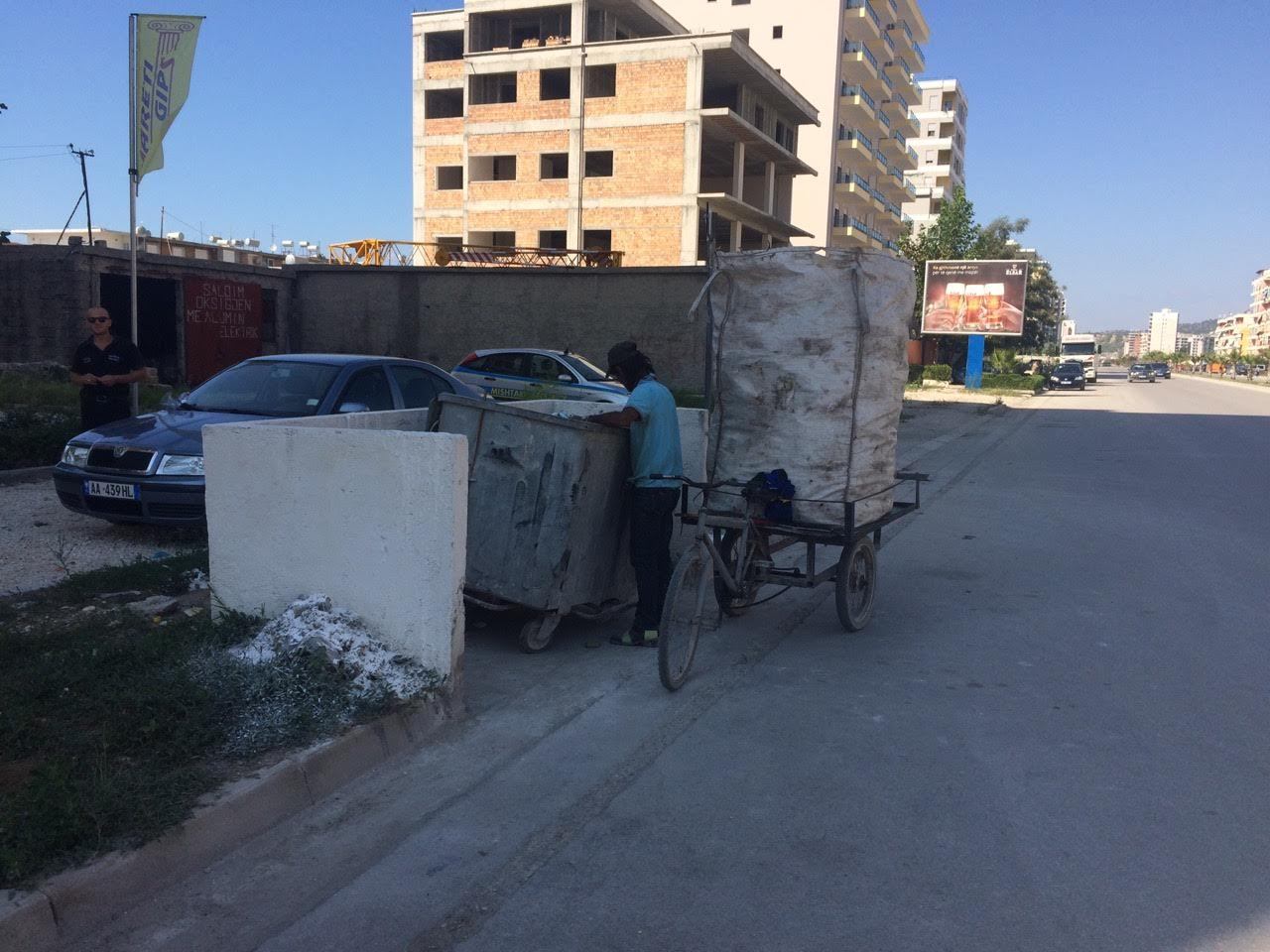 the taxi stopped to get petrol and there was a cow on the forecourt that nobody but us seemed to take any notice of. Vlore is quite a modern city with lots of fine hotels all along the huge promenade, it has a commercial port with mostly naval war ships all tied up and under armed guard, the same ships were there when we called here in June on our way north up through the Adriatic. They are still very security conscious with old pill box's and boat Penns lying all along their beautiful but hostile west coast.
The weather improved the following morning, we slipped our lines and set course for the grand little port of Kassiopi, Corfu, some 60 miles south, the wind was blowing 10 kts from the west, out with the geneker and we made a leisurely pace doing 5 kts to the port entrance, we tied up to the town quay, there was a fiesta to some local saint taking place and the port was buzzing with tourists and the locals all having a great time, we were both happy to be back in Greece, good enough food, friendly people, no mooring fees, happy days.
Our son Toe and our little grandson Leo came into Corfu for a couple of weeks cruising the Ionian, we spent a couple of days in Kassiopi then headed south taking in Mourtos, Gaois, Nidri and Fiskardho before seeing them off from the airport on Cephalonia. Toe was in training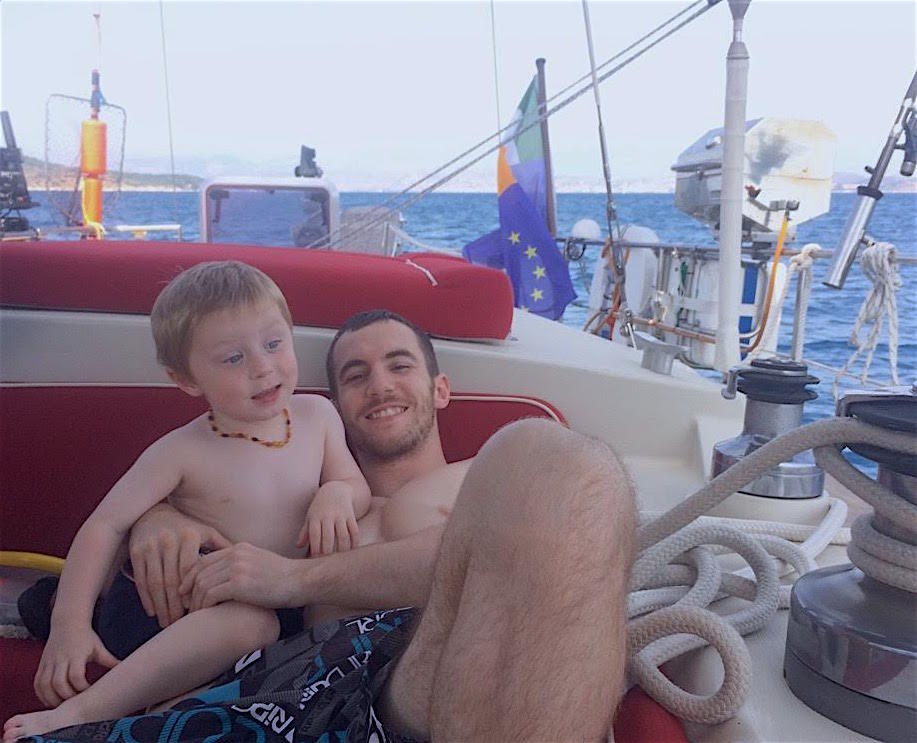 for a fight in Canada, representing Ireland, he enjoyed the nice weather for running, swimming and the gym sessions, he sadly lost on a couple of points to a much bigger Canadian champion, his grandad Louie Olin was one of the founding members along with Charlie Hegarty and Howth hotelier Seamus Kavanagh, of the very first Judo club in Ireland, (circa 1962) the Dublin Judo Club, situated at Garda HQ and later at parkgate street. Toe teaches physical fitness to the guys on the lifeboat and the members at HYC a couple of evenings during the week, so there's a thought for getting into shape for the Christmas.
We then took ourselves off further South for the island of Zakynthos, the most southerly of the Ionian islands, it was here that the compass rose on all the ancient charts of the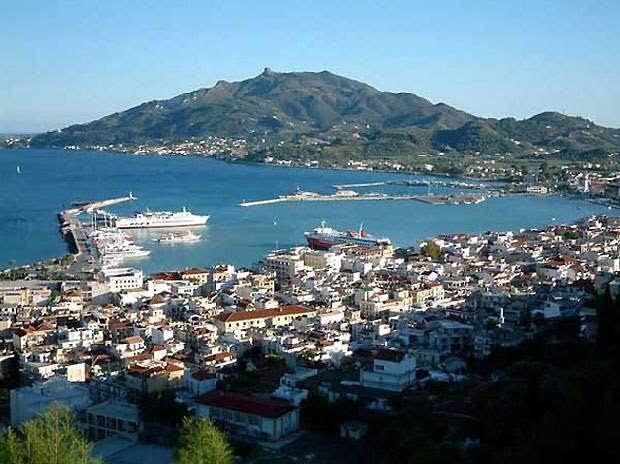 Mediterranean was centred. We did a couple of days at Saint Nikolaous, a small port on the NE of the island, terrible swell makes its way into the port even in good weather, it's better to go to anchor in here than put up with the discomfort of being on the quay when the swell comes in. Zakynthos harbour is big and well sheltered, it is the main port for the island and a nice place to visit, lots of tavernas and decent shopping close by, one needs to get into a big town every couple of weeks to stock up on essentials.
We will laze about the Ionian for a few more weeks enjoying the last of the good weather before heading back towards Preveza were we will haul DeDanann out at the Cleopatra yard for the winter before heading on the long trip back to Dublin for Christmas, the logistics are a little complicated with Alfie, we had to go Lufthansa to Frankfurt, then onto Athens last April coming out, however, they won't fly him back to Ireland or the Uk quoting some restriction that really doesn't exist, we checked with the dept of agriculture at Dublin airport, in anyway, we are flying him to Paris, driving to Cherbourg, then ferry to Rosslare and onwards to the home of the black stuff for Christmas.
To all of you who are following our logs, we wish you a happy Christmas, and a healthy and plenty new year to ye all.
DeDanann Out.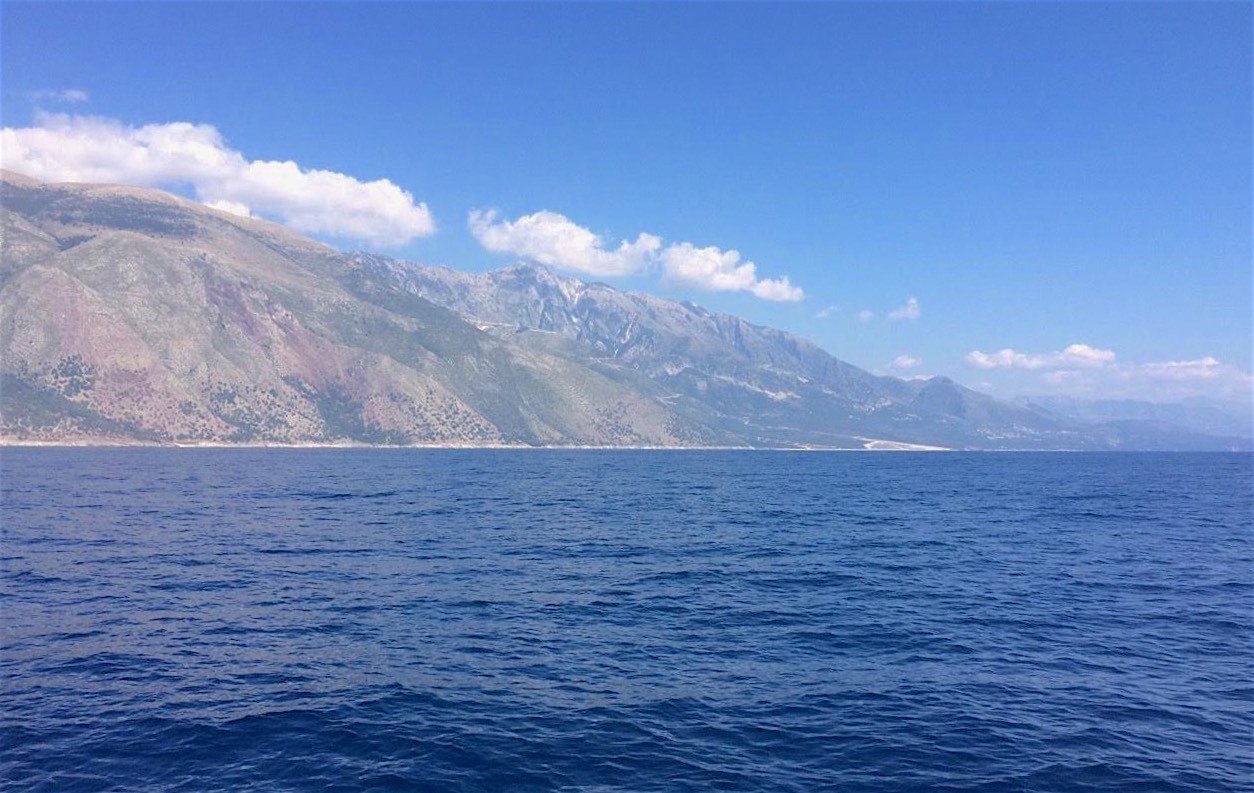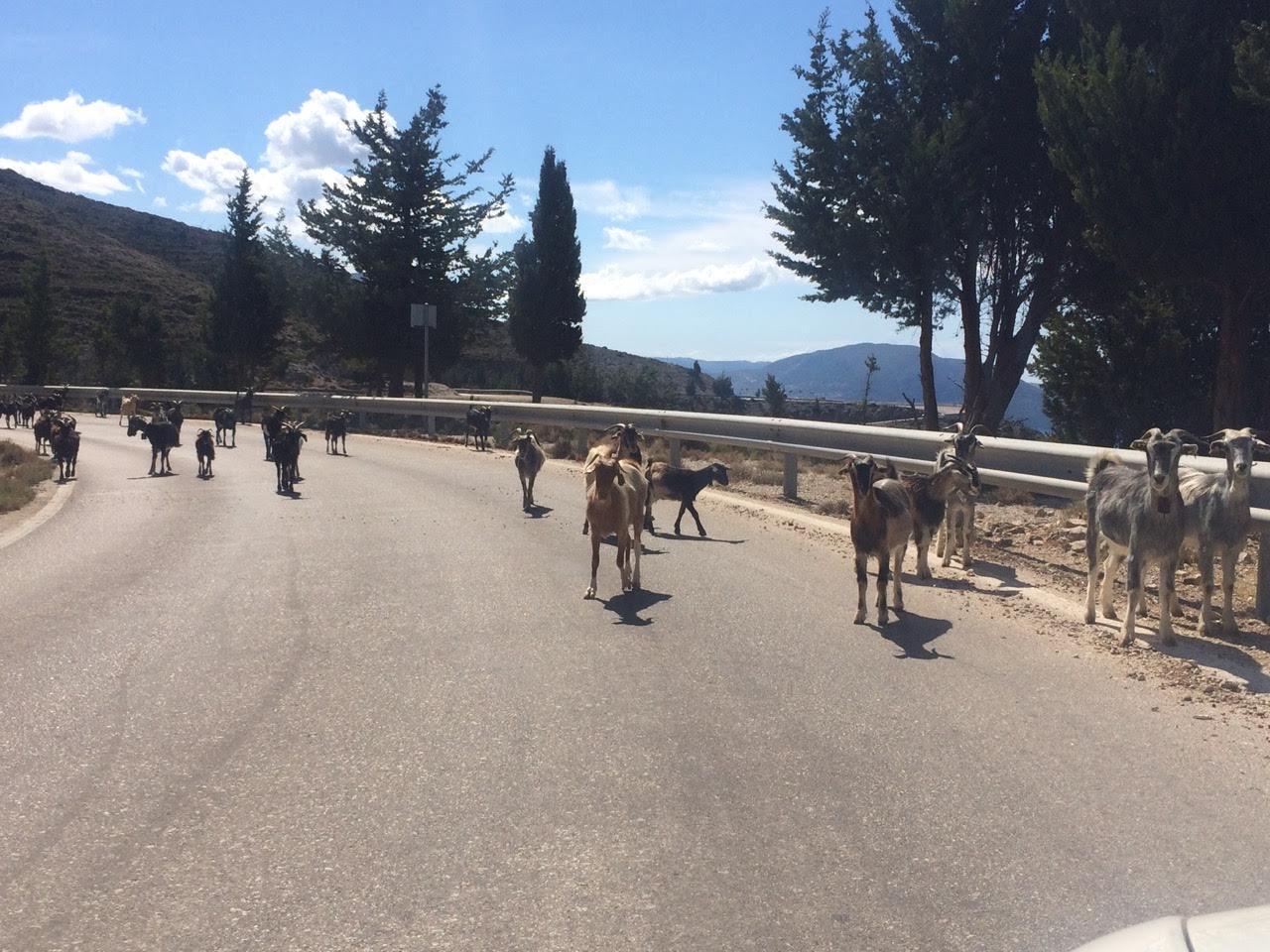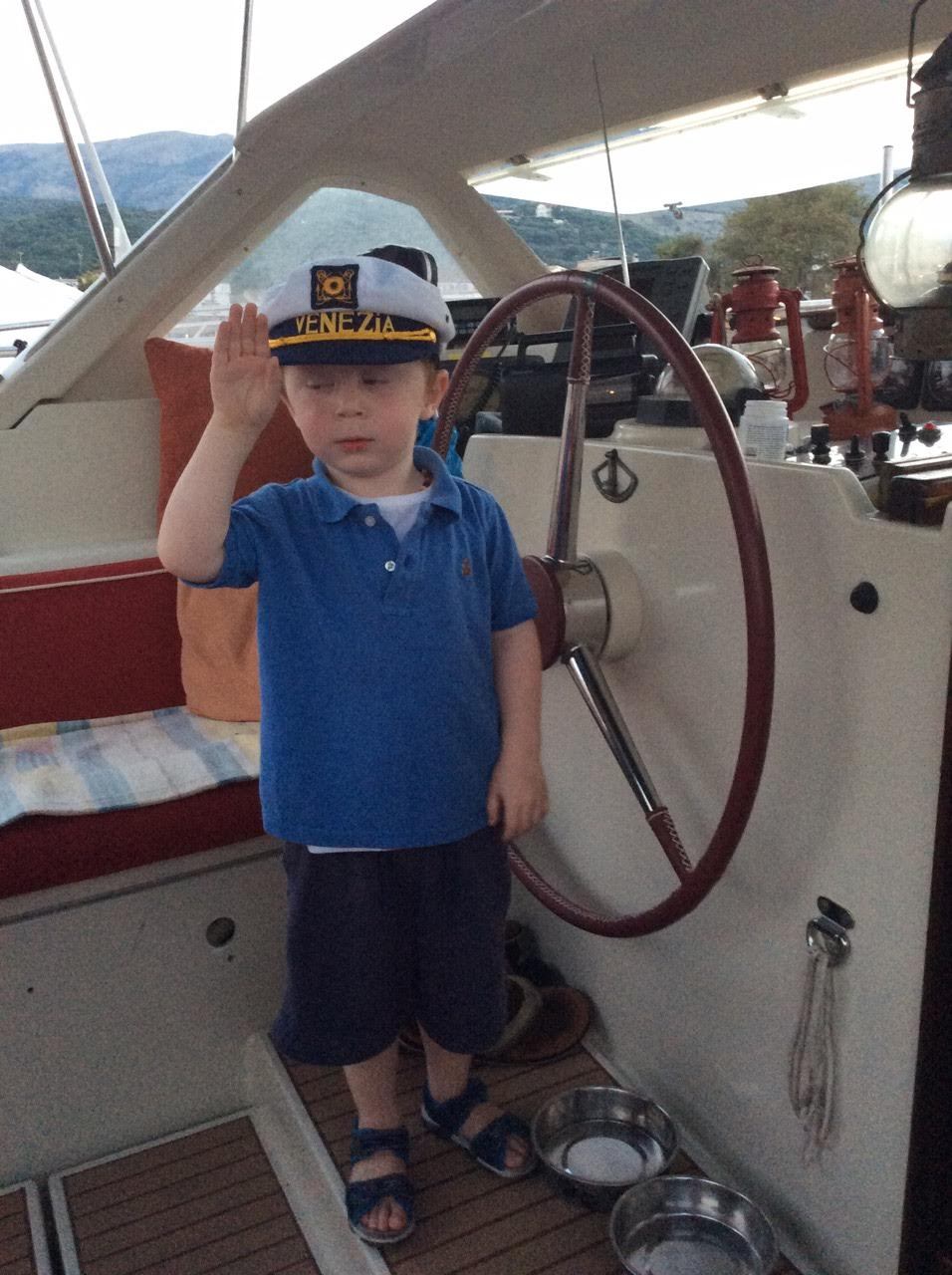 Registered in the Republic of Ireland. Registered No. 81187