The ROMEOS are off to gaol
11 November 2015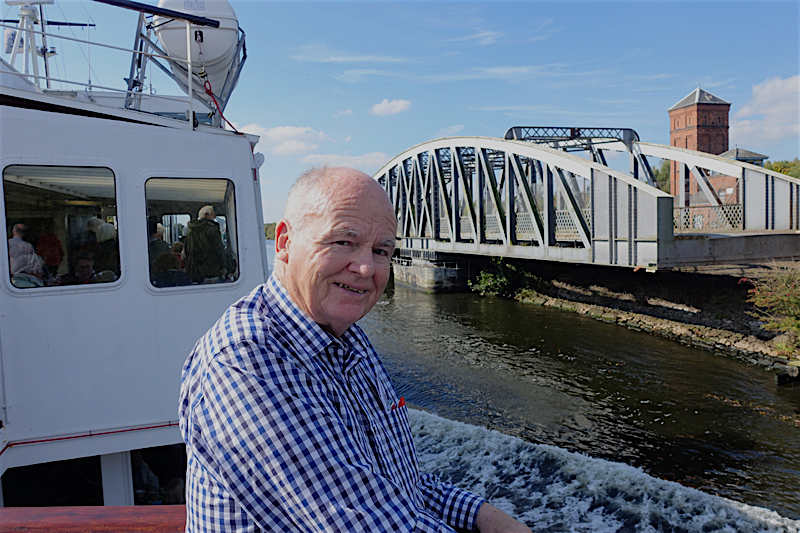 On Thursday 12th November 27 ROMEOS (Retired Old Men Eating Out) are off to gaol. Some may say they hope it is a long sentence with no time suspended. Sad to say they will only be confined for a few hours. The gaol in question is Cork Gaol which will be preceded by a visit to the city's English Market. More on this visit will be in my next report.
The Manchester Ship Canal was the ROMEO's last outing when on Wednesday 30th September 27 of them boarded the 06:20 Ryan Air flight to Manchester. Two trains for £4.20 brought them from Manchester Airport to Salford Quays where they were joined by John Kearon who was in charge of the Asgard conservation. John had travelled, as arranged, from his home in Liverpool to join us. Boarding the "Royal Iris", with a couple of hundred other people, we departed Salford Quays for the scheduled six hours through the 58 km to Liverpool. The Canal opened to its first traffic on 1st January 1894 is now crossed by 21 bridges and five sets of locks lifting and lowering vessels 17 metres. The entrance locks at Eastham on the Wirral side of the Mersey, which seal off the tidal estuary, are the largest on the canal. The larger lock is 600 feet (180 m) long by 80 feet (24 m) wide; the smaller lock is 350 feet (110 m) by 50 feet (15 m).
The scheduled six hours had to be extended by an hour when we had to wait prior to entering the last lock for two commercial vessels to enter. However the additional hour, in ideal summer weather, allowed all to absorb the extensive working of this magnificent engineering achievement. Believe it or not, due to the delay and the over twenty two degree temperature the crew distributed sun cream lotion and bottles of water to all the passengers.
On arrival in Liverpool an excellent meal was had in the Gusto Restaurant adjacent to the Docks, we had dined here last year when we visited the Liverpool Maritime Museum.
A final local bus ride brought us to Liverpool Airport and finally back to Dublin. It was a very tired bunch of Retired Old Men that arrived back to their respective domains that evening.
Report by Pat Murphy.
Photos by; Conor Lindsey, John Kearon, Dick Watson and the author.....
Registered in the Republic of Ireland. Registered No. 81187