DeDannan in Croatia
18 August 2015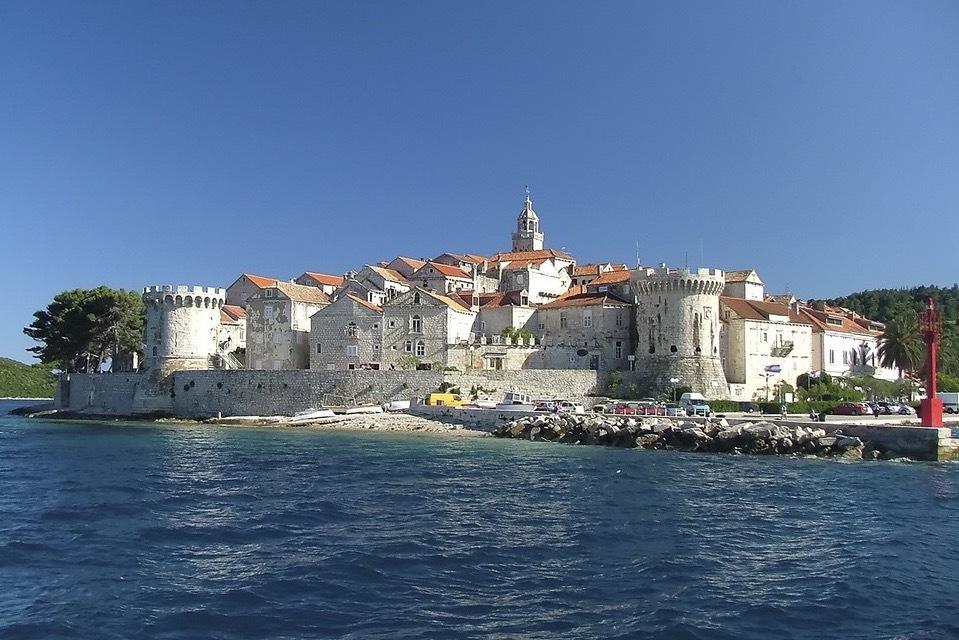 Tony Olin's continuing cruising adventure log - this time in Croatia: 'It was 07.00 the bora was blowing hard NE 30kts when we came out of the fjord of Kotor (Boka Kotor) back into the Adriatic Sea, it had been a most stressful morning freeing ourselves after our anchor snagged a mooring line in confined waters close to some local fishing boats off the village of Denovici, Montenegro.
Our prop was snagged with the same line but with the wind from the NE we got a good sail all the way to the port of Cavtat, Croatia, some 20 miles distant. We entered the port under engine with limited propulsion and protest from the gearbox and anchored off in 7 meters, I put up our Q flag and our Croatian courtesy flag as is the protocol and took the dinghy ashore to the custom quay, it was really busy with large motor boats queuing up to clear customs, a berthing master and police man were organizing the boats, I enquired, if I could clear on anchor as the pier was so busy, no, was the reply, the mothership must present at the quay.
We got on the que, difficult with the wind blowing at 15/20 kts and eventually tied up lying to our own anchor stern to the quay, the gearbox was protesting hard in reverse, I was most concerned that we had sustained damage to the shaft earlier in the morning leaving Montenegro.
We got a decent greeting from the officials when we tied up, then, the berthing master, a big stocky fellow turned nasty out of the blue, What country are you now in, he enquired, Croatia, I replied, What flag is that you are flying ? Croatian, I sheepishly replied, that is the Serbian flag, and I advise you to take it down fast, "Linda get that flag down fast" said I, I think we've cocked up. This guy was becoming quite irritated and wound up, the young police man stepped in and told him to back off, he handled the situation quite well, he told me quitely that you are entitled to fly any flag you like, but, "that flag" will cause a lot of upset around here, listen, said I, coming from Ireland, we know all about the upset the wrong flag can cause in a certain quarter of our country, I will buy the proper flag later.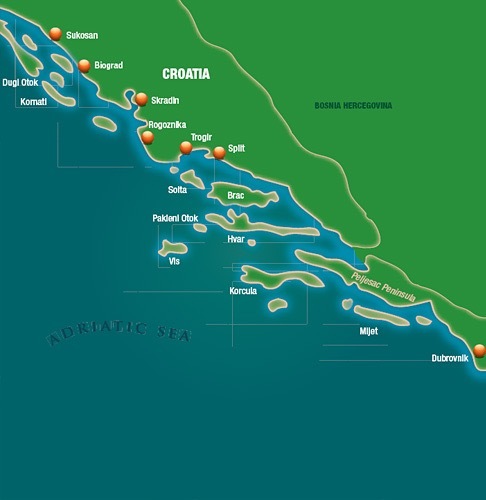 We cleared with customs and police, it was a painless operation as the officials are quite friendly and helpful, I paid €125 for a six month vignette, on my return to the custom quay with all papers in order I approached the berthing master to apologize about the flag, he was still irate and harped on again not wanting to listen to my explanation as to buying the wrong flag, we untied our lines with the help of the young police man who just looked to heaven as we pulled away and we went back on anchor on the other side of the port.
Back when we were in Lefkas, Greece, I went into a local chandlery and asked to buy the Albanian, Montenegro and Croatian courtesy flags, the owner handed me the flags asking, did I ever see such an ugly flag as the Albanian, holding it as though it was soaked in urine, here, said he, as he threw it on the counter, you can have that for free, Albanian people, no nice people, he muttered as he went about his business, he made no mention of the Croatian flag, but it was clear he didn't like the Albanians, I don't think he purposely gave me the Serbian flag in place of the Croatian national flag,
Oh, the trouble that these coloured bits of cloth can cause.
Early the next morning as the sun rose I put on my dive gear to go down and sort the propellor problem, I was glad to see that the max variable pitch,three blade prop, was completely tangled with nylon fishing net, it took me the best part of an hour to undo the mess, nylon is a bugger to cut free, I got it done with hardly any air left in my bottle and got the gear hidden away before any port police noticed me diving which is prohibited in all harbours without a license from the port authority.
Cavtat is a nice port to visit, much like Howth without the fishing boats, there are plenty of good tavernas, shops, banks etc and a bus service to all the major cities.
We spent a couple of days here, the weather was nice and the living was easy, the entertainment every day was looking at boats getting there anchors caught around each other at the custom quay, the local diver used to just sit in a port side cafe drinking coffee, then out with his mate on a little fishing boat, into the water to untangle the mess, twenthy minutes, three or four times every day @ €130 cash, you would think they would lay mooring lines, or perhaps, the local port boss is in on it ? The chaos every day as huge expensive motor boats and yachts would be stuck and trying to hold position in confined waters was no joke, I think the anchors were dragging because the skippers of these boats were professional men who knew what they were at, I suppose the sea bed there could not be good with up to 50 boats dropping anchor in the same spot day in,day out.
We took ourselves off NW to the ancient and beautiful walled city of Dubrovnik, coming from the south the small port and city are to say the least, impressive, there is no room for visiting boats in the port, so we headed up river to the ACI Marina a couple of miles out of the town, bloody expensive @ €130 a night, there is a public bus service that runs every 30 minutes to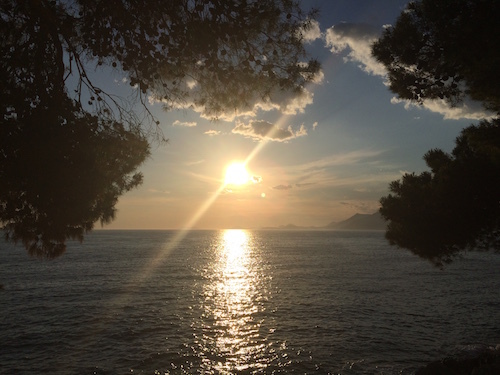 the old city ( Stari Grad ), it's a fine city to visit if in this part of the world, everything is expensive by Croatian standards and just like Kotor, it has several cruise ships landing thousands of tourists every day at this time of year. We didn't stay long, with the Marina charging €130 a night and no option to anchor, so, off we moved on towards the islands and after a day under motor with variable light winds we called into Uvalla Polace (Polache) a bay on Otok Mljet (Myet), this is a well sheltered bay that is protected from the winds and waves, we were planning to anchor but a couple of shoreside tavernas had there own pontoons that are free of charge if you patronise their premises, so we tied up and had dinner there for a couple of days, you can eat and drink a lot when saving €130 a night on the marina's.
We went rambling through the woods in the mornings as it is cool there, to be back on board and out of the burning sun by lunch time, we run the new Köhler generator which is whisper quite to run the aircon during the hot afternoons, aircon on board along with a couple of good fridges is a great asset when living on board, we keep the curtains pulled even on deck hatches to keep DeDanann cool, she is so well insulated that to be honest, she keeps quite cool in anyway, Amel fit a dark membrane in the build up of the grp to stop the sun penetrating the hull and keep things from getting too hot, several visiting yachtsmen have commented on how cool she is, she is a very well thought out and well built boat, designed by Henri Amel who was both blind in one eye and missing a leg, a great sailor by all accounts.
I met an elderly fisherman in Greece one day last year, he tied up his tiny fishing boat and was staring at DeDanann, he enquired from me as to her hull number, I looked at the manufacturers plate and replied, number 81, he paused, that boat was delivered to port Andratx in Mallorca for a German owner ? Be god your right, I said, he and Henri had delivered it to the owner from La Rochelle, he told me that Henri Amel was his friend and that they had delivered over thirty of these boats across the Atlantic for American owners, that Henri would often talk the owners out of shipping their new boats to their intended destination in order that he could sail them there himself and commission them along the way, a great seaman despite his handicap, he lost both his sight and leg in WW2 serving in the French resistance, he was still working well into his eighties, one never knows who you are talking to, the Greeks are a very un-assuming and interesting lot.
We next took ourselves off between the islands to a tiny island that is really only a wood with less than six people inhabiting it, Otok Scedro (Schedro), a narrow tricky entrance takes you into a really well sheltered quite large bay, the bora was being forecast for during the night and we wanted to be well sheltered, we dropped the hook among about another dozen or so yachts and took a long line ashore to keep us from drifting onto our neighbours in the night, there is only one small taverna in the bay, it was doing good business with the yachts. Late in the night two small fishing boats came in from the sea and anchored off beside each other, about six or seven young and old fishermen between them, out with the open BBQ, and the fish was being grilled, a few bottles of wine drunk straight from the bottle being passed around, then a grand sing song got under way, they sing in great harmony, tenor, alto and bass, great singers of the classical music, you could here a pin drop as there singing resonated down through the anchorage, one could tell that just like the Welsh, they learn to sing properly from young in school, this is not the first time that we have enjoyed the singing fishermen in this part of the world, they regularly break into song whilst working on their boats.
The fishermen slept on top of their nets that night, the next morning I saw a couple of them shaving in the sea water and washing up from the night before, then heading back out to sea for another day's fishing.
A young lad called by that evening in his open boat selling local produce, red and white wine, marmalade and jams, soap and other bits and pieces, we bought some wine and marmalade from him, the red wine is crap, but he was a nice young fellow trying to make a few bob whilst studying medicine at the university in Zagreb, he told us that up to a few years ago his grandmother was the only person living on the island for a long time, he now spends the holidays from college with her as she was getting on, living with no electricity all her life, like our own island people that didn't have it for years I suppose when you wouldn't be used to it, you would hardly miss it. A solicitor that did work for me for over thirty years kept an old photo of his uncle in the west of Ireland standing beside an open barrell of rain water beside the half door to his cottage, dirty auld towel, bar of soap, he used to wash out his mouth out each morning with an eggcup full of jayes fluid, no electricity or phone line, never married, farmed a few sheep, and drank like a fish, when the solicitor was under pressure he would often look at that framed photo of his uncle, it would have a calming effect on him as he sat in his office in D4.
We left Scedro and visited Otok (Island) Kortula - see also top photo, this is a popular tourist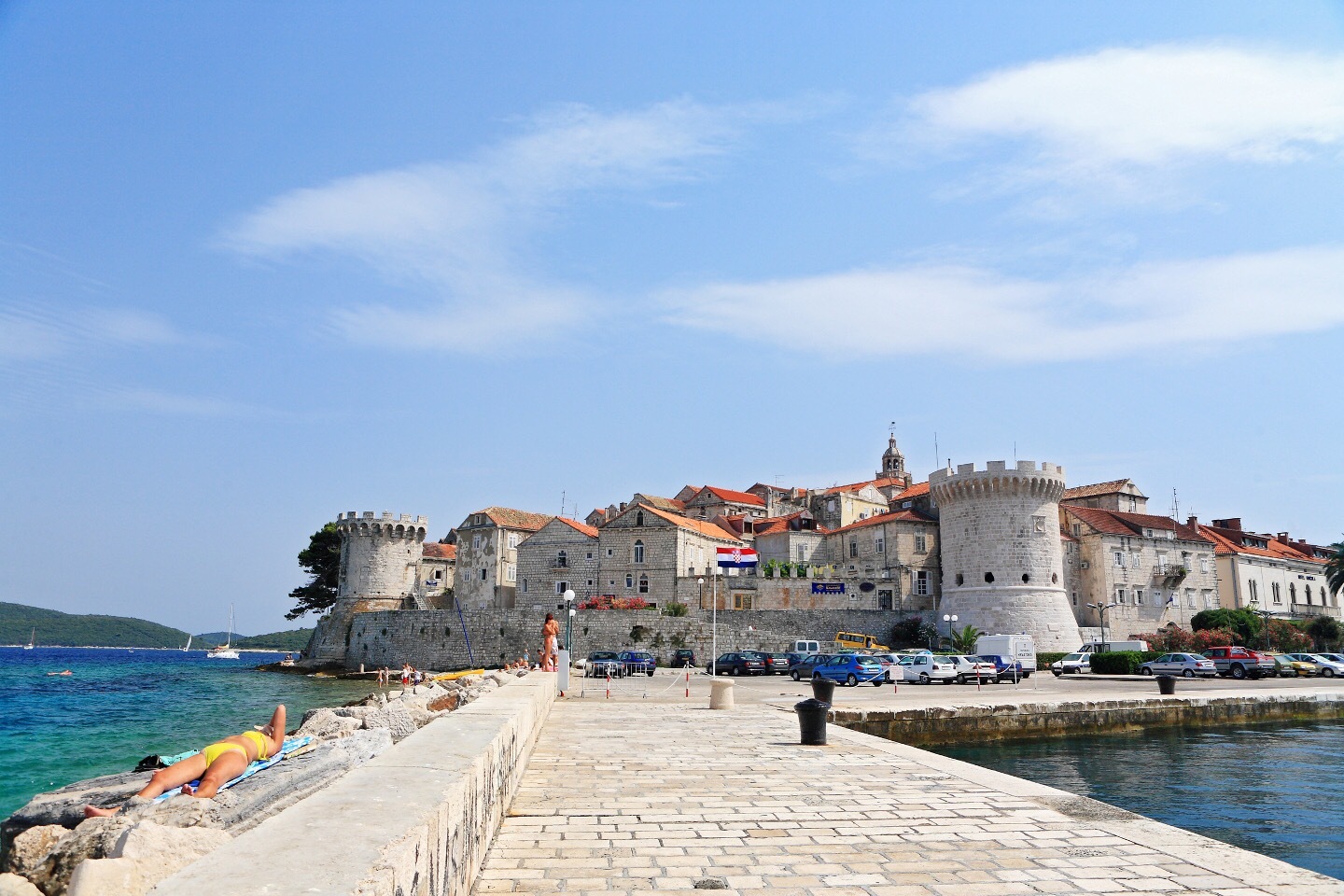 island with another walled city (Stari Grad), some very fine tavernas in the old city, the ACI Marina have taken over all of the town quays and is very expensive, it's not so well sheltered from the bora, boats were jumping up and down all over the place when we were here, there are lots of nice coves where one can anchor off quite near by.
We would have liked to hang about here a few more days, but our eldest son Eoin and his girlfriend Ciara were coming to Split to join us for a forth nights cruising and we had to get going, so up with the anchor and off we set for the large island Otok Brac (Brach) and the port of Milnij, some 45 miles distant, there are two marinas in the port, ACI and Marina Vlasko, we went to Marina Vlasko, very tight for DeDanann to manoeuvre, but the wind was light and we managed it, €120 a night with crap facilities on floating pontoons that jump up and down every time a motor boat would pass through the port, we should have really went to the ACI Marina for the same money.
There is not much to see here, a small town with little character, it's amazing that the marinas can fill all their berths and charge so much for so little, there was no room to anchor so we did one night and moved on to Split the next morning.
We left the Marina Vlaska with only a few feet to spare it was so tight for DeDanann in there, careful use of the powerful bow thruster was required as it has a tendency to suck up mooring lines from the sea bed if they are not weighted, it's a skippers night mare in the confines of a Marina when it happens.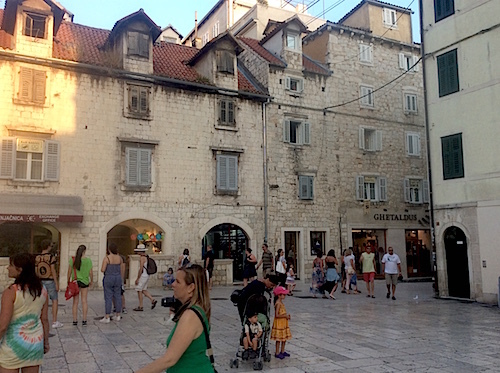 We headed out and set course to the east for Split harbour, the yacht traffic coming our direction from Split was huge, there was a yacht rally starting and we must have sailed through at least one hundred yachts, mostly flying American flags, we had our sails up in the NW wind, they were mostly under motor, this gave us an easier passage as we had right of way, although, that sometimes doesn't mean anything to charter crew's, in anyway, DeDanann held her position, we got the fingers on one occasion from a skipper who pushed his luck and seemed to be somewhat confused as to the coll regs, I suppose this made him look important to his young crew of bikini clad lassies, or maybe, look a fool, as he swung the wheel hard a port to get out of our way.
We had our "McNeills Pub Sessions" flag flying off the mizzenmast and the yanks were generally giving the thumps up as they passed.
We get a lot of yanks into McNeills for the sessions, we had a great Thursday night in there a couple of years ago when the head of NASA, a nice fellow called, Charlie Bolton and his entourage of about twenthy others including four astronauts among them came after the final day of an international science conference in the new conference centre were they had met Enda Kenny and then had tea with Michael D in the Aras that evening.
It was a good night to be begin with, as four of the old Bunratty Castle singers were out for a dinner in town and came down for to finish the night in McNeills, there was some fine musicians in for the Thursday session, and the Bunratty girls with more than a few gargles on them gave what could only be described as a fantastic rendition of some very nice Irish songs accompanied by the assembled musicians, the yanks were blown away by this, they stayed until 03.00 am, and that's unusual for yanks, we even had a rendition of blueberry hill from Charlie, it was bloody good, I asked him how did he hear of our little establishment, all the Irish guys in NASA were telling us, if your in Dublin, then you have to visit McNeills.
He told me that he had attended numerous science conferences all over the world and that Dublin was the best ever by a long shot, the hospitality everywhere and the people they met were awesome, as he put it, he was quite taken by his visit with Michael D. As they left for the four seasons hotel in the early hours he took out a medallion enshrined in a fancy silver case, you have that, said he, and mind it well, there's not too many of "them" about, it looked like a souvenir from NASA, I put it in my pocket and thought no more, when I had a proper look at it the next morning, it was a piece of the space shuttle Discovery which he captained during the early nineties.
I'm rambling, no more plugging McNeills, we arrived at the grand harbour of Split, it's big and impressive as you approach from the sea, grand tall buildings on the long promenade, huge car ferries and cruise boats manoeuvring about, but there was plenty of room for DeDanann in the ACI Marina tucked away in the NW corner, I said to Linda, It will cost a kings ransom to stay a few days here, they run a water Taxi to the promenade from the Marina which is very handy for dining out etc, Split is a fine city for sure, very nice architecture and an old walled city with the usual museums, church's, etc, there is a thriving market in the old city and overall it's a nice place to visit if in this part of the Adriatic.
Eoin and Ciara arrived having took the bus along the coastal route from the airport in Zadar, it was Eoins first time to see DeDanann, it was nice to have their company as I have not been home since early April, we had asked them to bring some quality Irish food with them, tayto crisps, McCains soda bread, bewleys tea bags, superquinn sausage and rashers, shaws pudding, wheatabix and shredded wheat, these are the main things we miss, they left the bloody stuff in their hotel in Zadar, now I didn't like to show my disappointment, but I felt like sitting down and sulking like a teenager, I was living for some proper grub after all this Adriatic crap I'm eating, it's no wonder I lose two stone in weight when I come down here, my late Ma would say, you look like a skeleton with a skin graft. We hung about Split for a few more days visiting the sites etc, there was a lot of young Irish about for some music festival, one young Irish lad (19) was drowned off the harbour wall early one morning whilst we were there, heavy drinking the cause I'm told, we had been chatting to some of them that very morning on our way back to the marina at the very spot were he went in, what a waste of a young life and the suffering of his family that follows such a tragedy.
We took ourselves off to the very nice port and walled city of Trogir, it's only a few miles to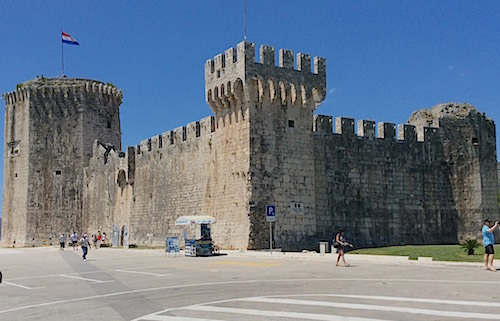 the north of Split and we tied up in the nice and expensive Marina Trogir, there was a bora forecast and I was keen to be in a Marina until it blew out, the bora usually blows up at dawn and goes to 25 to 35 kts very fast in gusts then settles down for lunch and comes back with a bang in the evening for a few hours.
Trogir is a city much like Dubrovnik, ancient and very well preserved, alive with nice tavernas etc, some fancy ladies cloths shops and perfumeries etc, a thriving fruit and veg market, an antiques brick a brack market, it's a grand place to spend a few days, we bought some nice paintings on canvas from a local artist to grace the cabin of DeDanann.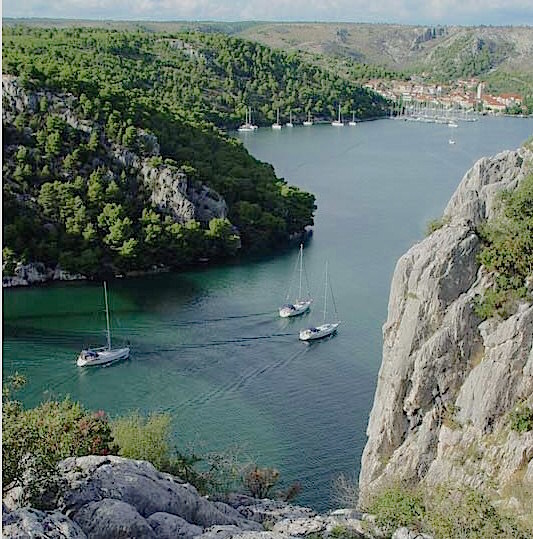 The bora blew itself out and we headed off through the islands towards the entrance of the Krka River, we would sail when the wind was in the right place but mostly we meandered under motor, we would usually anchor off some island or other for to have lunch and go swimming then set off to tie up for the nights, we visited the mainland town of Rozgornika and tied up on the town quay there, it's not much of a town but it was a good night as there was a festival going on and great entertainment on the town quay with live bands, fire eaters, etc, that finished at about 01.00 which was even better, some of these tourist towns pump the disco music out till the early hours night after night, one gets good at scanning a port for a quite spot when cruising.
I recall Tony Clery on his annual pilgrimage to the Balearics a few years ago, he was heading for Evissa and the port of San Antonio, I had been there several times on Calypso and was offering some sound advise that he should go to the new Marina in the NW of the port, in anyway, he decided to go to the old municipal Marina, I was talking to Tony on the mobile and he told me they were right in the centre of everything and it was grand, at least it was at nine o'clock in the evening, there was an establishment called "Sin" facing them, they went out, had dinner, then back to Tony's boat for a quite night, 02.00 the doors of Sin opened and the disco music blasted them out of it till the early hours, I laughed when Tony rang me in Mallorca the next morning to say i should have took your advise, it's no joke at our age listening to that carry on all night, great man, still cruising in his eighties.
We then took ourselves off to the entrance of the Krka river, you come in off the sea through a narrow channel past a fine ancient fort that leads to the bay of Sibinik (Shibinik), as you come out of the channel the town and walled city built into a hill are most impressive, we tied up to the town quay for the night, we enjoyed a nice dinner in a fine taverna in the walled city, the entertainment of a fine young pianist and singer was nice playing to the passers bye in the street, they are not at all good at throwing a few bob into the hat of street musicians over here. I lived for a short while busking the canals of Amsterdam, on the streets of Cologne and Bonn as a young fella and we fed well on it, although, theirs no beating the auld sod when it comes to filling the kitty and getting the crowd going.
The next morning we motored the twenthy odd miles through the Krka river, it twists and turns through the mountains and hills across the jezera lake and back into the river, you pass under two road bridges that have thirty and forty meters air clearance, DeDanann requires twenthy one meters, as you look up going under it looks terribly tight, we eventually arrived at the ACI Marina in Skraden and we're lucky to get a berth for a few days, ( more Irish whiskey for the marineros ) although, there is plenty of room to anchor off for free outside the Marina, to be honest, we were sorry that we didn't, the Marina fills with large groups of young charter crew and they party all night long, now that's great fun now and again, but night after night, no thanks, even Alfie was up dancing with some Germans till the early hours one night, he sleeps on deck and decided to jump ship one night as the Germans partied and fed him pizza.
We visited the Krka waterfalls, they are fantastic, great walks through the forest to the top of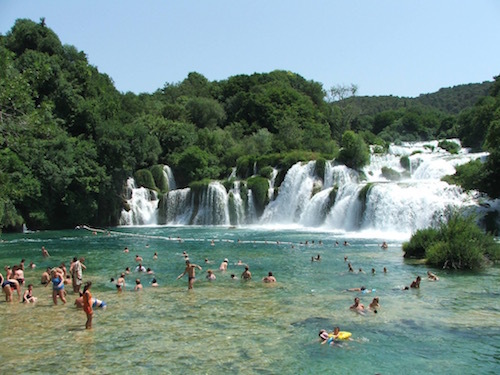 the falls, nice and cool in this hot weather, everyone having great fun swimming below the falls, youngsters jumping from the falls having a ball, bloody dangerous mind, but then, when your young and fit, what of it. A visit here is a, must do, if cruising Croatia.
We spent a few days here swimming, fishing, and rambling about the town, it was time for Eoin and Ciara to be heading back home so Linda went with them to see the grand kids for a couple of weeks, Alfie and I saw them off at the bus station to catch their flight from Zadar, we spent another couple of days resting up before heading out of the river and out west to the islands to head in the general direction of Zadar to the north west to meet up with Linda when she returns.
I never mind single handing or being on my own, most of the the cruising I ever did around Scotland and the Irish Sea I did singlehanded, DeDanann is a big boat to moor up on your own, so I will stay out of marina's and go on anchor for the next few weeks, I have my banjo and the company of Alfie helps, mind, I had a great Westie called Hamish that sailed on June Amelia up and down the Irish Sea a lot with me, but Alfie is a great auld sea dog too, and a good watch dog when I sleep at night.
Until we report next month on the north central and north Croatia.
DeDanann Out.'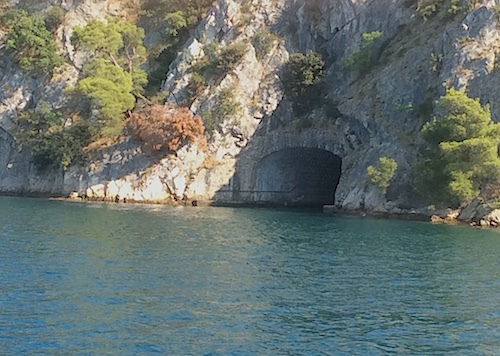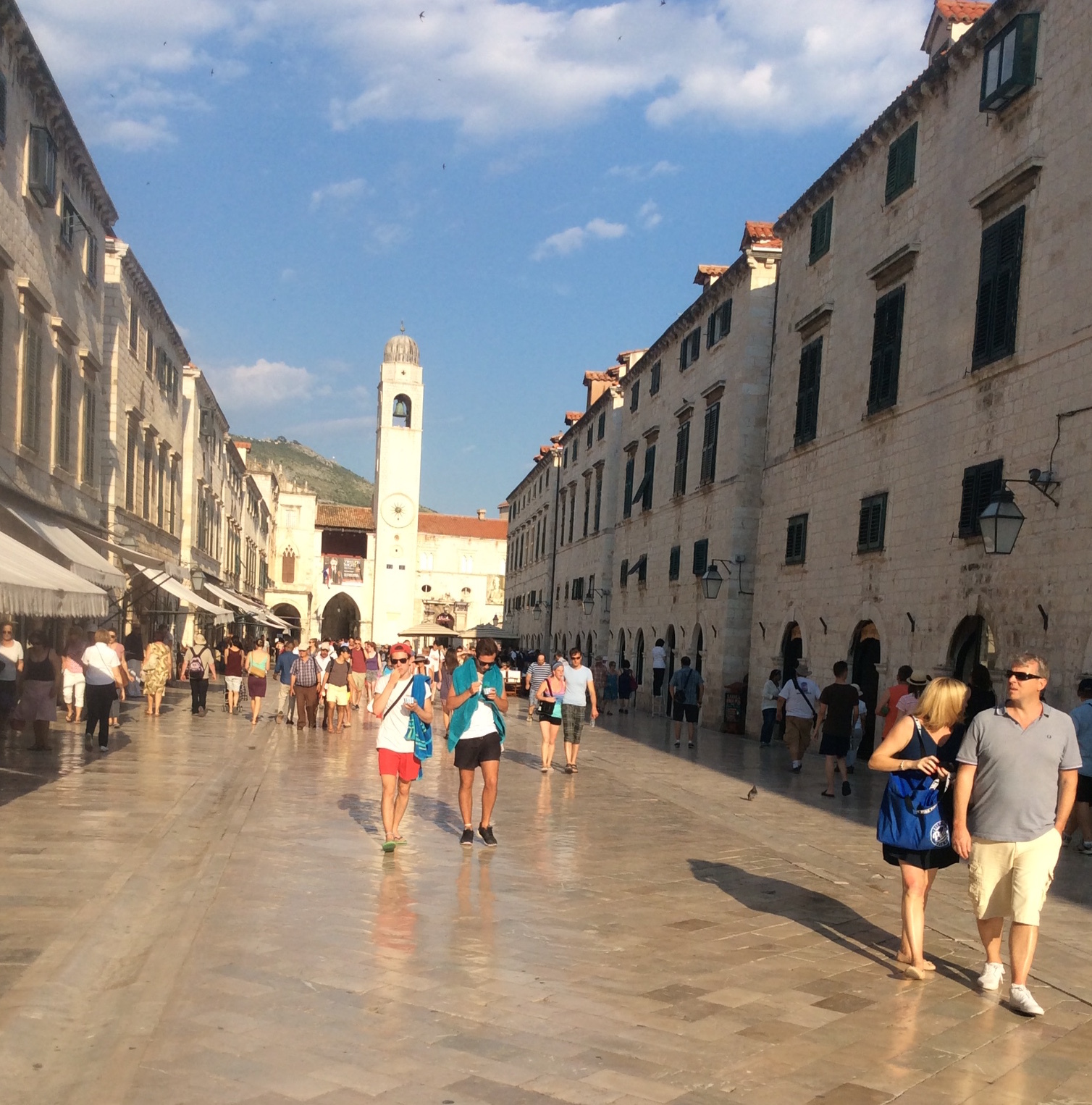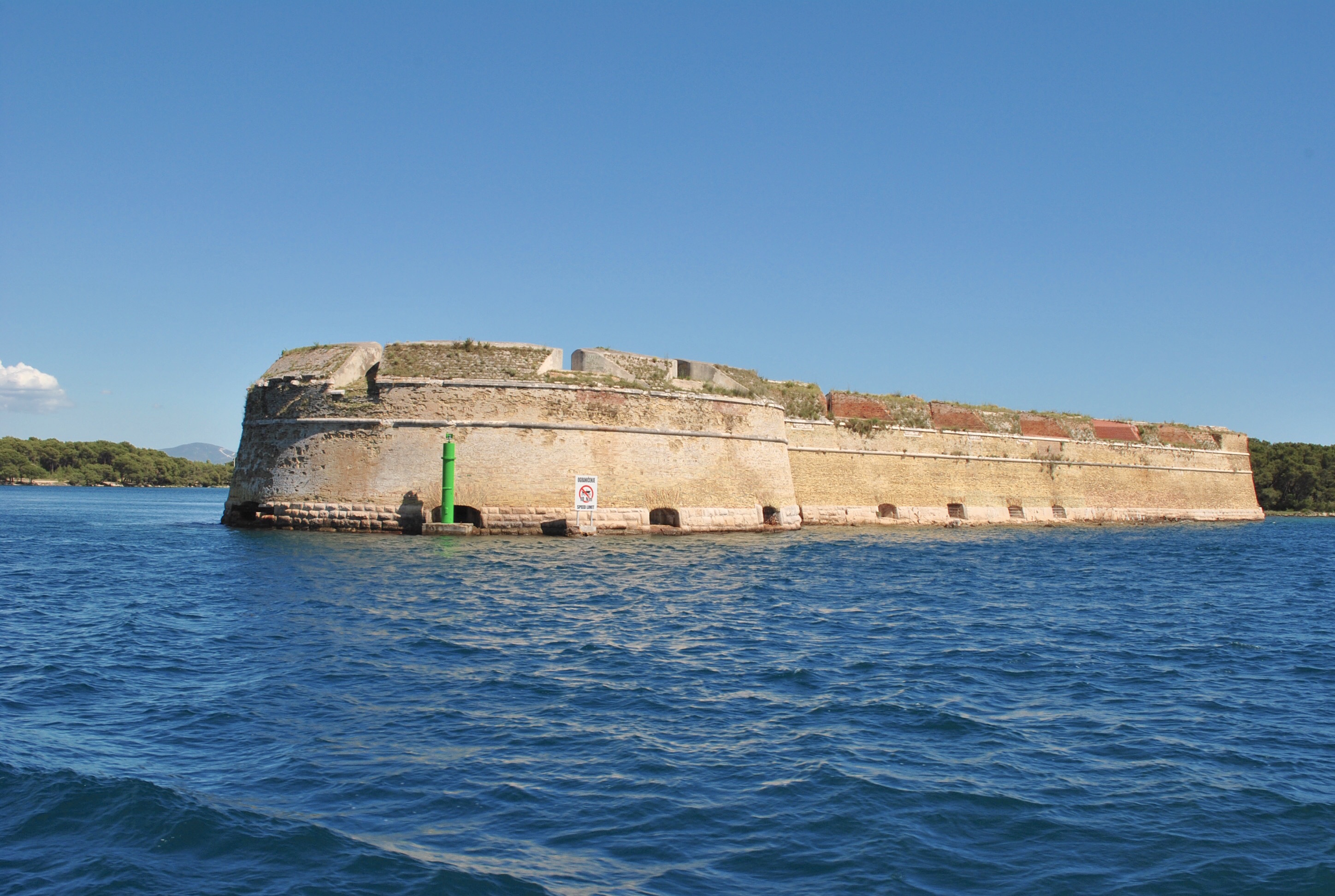 Registered in the Republic of Ireland. Registered No. 81187