DeDannan heads for Corfu
25 May 2015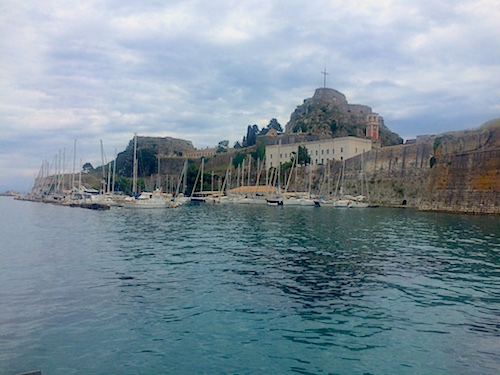 The continuing cruising log from Tony Olin as he travels across the Mediterranean in 'DeDannan', his 54-foot Amel Super Maramu. This report comes as he heads for Corfu... DeDannan was lifted back into the water on Saturday 2nd may and I tied up in the Cleopatra Marina adjacent to the boat yard, it was late in the afternoon and the wind as usual over here was howling @ 25kts, the marineros here know there stuff, they put 1 alongside, 1 on board and used their dinghy to push us onto the berth, a few little devils of Irish Whiskey is always appreciated.
I had planned to head N to Corfu to pick up Linda and our little dog Alfie, but the logistics of transporting a dog from Dublin was not so simple, Ryanair don't take them, Aer Lingus don't to Greece, something to do with the type of aircraft on different routes, so we had to go Lufthansa to Athens via Frankfurt, although, this worked out quite well and they take great care of the dogs, for those interested it cost €150 for Alfie, no problem with the paperwork, just show the doggie passport and vaccination card and off he goes.
We knocked about the inland sea around Preveza, Vonitsa, Aktio, and amfilocia, it's a large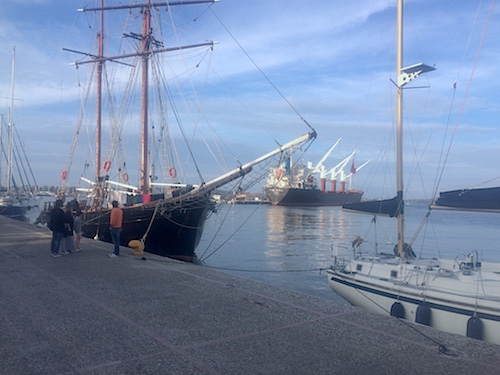 area that's well sheltered from the Ionian Sea but the wind gets up in the afternoons, then is usually flat calm by sunset, there are some nice little ports that are not yet developed, basic with no facilities like showers, toilets, or electricity available, but you tie up for free on the town quay and you get to see the wonders of Greece without the commercialism that tourist areas attract, one can eat and drink very well for the price of a coffee and scone in Ireland.
The little towns are pretty, the people are friendly, and the fishing is very good especially at night, big fish, barracuda, tuna, amberjacks are jumping out of the water, the locals fish from dawn to dusk, I suppose it keeps an unemployed man sane and gives him some purpose to get up and out during this terrible depression that has Greece crippled with debt, although, you would not think things are so bad, the people over here just take life easy and they are always good humoured, it is this, that will see them through their troubles.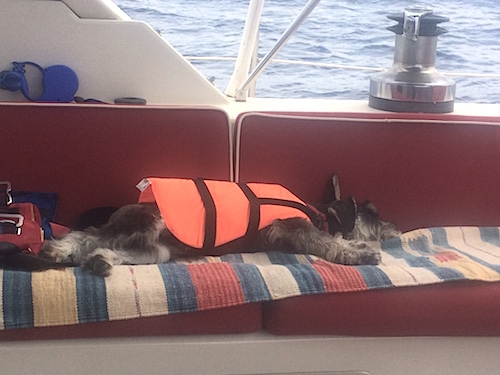 We left Preveza for the small island of Paxos some 35 miles distant in good weather, the wind was light and the sea rolley, poor auld Alfie started off in good form having got used to being on the boat, an hour or so into the voyage sea sickness set in, he behaved exactly like a human, lying about listless, couldn't hold down any food or water, then as we arrived into the port and he saw land again he was up and looking for his grub, having suffered sea sickness all my life, I felt very sorry for him.
We stopped off at Anti Paxos, (little Paxos) it has some spectacular coves where the sea is crystal clear and the most beautiful Azul sea you would ever see anywhere, plenty of room to anchor off at this time of the year, the only boats about are live aboard type sailors, it takes a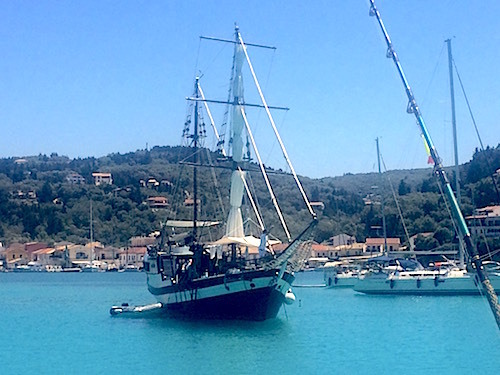 few nights on anchor to sleep well and not worry about dragging, I got a great tip from a distance sailor I met from Donegal some time ago, when we drop anchor in say 5 meters, we put out about 50/60 meters of chain, then attach our chain hook on 3 meters of 16mm line, (chain snubber) make it off on the windlass, and lower the hook under the water for say 2 meters, then we let off another 12/15 meters of chain into the sea, now this causes the chain to stay low down in the sea and a whole lot less likely to drag the anchor, it also keeps the chain below the keels of passing boats in confined anchorages, if the weather is fresh, I throw over the side, a 15kg Bruce on 5 meters of chain and about 20 meters of 20mm line tied off at the bow but left loose on deck ready to run out just for peace of mind, hoping, if our Rocna 33kg should part with the chain that the Bruce would dig in before we ground, this is easy to haul up on the windlass at any time without having to go out in the dinghy and kill yourself hauling it up by hand.
The Rocna is a great anchor that works well here in the Mediterranean, the secret is plenty of chain, chain is no use in the anchor locker and that's for sure.
We moved north to the Georgia's port of Gaois, it is a large canal type of port that has a north and south entrance with an island in the centre, on top of which is the ruin of an old Venetian fort, the fort is surrounded with pines that hide it from the sea, but one can see Albania to the north, mainland Greece to the east, the Ionian island of Lefkada to the sought, you tie up for free on the town quay, water and electricity are available at low cost, the tavernas, shops etc alongside, it's no wonder Greece is skint, even at this time of year there are at least 100 boats tied up in this wonderful setting every night, if the port police "there are two on duty every day" were to collect say €20 per night, a most reasonable sum, that would be €14,000 per week multiply that by all the ports in Greece ? a lot of money to refurbish and maintain their ports.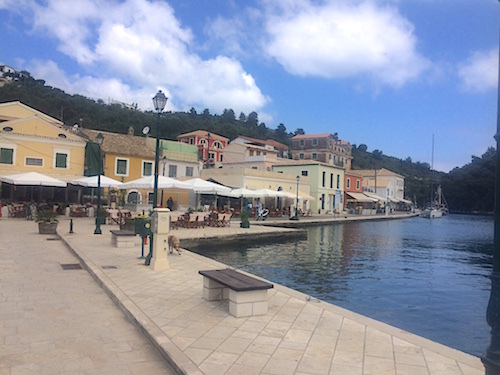 Gaois is the main town on Paxos, quaint little side streets with some interesting little shops that would remind one of rural Ireland of old, I was watching a building under construction, it reminded me of working with the auld fella during school holidays in the sixties, old ways long since gone in Ireland, still mixing concrete by hand.
The town and local villages here have cats everywhere you go, I was talking to two elderly English vets, they have been coming here for a few years from April to June, they run a charity called paws, (Paxos Animal Welfare Society) they used to work from the back of a couple of tavernas on the island neutering and vaccinating the animals that are mainly ferrel, they have this year a little clinic provided by the town council to work from, we took Alfie to see them as he was not well, it turns out the dreaded mosquitoes were the problem, we now let him sleep below during the night. The locals tell me the cats are in so much better shape and a whole lot less aggressive as a result of the work of this retired couple who really enjoy their time here, you can see they are so well regarded by the local community. There is an old stray dog they call hotlips, she calls to one taverna every morning to be fed, then to another for water, then onto another for her arthritis tablet were the vets leave a years supply, she lives a free and easy life where the town is her home
Having spent a week in Gaois we headed north to Lakka some five miles distant, a well sheltered bay surrounded by high ground covered in olive groves, a small village with some fine tavernas, mini market etc, there are only a couple of moorings for shallow draft boats on the town quay, but plenty of room to anchor in five meters of crystal clear water with good holding, we anchored off surrounded by at least thirty other yachts, mostly German, Dutch, and British, few Irish around this early in the year.
We upped anchor and headed north in fine weather for Corfu some 30 miles distant, the wind was from the NW @ 8/10 kts, so out with our geneker on its new selden furling system that I had fitted in Cleopatra, it simply unfurls from the top down without leaving the helm and sets well, just like pulling out the Genoa, we thumped along @ 4/5 kts and had a grand sail as far as the south of Corfu, a change of course to the NW saw us furl it away without having to leave the helm, this system works very well for shorthand sailing, especially here in the eastern Mediterranean where the winds can blow up out of the blue and make taking down a genny hard work. Alfie was suffering sea sickness so we headed for the little fishing port of Petriki to anchor off the port entrance and take him ashore, a quaint little fishing port with only a couple of moorings for yachts, two good tavernas, mini market etc, we grounded on a shallow bank of mud a couple of miles out to sea on our way in, the powerful bow thruster on DeDanann got us off without too much bother, the next morning I was in the water with my mask and snorkel to inspect the keel and rudder, no damage reported.
We then set off for Corfu town some 15 miles distant in flat calm but cold and overcast conditions with some thunder about, the wonderful old citadel that marks the entrance to the town is quite impressive, we rounded this and took a mooring in the old Mandraki harbour @ €50 per night, the facilities are basic but the harbour is right in the centre of the town, it lies under the great walls of the citadel, it is also home to the Corfu sailing club, we discovered a new but partially finished secure Marina in the commercial port, there is nobody to collect fees and you can stay for free, but the smell of sewage and the filth of the water put us off moving there, there was only four yachts tied up at the time of our visit, when they eventually get the money to finish the works it will be a fine Marina right in the centre of Corfu.
The Corfu college of music is situated in a grand old building within the walls of the citadel, from the marina one can hear all sorts of music coming from the open windows, I really enjoyed the classical singing and piano accompaniment of one young lady as I was having my afternoon siesta, I didn't get her name, but the great, Maria Callas, who was also Greek, would, I'm sure, have approved, it was great to see so many young people playing everything from classical, Greek traditional, to jazz and brass band music so well and enjoying themselves in what seemed to me a wonderful atmosphere of fun combined with education, I had only a primary education myself, the walls of that school in finglas were a prison to me, when I see young people having a good time being educated I become envious, perhaps, I should have enrolled in the college of music in Dublin all those years ago.
We will hang about here till the humour takes us off to Albania, Linda likes the quaint shopping streets and walks the coastal paths with Alfie, I have a few jobs to sort out on DeDanann and some fishing from our new klepper kayak that I bought at the Düsseldorf boot show to be getting on with.
DeDanann Out.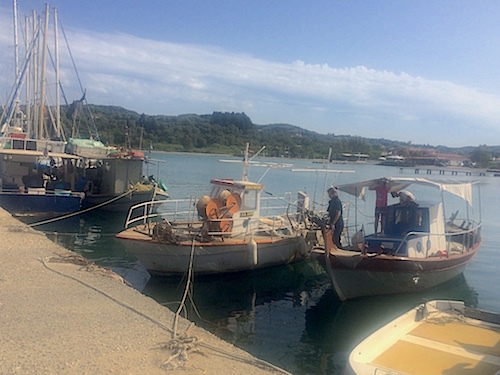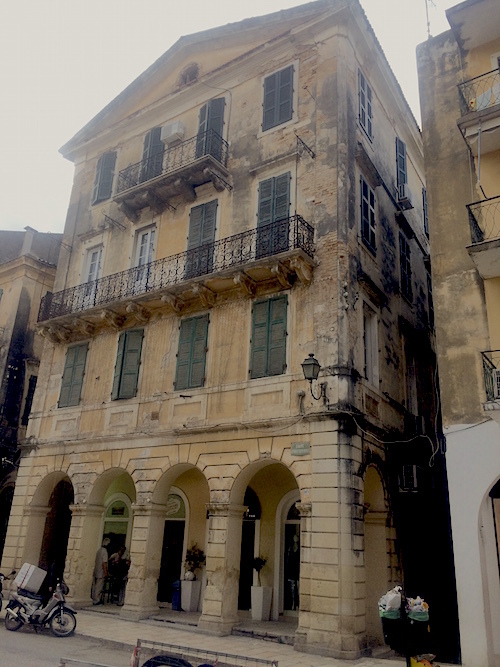 Registered in the Republic of Ireland. Registered No. 81187