'Wintering' De Dannan in Greece
02 May 2015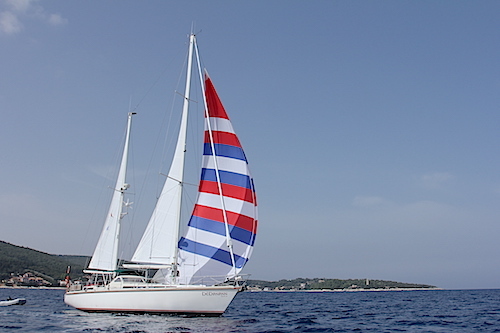 Howth's Tony Olin continues his cruising reports as he prepares his 54 foot Amel Super Maramu 'De Dannan' for its trip northwards through the Adriatic: 'We wintered DeDanann ashore at the Cleopatra Marina and boat yard here in Prevaza, Greece. This yard can hold 1,600 boats ashore with all the facilities available for having works done, the travel lifts here are just enormous, their are two good taverna's on site that cater for foreigner's at very good value, spotless toilet and shower facilities, a very good chandlery on site, all the technical and engineering services you could want, and pleasant helpful office staff to boot.
We came ashore at the end of November, I took DeDanann singlehanded from Lefkas Marina through the Lefkas canal swing bridge that opens on the hour with almost German precision, the bridge fly's open exactly on the hour and closes as quick as you pass, one has to be carefull as you leave the canal to enter the Ionian Sea as it gets very shallow from the bridge out to the open sea, the local's advise keeping the land tight to port as you leave, now, I can tell you that this stretch of water tight to the bank looks like shallow water, but I always trust the local fishermen when it comes to piloting their waters and DeDanann which draw's 2.4 meters loaded made it through no problem.
There is a buoyed channel from the Ionian as you enter the inland sea around Prevaza, as I entered the Cleopatra Marina the marinero's were signalling to me to keep up to the S as I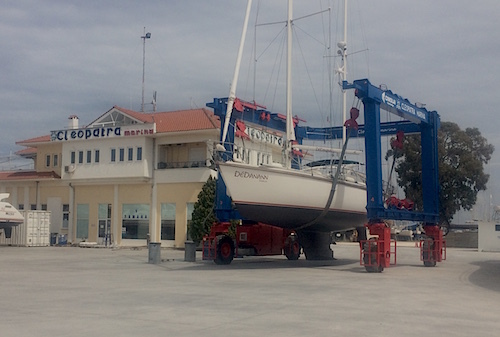 reversed DeDanann into the lifting bay, well the current that runs through the Marina from N to S and vise versa @ about 5/6 kts is no joke, I was swept N as I reversed back and had some job to get DeDanann lined up properly to get into the lifting bay, we were lifted out, pressure washed and placed onto a tractor with special trailor and set down onto a very secure cradle in no time at all, a few little devils of our Irish Whiskey saw the marinero's happy as they went off to lift the next boat, the head marinero commenting, Irish whiskey, best in the world.
Linda followed on in a hire car to get DeDanann prepared for winter lay up, clothes washed and put away, fridges emptied, beds striped etc, I am not very good at this domestic stuff, as I took down sails, and drained the water tank, tidied rigging and lines etc, secured the dinghy and put away the outboard, this is a couple of days work I can tell you. We then took ourselves off to Athens for a few days before catching our flight to Dublin to be home for Christmas.
Being home for Christmas and catching up with family and friends was nice, but I had forgotten the aggravation of business, especially in these pressing times, to be honest I found myself pining to be back at sea, I was worried about the boredom of being retired from business this time last year, now I worry about when I return to shore to make a few more bob in a few years time, the life of a sailor suits tony well and I am in no hurry to become a landlubber again,
Linda has taken to this life well enough but miss's the little grand kids a lot.
I headed back through Athens in April to prepare DeDanann for our trip up through the Adriatic this year, I arrived on the last flight into Athens international after midnight, the next morning I took the Lefkada coach from the central bus station for the six hour journey which only cost about €25, this is a great trip along the Athens coast as far as the Korinth canal bridge, then along the coast of the peleponese through the windy pot holed road all the way to Lefkas, our driver Stelios, nice guy that he is, spent half the journey on his mobile phone as the coach drifted from one side of the road to the other, as he would have the phone to his ear with one hand he would be having this animated conversation with the other often grabbing the wheel just in time to avoid a collision with the oncoming traffic, I found myself praying that the mobile coverage would go down in order that I might stand a better chance of arriving at my destination alive, in anyway, we got to Lefkas safe, and Stelio insisted on going off his usual route to drop me to the door of my hotel, it's hard not to like these Greeks, they take life easy and really are decent people.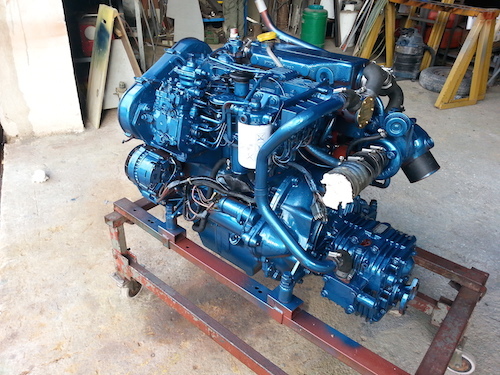 Over the winter ashore I had some work done, I had noticed when servicing the auld Perkins engine last November that their was a lot of electrolises around the underside of this great auld workhorse of an engine, I have great time for this Perkins engine as we had them in a lot of our construction machinery, and they really are a fine engine that will take a lot abuse if looked after with clean oil on a regular basis, and easy to work on also.
I had the engine lifted out and rebuilt, resprayed, all new hoses, fuel lines, filter upgraded, new torque converter, injector pump and turbo charger sent off to specialist for service, new prop shaft bushing and seal, the bank of six batteries that I replaced last July in Palma was acting up during last October, I had these checked and two of them had failed, I put Vetus on notice of this and asked them to arrange replacements over the winter through their local agent here as these batteries carry a three year warranty, I can tell you that their warranty means nothing, if you knew the time I have spent on telephone calls and emails to no avail, I ended up buying two new batteries such is the frustration of dealing with Vetus.
We also had flexible solar panels fitted on the deck, giving 240ah per day which really has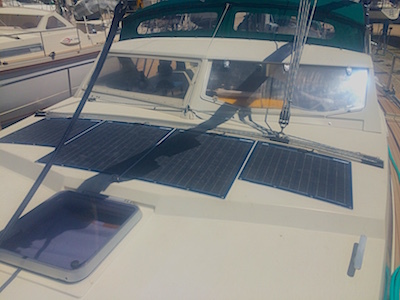 been a great investment, we no longer need to run the generator or engine to keep up with the demand of living on board, the Rutland wind generator that I transferred from Safari after the fire last year does not keep up with the demand, solar panels are the job here in the Mediterranean.
Linda has had the interior re-upholstered and a new mattress made from some special sort of foam for boats, the old mattress saw some action from the previous German owner when DeDanann was his gin palace, he was known to frequent the despots of Puerto de Andratx, drinking and throwing money around like snuff at a wake, I think linda's going to be disappointed when she comes as my back is broke every morning when I get up, I don't know whether it's the years catching up on me or the mattress.
On arrival at Cleopatra, I got stuck into the job of anti fouling, the rubbing down of the old anti foul is a killer, then one coat of epoxy primer, one coat of international anti foul, DeDanann is a big boat for one man, I worked from 9 till 9 for a few days and fell into the bed after a hot shower each night, it's only a few years back that I would often arrange four or five loads of concrete late in the evening and pour foundations to a couple of houses on my own that were dug earlier in the day, after the lads had gone home, and I would not feel so tired. I sanitised the water storage tank that was drained for the winter, I throw in a gallon of bleach, then 1000 litres of water and leave for forty eight hours having pumped water through the taps until I can smell the bleach, I had hid my lovely Paramount banjo and an old French mandolin in a bilge locker over the winter, I checked they were still there on my return, the bilge was bone dry and I had intended to take them out and put them away safe, in anyway, I forgot, filled the tank and low and behold the tank leaked slowly, I went to get some tools from the bilge locker a few days later, to my horror found it was almost flooded, when I opened the bilge were the instruments were, they were submerged in the water, the banjo and original hard shell case destroyed, the mandolin probably salvageable, this banjo was a favourite of mine, hand crafted in New York in 1905, I bought it about twenty years ago in McNeills music shop for 1850 punts, it was to me like the death of an old friend, I was truly disgusted with myself, musicians had for 110 years minded this wonderful instrument that was in prestine condition and I had foolishly put it in such a place of danger, the beautiful rosewood, yew, and mahogany marquetry was falling apart, the ring tone swollen and coming apart also, I couldn't believe at what was before my eyes, I would have been happier were it stolen, as it would enevitably end up with another musician.
I set about draining the bilge to find the source of the leak, I took out a 3000 GPH electric pump that I had bought brand new last year, together with ten meters of 2" tube and ten meters of cable, that I would use in an emergency situation at sea should the hull be breached to assist the on board bilge pump, which incidentally doesn't drain the main cabin bilge, (Amel's have five water tight bulk heads) however, I just couldn't get this pump to pump water, no matter how many times I primed it, I stripped it down, checked the non return valve, impeller turning, still no water being pumped, so I dug out the Henderson hand pump that came with DeDanann, despite hand pumping till I was blue in the face, it didn't work either, I suspect the diaphragm has perished, and all she sucked was air, i was glad it was not such an emergency, well, between the the loss of my banjo, and the leaking water at the end of a hard days anti fouling, I F!!!!! them pumps to hell and beyond and decided it was time to have a shower and go to bed, I was glad to be on my own to be honest, as I would not have been good company, tomorrow would be a better day for sure.
We also had a new cable furling system installed for the Geneker, made by Selden, I was impressed when I saw it at the Düsseldorf show in January, it will allow us to fly the Geneker and furl it safely from the helm, I love flying that Geneker on days when the wind is light, it, along with the mizzen set gives a great sail, but can be a hand full to get down short handed, hopefully, this will sort that problem.
I am now going back into the water, and taking DeDanann north on my own as far as Corfu some 60 miles away were linda and our new crew member Alfie ( miniature schnauzer) will join me for the rest of the trip north through Albania, Montenegro, Croatia to Trieste and on to Venice then back down the Italian side back to Greece for the winter.'
DeDanann Out.
Registered in the Republic of Ireland. Registered No. 81187