ROMEOs have afternoon tea on the Royal Yacht Britannia
05 February 2015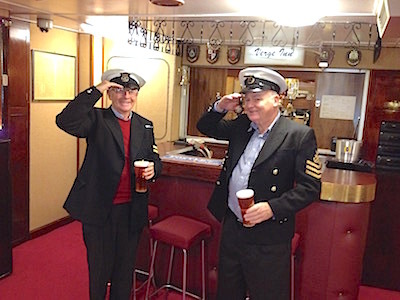 On 27th November last 25 of Gerry O'Neill's ROMEOs concluded their 2014 programme of outings when they flew to Edinburgh with Ryan Air and were bussed the 30 minutes to Leigh where they toured the former Royal Yacht Britannia.
Britannia, the second of 83 such Royal vessels to be called Britannia, sailed on her maiden voyage from Portsmouth to Grand Harbour, Malta, in April 1954. She was designed with three masts, a 133-foot foremast, a 139-foot mainmast, and a 118-foot mizzenmast. The top aerial on the foremast and the top 20 feet of the mainmast were hinged, to allow the ship to pass under bridges.
Her design allowed her to be converted into a hospital ship in time of war, although this capability was never used. In the event of nuclear war, it was intended that the Queen would take refuge aboard Britannia along the northwest coast of Scotland.
She was taken out of service in 1997 and is now a five-star visitor attraction and evening events venue permanently berthed at Ocean Terminal, Leith. The tour of the ship is very well organised during which you start on the bridge and end in the engine room having toured each of the decks on route.
On disembarking from the Britannia the ROMEOs made their way to a local hostelry where an enjoyable meal, etc. etc. etc., was had before being transport back to Edinburgh Airport for the return flight home.
Another great and memorable outing thanks to the organising abilities of Gerry O'Neill assisted by his "secretary" Gerry Sargent.
The ROMEOs will begin their 2015 programme when on Thursday 12th February they take the train to visit the Arklow Maritime Museum where they will be hosted by Danny O'Neill, Michael Fitzgerald and Jimmy Tyrell. Michael will give a 30 minute slide show on the Kynoch works in Arklow between 1862 and 1962 including the munitions factory.
On departing Arklow the 29 ROMEOs will be bussed, the bus capacity, to the Woodenbridge Hotel in the Vale of Avoca for lunch and from there to Greystones where they hopefully will Dart back to Howth.
Written by Pat Murphy
See photos by Pat Murphy and Michael Nolan
Registered in the Republic of Ireland. Registered No. 81187