DeDannan rides out a gale on passage to Greece
11 November 2014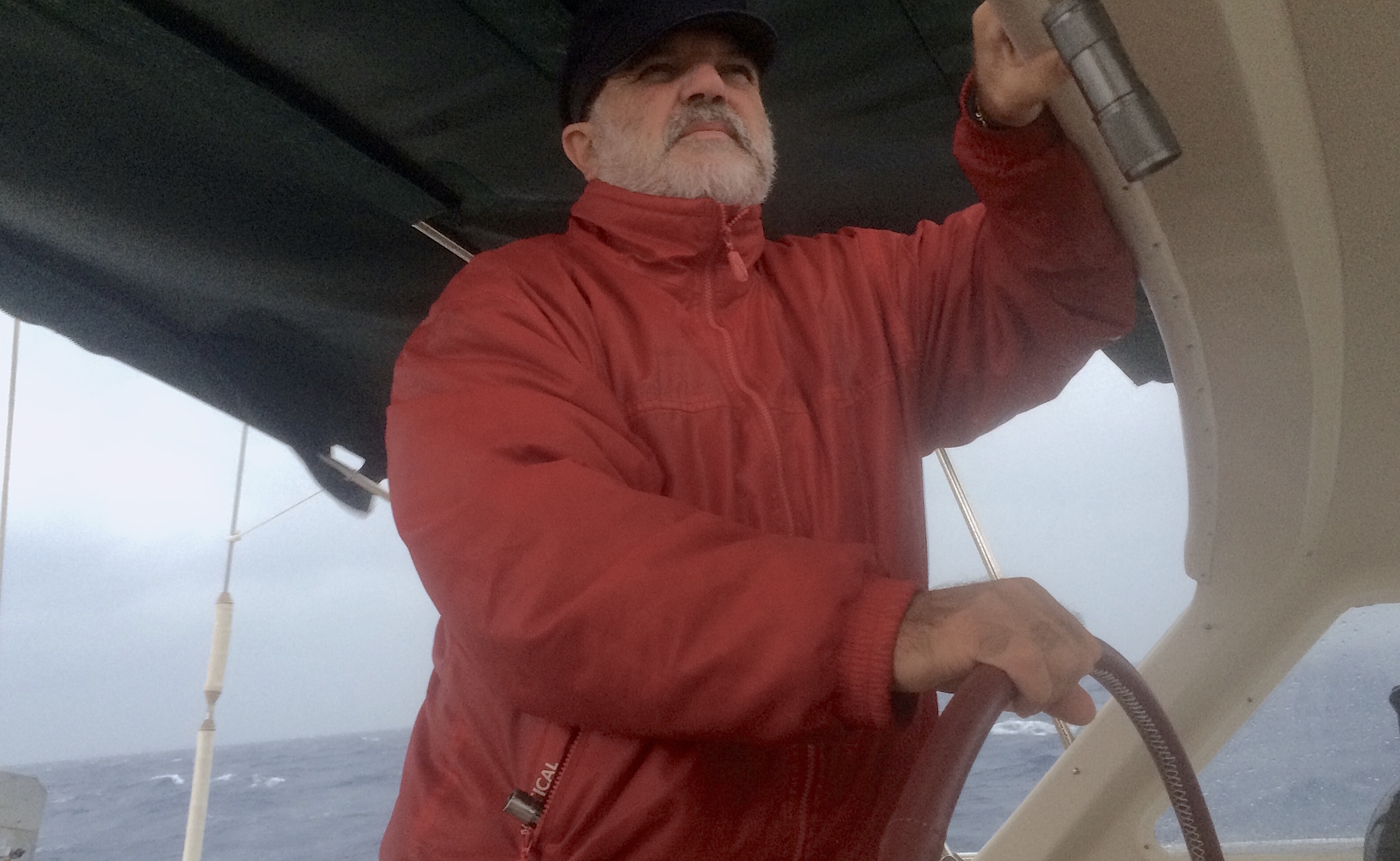 The continuing voyages of HYC's Tony Olin: 'We returned to Milazzo from our visit to Dublin in early October, having stayed over for two days in the capital Palermo, we took a room in a hotel in the old part of the city, a very fine old building with a wonderful courtyard entrance, some of the hotel floors were private apartments belonging to local families, an unusual arrangement that seems to work here in Sicilia. Our room was to the rear of the building looking out over a courtyard, a domestic row started between a couple in one of the private apartments early in the evening,Madre Di Dio, the shouting of your wan at yer man was unbelievable, you could hear it all over Palermo, so, we went out to dinner and a ramble around the city, on our return at midnight the row was still in full tilt, it went on relentlessly till about two in the morning, at breakfast next morning, I took the matter of this up with the hotel receptionist, "signor, this is normal in Palermo"sometimes when he comes home from work Hungary, he has argument with the signora, but only a couple of times a week?'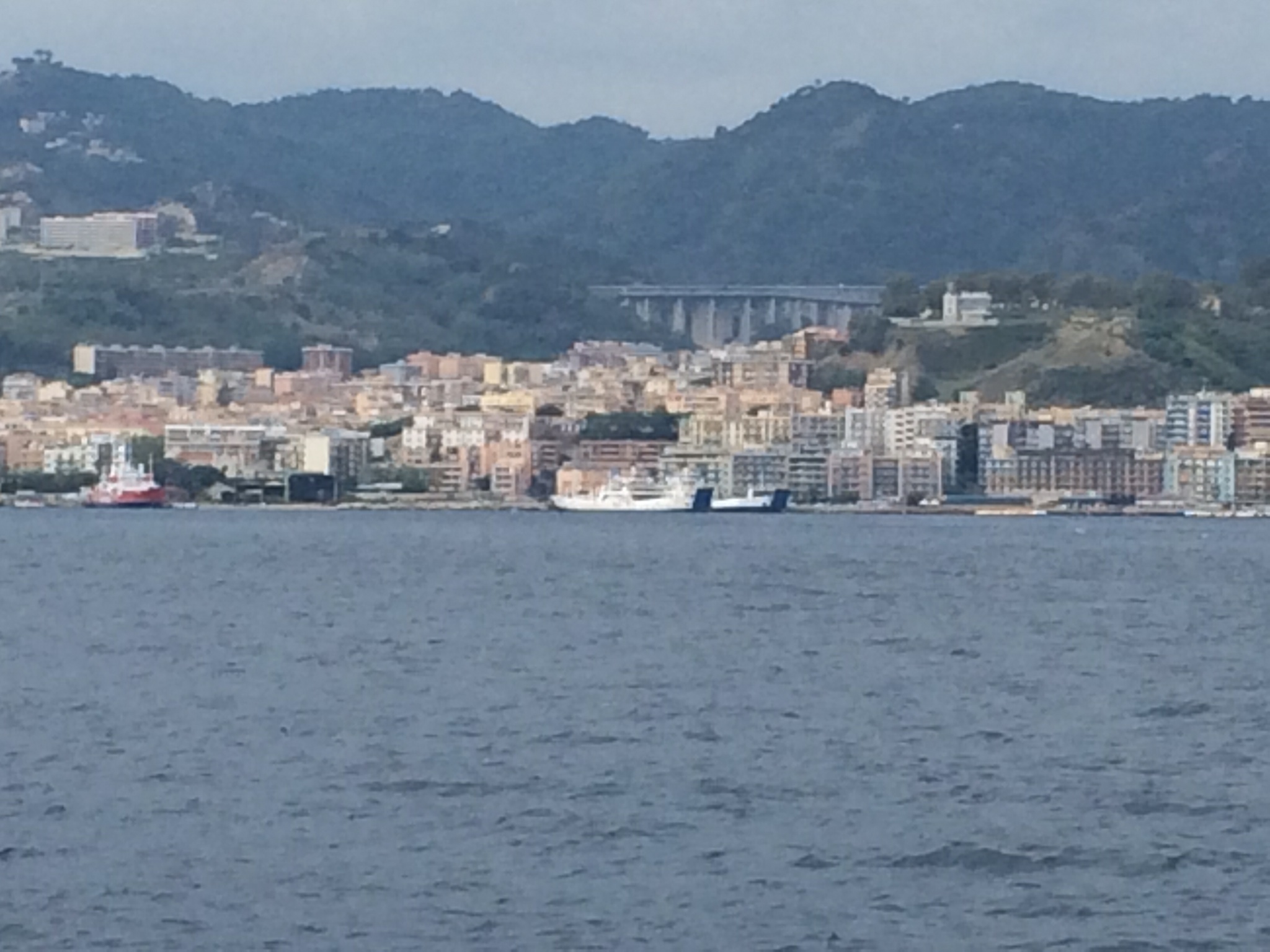 Palermo in its hay day was a wealthy trading centre for Arabs, Asians, and Europeans, in the middle of the Mediterranean fantastic old buildings with wonderful architecture, now sadly in very run down condition, due to the poor economic state that Sicilia has suffered over many years, it really is the poor relation of Italy. This, however, is very often the saviour of fine old buildings, as there is no money to knock them down and replace them, the local people inhabit every room in these buildings, when their economy improves they will have these buildings at the ready to restore to their former glory, as was the case of the fine Georgian and Victorian buildings we still have today in Ireland, economic poverty was their saviour.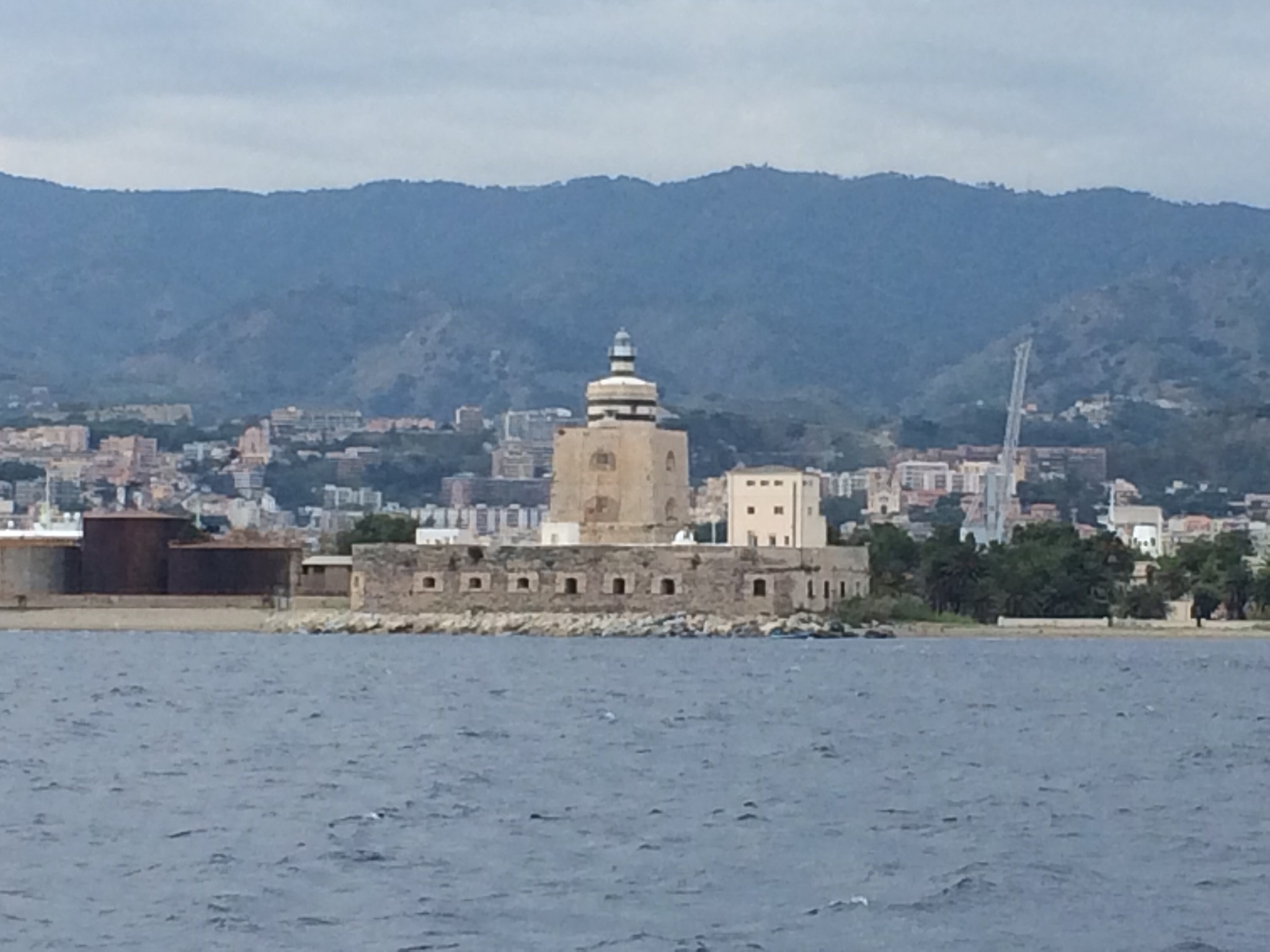 There is a huge marina in the port right in the dead centre of this city, but there are stories of security problems, and like Trapani it is filthy beyond believe.
Having rambled about the city and port, we saw street traders fighting, a young fella near killed on his scooter, I was grabbed at the door of a department store and searched by security when the alarm kept going off as I left the store, turns out it was my passport ? but the people are quite nice really, so it was time to move on and take the three hour train journey to Milazzo to rejoin DeDanann.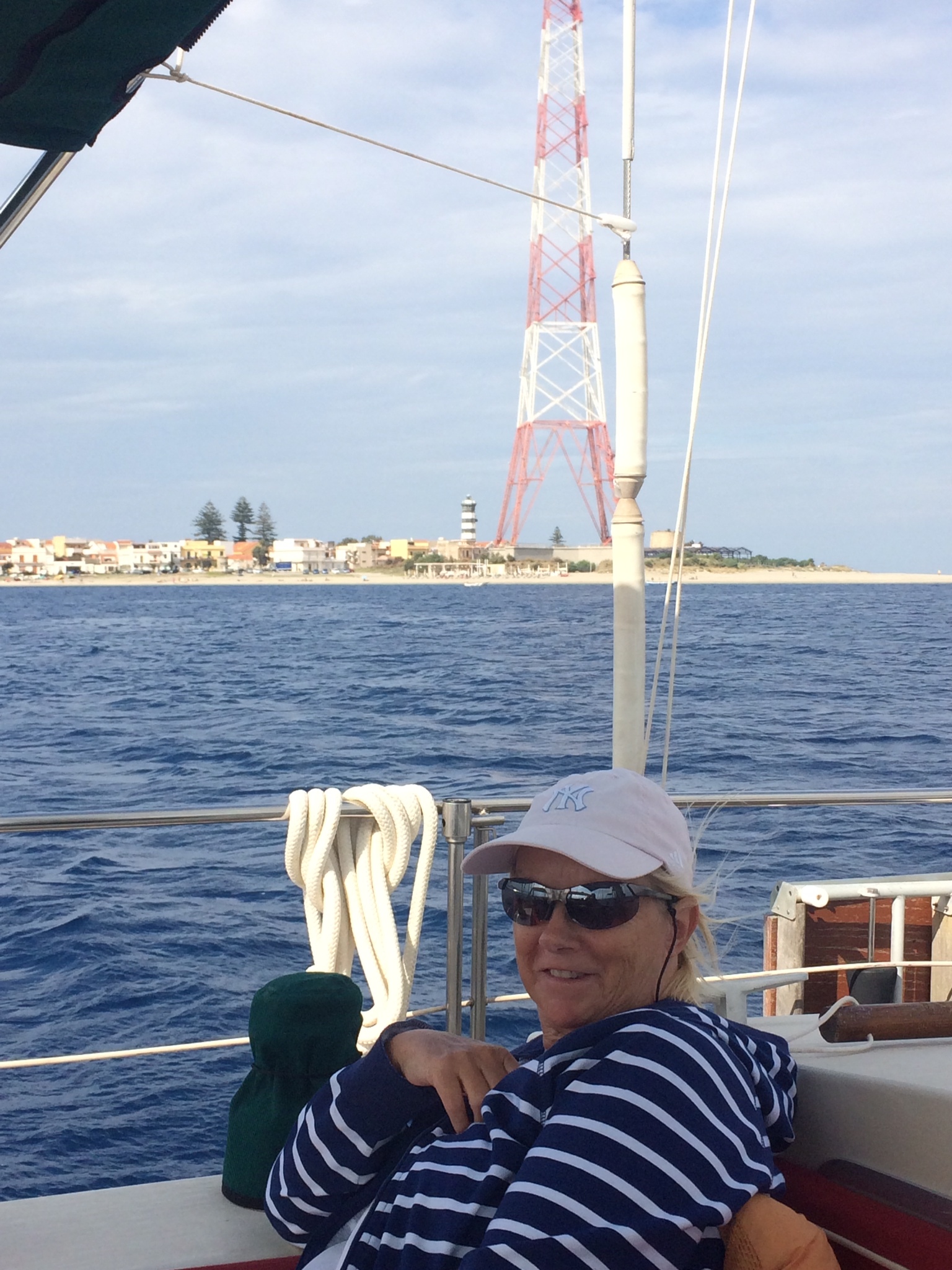 The following morning at 11.15 we set sail for the Ionian Islands, Greece, we left the Santa Maria Maggiore Marina in good weather, passing the large oil refinery and several huge oil tankers on anchor, I thought of the old man as we passed, he was working as a pipe fitter and welder on the construction of white gate oil refinery in cork harbour the year I was born in 1959, a photo of him sitting on a pipe rack looking out to sea in his overalls and welding goggles sits on my desk to this day, I learnt my trade and so much more from that man.
We motor sailed all the way to the entrance of the Messina straits arriving at 14.25, one needs to get the timing right to enter the straits as their is a current that runs at up to 9kt South to North and vice versa every six hours, the south going stream starts HW Gibraltar + 4.5 hours, also, there is a contrary current that runs close to the shore on both sides of the straits known locally as the Bastardo's, one can use this to great advantage if you miss the tide in the centre, the straits operate a TSS and is carefully watched for any infringement of the rules by the guardia costiera, one is required to call up the Coastgaurd on the VHF ch10 prior to entering the straits, we did and got no reply, but we have an AIS transponder/receiver which would indentify us in any way. We kept a safe distance off the N coast of Sicilia as we approached the entrance, just as well as the pull of the current was sucking us very close to the shore just as we entered the straits and then we went like an express train south along the TSS, passing the city of Messina at great speed and dodging the many ferries that crab their way at a right angle to the TSS, going from Sicilia to Italy, bulk carriers, tankers in great numbers transiting to and from the Tyrrhenian to the Ionain sea, the Tyrrhenian has much more salinity (Salt) than the Ionian and it is this apparently that creates the current that flows through the narrow entrance of the straits. We set a course of 245* from capo palero to Messina and then went 190* to the south end of the TSS. We were going well under motor and sail till 17.00 when a squall of rain came upon us, strong wind from the east, very poor visibility and darkness starting to descend upon us, the sea is always unsettled in here in any way but it was starting to boil now, we kept our course and switched to the radar until the squall passed an hour or so later, the wind abated to a more comfortable 15kt and we set full sail for capo spartivento at the south west tip of Italy.
The Messina Straits are described in various pilot books as being the terror of the Mediterranean, with reports of piracy, ( they just rob you here, or put you into the liferaft and steal your boat) however, if one has been in and out of Strangford a few times , as I have many times, then the currents present no real problem, so long as you transit in fine weather.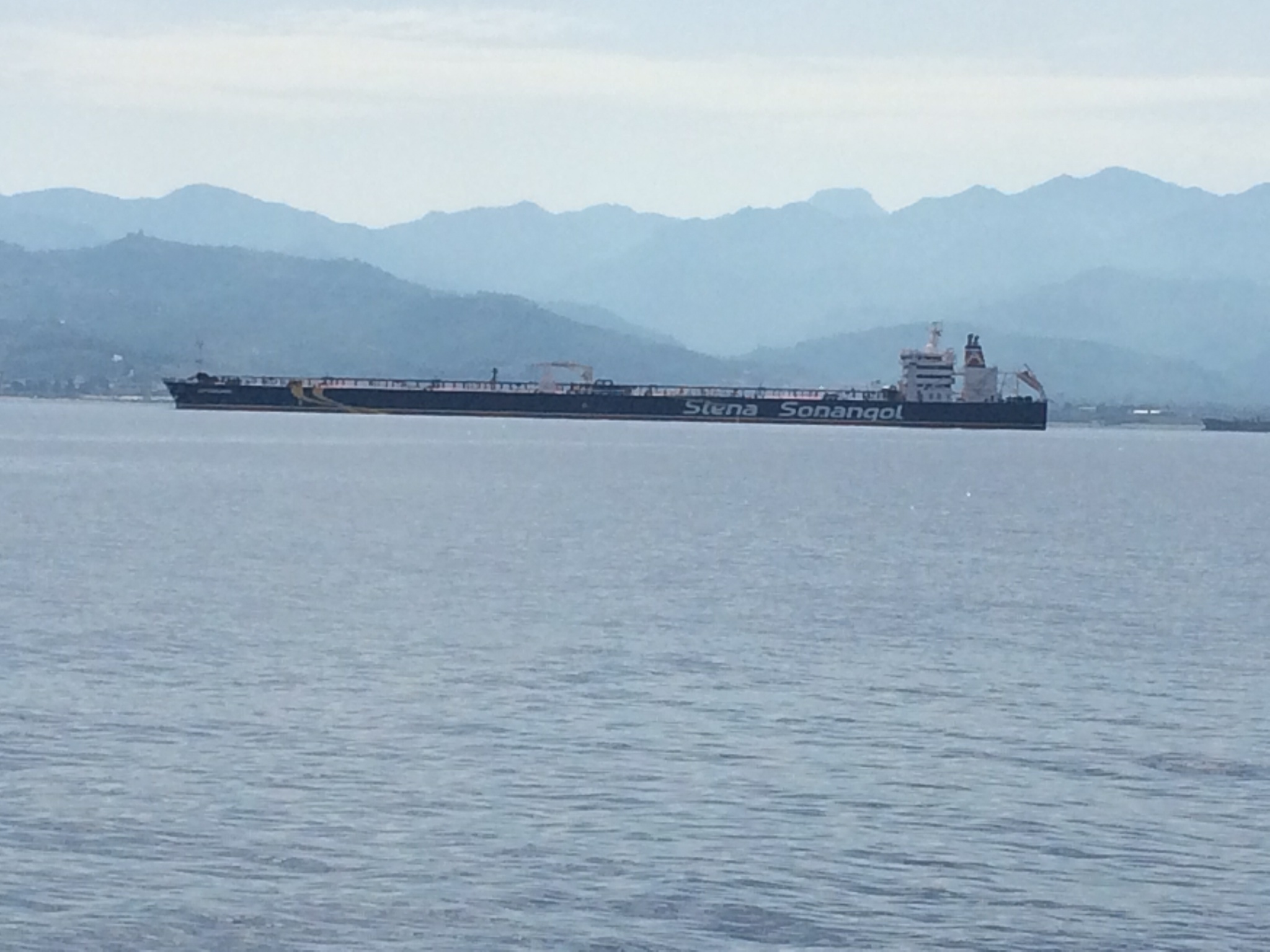 At 20.30 we were sailing along in poor enough visibility and rain towards the south exit of the straits when all of a sudden we could hear the sound of some very powerful engines coming up from behind, we could see no lights, but the sound was closing on us quickly, I quietly became concerned, thinking this piracy stuff may be for real, now, DeDanann came with a very fine rocket launcher and a dozen 12 bore rockets, it resembles a sawn off shotgun, so for the first time, I had decided to keep this to hand in the cockpit under cover of a towel, Linda, who was as concerned as I,did not know this, when she saw me load a rocket into the gun and I told her to get down, she nearly had heart failure, just as I was loading the gun DeDanann was lit up by a massive search light, I left the gun at the ready under the towel, started the engine, as this other boat came within a couple of meters of our starboard side, we could see nothing due to the intensity of the light, it seemed like we were about to be boarded, we were concerned,I decided , if anyone attempts to board us un-announced I would put a rocket through the window of their wheel house, turn off our nav lights and AIS and run for it, I reckoned this would pre-occupy them long enough for us to get away. After what seemed like an age the light went out, the powerful engines revved up and away she went ahead of us, it was only then that we could see the Guardia Costiera signage and a couple of heavily armed sailors on deck, she quickly disappeared into the darkness at great speed with no nav lights on, the interesting thing was that this boat was not showing up on radar or AIS, I dread to think what would have happened had I executed my plan, you'd probably be reading about DeDanann in the Irish Times.
We rounded capo spartivento and set course 35* for the only port on the SW coast of Italy, Rocelle Ionica, some 35m distant, this coast is quite shallow, the weather settled and we got a good sail in 15kt of east wind, (Levante) we arrived at the narrow entrance to Rocelle at 03.30, having readied DeDanann for berthing we crept in slowly but grounded on the bar, we spent the next half hour rocking her inch by inch back out into deeper water, we dropped the anchor and were preparing the boat to hit the sack when we heard the sound of powerful engines coming at us again, no nav lights, and then we were lit up as before, but we could see it was the guardia costiera , they circled around us for several minutes, and then took off into the darkness again, this section of the Italian coast is well patrolled for good reason I am told, they have had piracy and drug smuggling problems for years in this area, we were so tired at this stage we didn't care about pirates or anybody else and slept like babies until the following morning.
After breakfast and having tried unsuccessfully to download the latest weather we set sail in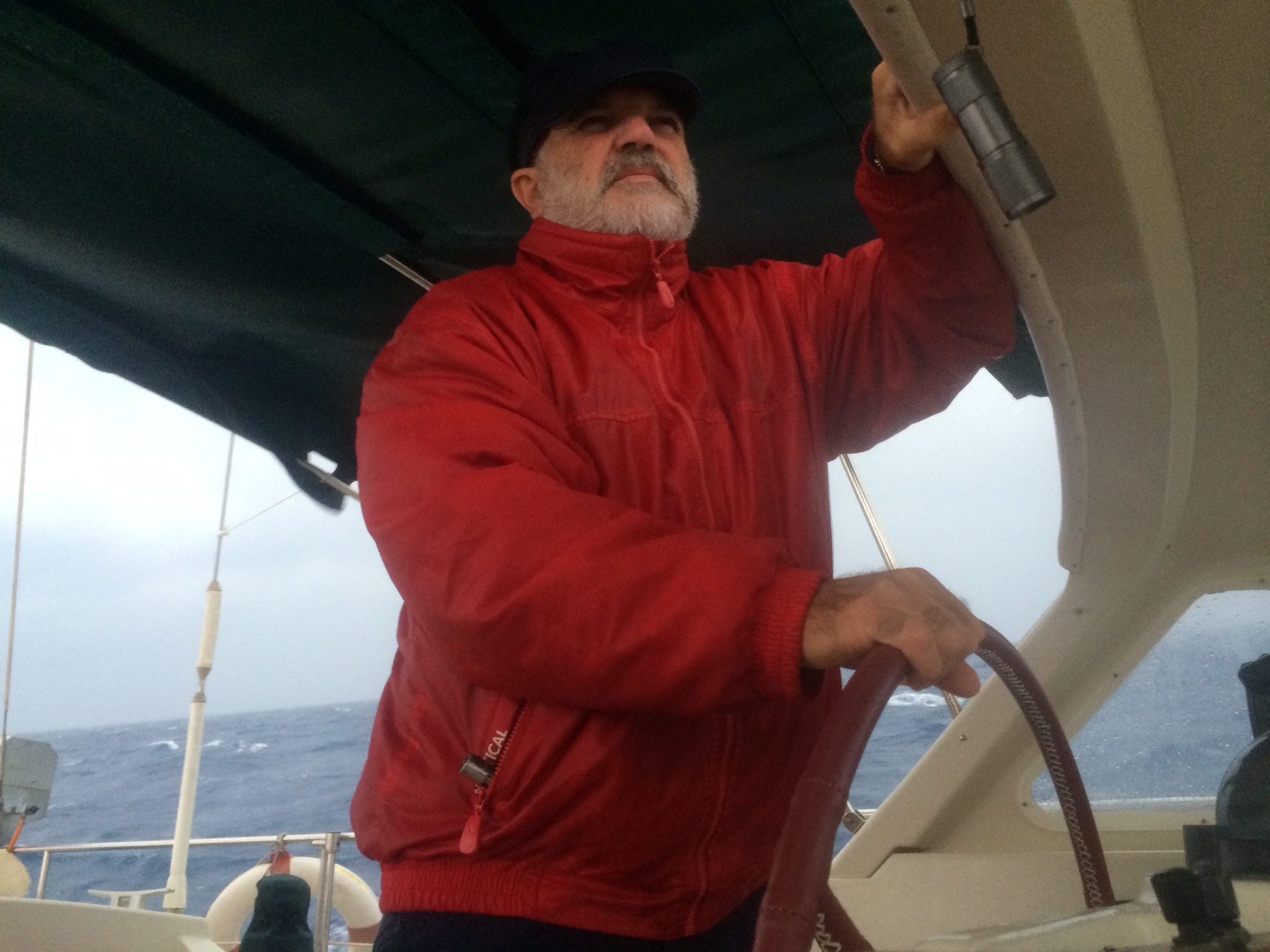 good conditions for Zakynthos , in the Ionian Islands, some 200m distant, the weather forecast from three weather sites the previous day was for 4 to 5 on the Friday and Saturday and increasing to 7 and 8 on the Greek side for Sunday morning with strong wind alerts for Sunday , Monday, we got the forecasted weather all through Friday and were sailing well in SE (Sirroco) winds all day, I stayed on watch through friday night while Linda slept below, during the night I saw for the first time ever, the radar started showing a huge target coming right at us 6m off, this looked eerie, so I reefed the sails in preparation for what was to come, very soon the wind got up and torrential rain poured from the heavens, but it passed within thirty minutes and everything settled down again, we were to see a lot more of this later, at dawn Linda came up, we had some tea, bread and jam and off to bed I went for a few hours wet and tired.
At 09.30 Linda woke me from my slumber to advise that things were getting worse, the sea was building and the wind was increasing to over 25kt, it was coming around on the nose and DeDanann was starting to slap and bang into the waves that had built to two meters, I had noticed on my way up that the barometer was dropping fast since I went below, 1004 to 998, we were half way there, it would be over 100m to anywhere, the Italian Coastgaurd were transmitting a gale warning on the VHF, very hard to understand the accented English, so I decided we crack on towards Greece, DeDanann will sail at 50* off the wind and this pointed us towards Corfu in the North Ionian! we held this course for three hours, then put in a tack and this pointed us toward Libya, we made little ground over those hours and with the weather getting worse by the hour I decided to try motoring through it with just our mizzen set, the wind was coming straight out of Zakynthos at 30/35kt so we came about 15* off the wind, this pointed us towards Cephalonia, DeDanann motored quite well, as the day progressed the sea got higher and higher, by nightfall, the waves were 4 to 5 meters, it poured rain constantly, lightening lit up the sky, the noise of the wind and the thunder was alarming, the white froth that washed DeDanann's decks was something to see in this dark moonless night, however, the wind although now at gale force was steady and not gusting, I was suffering some sea sickness, more through anxiety than the motion of the boat, I was eating the odd banana, they taste the same coming up as they do going down, Linda was numb with fear, but she remained calm, at one stage she came up from below to enquire did I think we would ever see our grandchildren again, I said I have every intention of seeing them again, put on your life jacket and try get some sleep, she looked out to sea and calmly said, we end up in there were "gone"no point putting on a life jacket, I was inclined to agree, and she went below, we have never worn jackets on DeDanann yet, but we keep them to hand with our grab bag and Epirb just in case we ever have to abandon ship.
Midnight on Saturday my phone rang, it was our son Eoin ringing from the pub to see if we got in alright, I had texted him when we set out our ETA of midnight on Saturday at Zakynthos , I told him of the gale we were riding and had him take note of our position, 20m west of the NW coast of Cephalonia, our new ETA would be 06.00 as we were only making little over 3kt, Eoin who has worked along side me all his life would detect the concern in my voice, we have rode out several financial storms over those years in business together, none worse than the present crises in ireland, he knows I am always calm and stand my ground no matter what the crises is, he, likewise, would also remain calm and think things out, he would call up Dublin Coastgaurd and Tony Clery, who keeps tabs for us, should he have any serious concerns or should our ETA not be confirmed.
We closed the coast of Cephalonia at 05.00 on Sunday morning, it was pitch dark with not a light to be seen, I had thought we would get the shelter of the high rugged land from the wind which was now blowing at 40 plus kts but the wind was coming off the steep hills that sweep down to the sea at great force, we entered a large bay off Assos beach where I thought we could shelter, the waves thankfully now reduced in size to about 2 meters but it was not possible to anchor off in these conditions, it was too dark to move in any closer to the shore to find shallow water, I was never so disappointed, tired, wet, and weary from two days on the go, we hove-to in the middle of the bay to await the dawn in another hour, Linda put the kettle on while we worked out a plan to find a suitable place to go.
DeDanann will sit to windward very comfortably with the wheel tied off and just the mizzen set, as the wind tries to knock her off a wave the mizzen brings her back up, the Mediterranean fishermen use a mizzen for this purpose when hauling their nets, the wind meter was stopped at 50kts as we sat in the bay, the rain came down in buckets, our Bimini was torn off, we lost the cover of our new BBQ, the dinghy was flooded, conditions were worsening, but DeDanann was otherwise in good shape, I had prepared her well, lashing anything that could move, halyards tidied etc, her crew were not so good mind, we weren't out of trouble yet ?
Linda got out the pilot book for the Ionian, and suggested we go to a little harbour 3m to the NW called Fiskardho, so I called up the Coastgaurd on the VHF to ask their advise on entering this little port in these conditions, we got no reply, but it turns out they could hear us, so Linda telephoned them in Athens, a gentle voice with excellent English answered, we told him we were holed up in a gale and asked about Fiskardho, he asked our position and call sign, he could now see us on the AIS, and asked us to hold on a minute after first taking our telephone number, he came back to advise that it would be safe to enter in this easterly gale, and that he would ring ahead for the port police to be on standby to assist us tie up, that we should keep a listening watch on channel 12 and 16 and call them up when we are at the port entrance.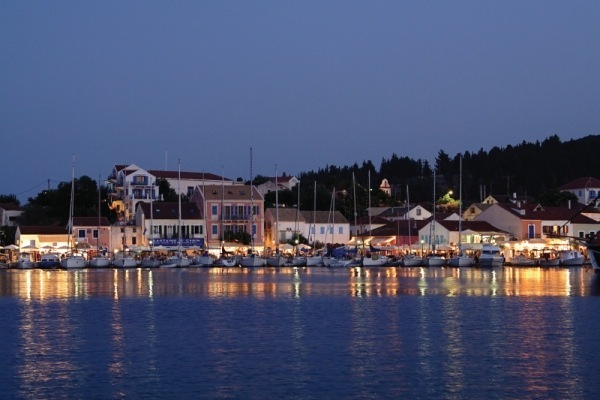 We set off for Fiskardho at first light, rounding the headland we picked up the light at the concealed entrance to the port, this was the first light house (fl3s) we had seen since leaving Italian waters, and a welcome sight it was, DeDanann was rounding up in the gale force winds that thankfully blew out of Fiskardho, there is a long fairway from the open sea into the little port with high ground on both sides, the sea was almost flat, but the wind was still raging at 45 plus kts, the harbour was packed to capacity with charter yachts, ferries, and fishing boats,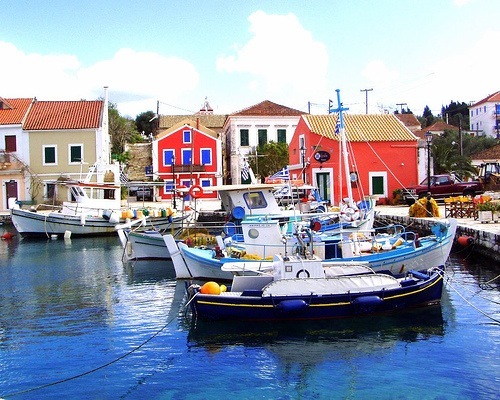 the two port police directed us to the only space in the port having first moved a small speed boat to get us in, the space looked to tight for DeDanann's 5m width, we were determined to tie up, so we lined her up into the wind, dropped the anchor in the centre of the port, and with full revs and great haste, we went for it pushing the yachts both sides of us apart, Linda threw the lines ashore in great style, you would have thought she was sailing all her life, and the two police men, soaking wet in the torrential rain, tied us up to great applause from the crews of several yachts, Polish, German,and English, who were on deck tending to their lines and anchors in these terrible conditions, they couldn't believe that we had sailed from Sicilia.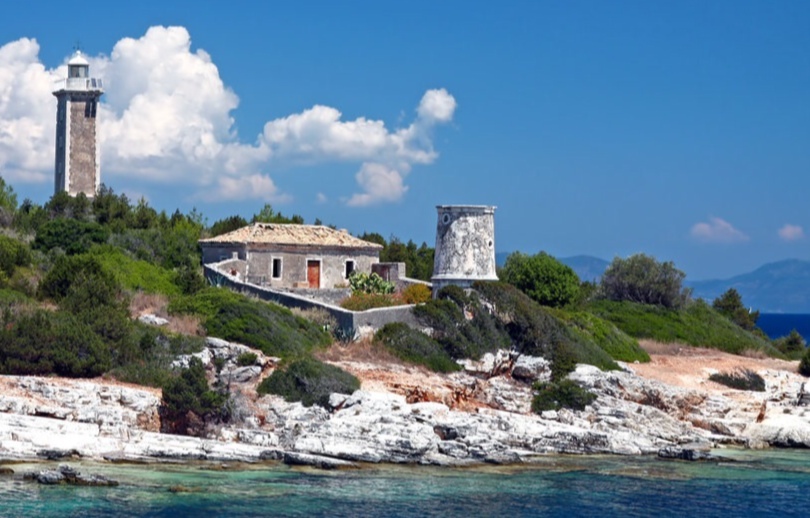 Our log records that after 70 hours at sea since leaving Sicilia, we tied up in Fiskardho at 07.20 on Sunday 4th October 2014, I think the Gorgeous little port of Fiskardho, and the kind helpful Greeks that we encountered there will be etched in our minds for a very long time.
DeDanann Out.
Registered in the Republic of Ireland. Registered No. 81187