DeDannan in Sicily
30 September 2014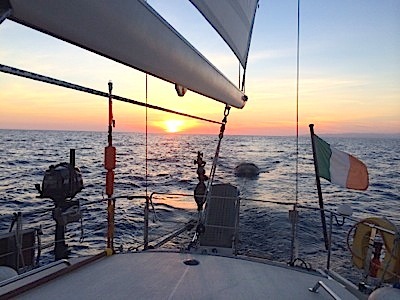 The continuing cruising log from Tony Olin as he travels across the Mediterranean in 'DeDannan', his 54-foot Amel Super Maramu. This report comes in after he left Sardinia and sailed to Favignana and then to Porto Trapani in Sicily:
(Top photo: Leaving Sardinia at sunset)
Our time in Sardinia was up and we needed to take the trip further south to Sicily before the summer ends, we left the grand harbour in Cagliari and headed for the fuel dock, this being our first fuel stop since leaving the Balearics in July, fuel over here costs €2 per litre. We left the harbour escorted by two military frigates and the largest tug boat I've ever seen close up, and set course for the Egada Archipelago of islands to the NW of Sicily some 190m in fresh NW winds of 20/25kn, we sailed along at 8/9 kn until the sun set and the wind died off, the sea calmed down as it got dark and we motored along at only 4/5kn, this surprised me as DeDanann is capable of pushing along at 7/8kn, I had suspicions of either dirty fuel or a fouled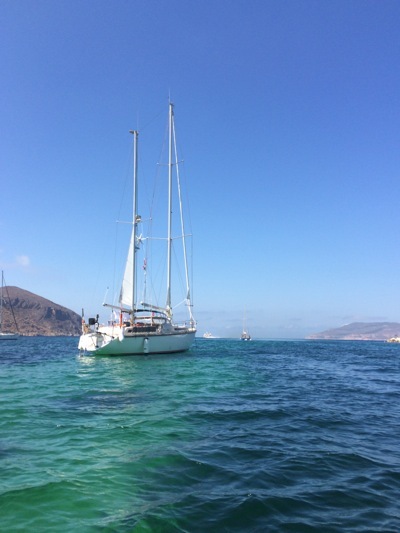 prop ? In anyway, we pushed along as best we could through the dark moonless night, I grabbed a couple of hours kip from 11 to 2.00 then Linda went below for the night having prepared some coffee and biscuits etc, their was very little traffic apart from two big ships showing up on the AIS and radar, the AIS is a great man on these longish passages at night, these night passages are long and boring when their is no traffic to keep you alert, I tried messing about with the radio but could only pick up Italian pop radio stations, I would have welcomed some nice classical music that the Italians are world famous for, so out with the banjo, and I treated auld Neptunas to some nice Irish slow airs, and I also learned the music to Frost which is quite nice on banjo, having been watching him on the TV the previous night, if I can hum a tune in my head I can play it on the banjo, sailing bye the music to the old seascapes and BBC sea area forcast came to mind, I can recall some years ago playing this in the pier house, and being asked by an elderly English lady did I no the name of that tune, I said I did, she replied do you know who wrote it, I said I didn't, she told me it was her late husband the great Ronny Aldridge, band leader and pianist, she had sailed in from port Saint Mary with her friend a rtd Manx fisherman where Ronny lived in the big house above the harbour as a tax exile before he passed on. Now, as it happens I was going to sail singlehanded the very next day to Port St Mary, the fisherman gave some good pilotage advise on coming up from the chicken rock and entering the harbour, to be mindful of the Carraig rock at the entrance to the harbour, that their was a perch light flashing every 5 seconds etc, I reached the chicken rock LH at about 02.30 am and headed up the 4/5m to the harbour entrance, it was a very misty night, and I was looking out for the harbour LH and the perch, this being pre gps days for most of us, but could find neither, so back to the chicken rock, re-plot my course to the harbour entrance, and keep exactly to it, still no lights ? So I gingerly crept in through the mist confused as to where I was, still no lights, then suddenly I saw a faint glimmer of the LH ,it was being painted, with scaffolding all round and dust sheets over the light, so happy I was now there, I put on the tiller pilot to motor in and tie up, jumped down below to light the kettle,"20 seconds" and crash!!!!!!!!, jaysus, what the f!!!!!! was that ? I'm grounded on the carraig rock, the perch is three feet beside me with no light working, I just can't believe it, I tried everything to get that boat off the rock with the tide dropping fast, no luck, so a VHF call to the Coastgaurd to advise them of my predicament, they called up the lifeboat, I could see the cars arriving at 03.30 to come out to me, in anyway, Antelope and I spent that night on the Carraig rock all those years ago.
I'm rambling, so back to Sicily, I always find when on my own at night at sea I am visited by the spirit of my late father, Louie, this pleases me and I really enjoy his company, even if only in spirit, he was from ringsend (Raytowner) and had a great love of the sea, Liffey swimmer, rowed for Stella Maris and St Pats, he could never afford a yacht, but enjoyed coming out with me just before he passed on.
We arrived some 35 hrs later at the Isola Maritima, and dropped anchor off the little fishing port in 6m of water just as the sun was setting, we tried to have dinner but the wash from the numerous little fishing boats and over powered ribs that the Italians are so fond of was something else coming back for the night, we rocked and rolled for a couple of hours until I gave into the first sea sickness since leaving port Andratx, so the lovely juicy T-bone steak that Linda had prepared for what was my 55th birthday had to be left as I snook off to my bunk for the night, I recall my very nice neighbour in port Andratx, Peter Moodie, a Rtd Scottish trawler skipper telling me when I feel seasickness coming on to eat, even when it is the last thing you want, you must eat, a cracker, sandwich etc, but eat always, I have learnt many years ago to bow to experience, and I am delighted to report that I have not suffered any sea sickness this trip thank the gods and Neptunas. The next morning recovered from my mal de mar we set off in the dinghy for to visit the only village on the island, the little fishing port is shallow with boats everywhere, it reminded me of the "Popeye" village in Malta only even more ramshackle, little white cottages along narrow streets, a noisey generator for the electricity, a couple of tiny shops that sell everything from a needle to an anchor, this is Connemara in the thirties, there was however a fine little fishermans museum full of lovely photographs, memorabilia and the history of the fishing folk that have long inhabited this island, it is run by the retired fishermen who gather there to while away the hours, I thought this would be a great idea for our own retired fishermen in Howth to interest themselves in.
This is the hometown of the grandfather of the great Joe DiMaggio of American baseball fame, there are photos of Joe visiting the island in the museum, I saw two young lads all dressed up in their football gear very skilfully kicking ball in the narrow streets, and thought of the great Toto Schillaci of 1990 World Cup fame who grew up in a little village like this outside of Palermo.
We spent a couple days on anchor there, I took the time to check our prop and could see through the crystal clear water that it was fouled again by the dreaded un-weighted lazy lines in the marina back in Cagliari, we must have sucked it up on our departure, so out with the dive gear for the second time in a week and undid the mess, problem of lack of speed on our trip over here sorted.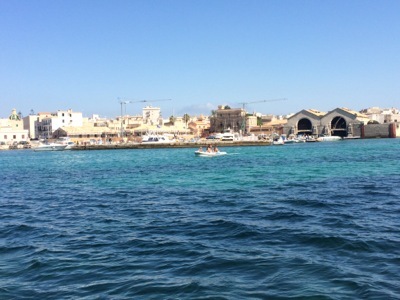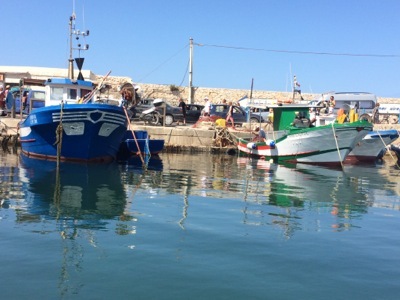 We then moved onto the larger island of Favignana which has a larger harbour and small marina, the marinero came out to meet us on arrival and asked for €135 per night, he didn't speak English or Spanish but he understood when I told to f!!!! off, we dropped anchor inside the harbour in 2.5m of water which cost nothing.
There is a great ferry service to these islands that come and go quite frequently, this is the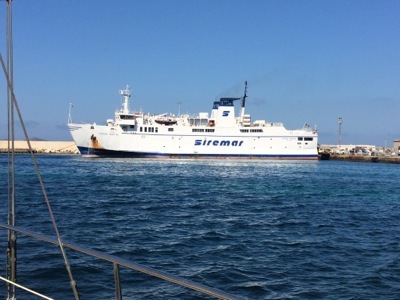 what keeps these islands inhabited as the young people can seek education and employment on the mainland and come home every night, they cost very little to travel on and are I expect are subsidised by the Italian government, they enter the little harbours at great speed, drop anchor at the right spot, spin the boat around in great haste, and then reverse up to the town quay against the anchor, they are really very skilled at this for such large boats in such a confined space, be in their way at the peril of your life, they load up the passengers and are gone in a flash.we had a few days here, one night the wind built to 30kn and blew straight through the harbour entrance, I found myself on deck at 04.00 putting out a second fisherman anchor, but our new rocna anchor that Tony Clery and Cyril Gueren helped me fit a few months earlier holds very well indeed and I have little trouble sleeping whilst riding to it.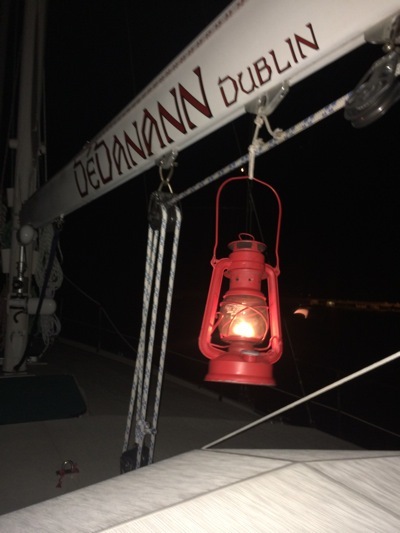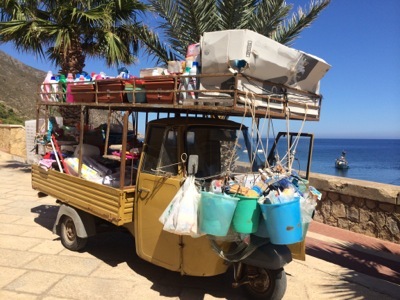 We set sail for Trapani on the NW of Sicilia, about 20M distant, a huge harbour like Cagliari with marinas, Fish dock, large ships, cruise boats etc and we dropped anchor in 8m off the west pier, well sheltered here, again, the marineros where out touting the business looking for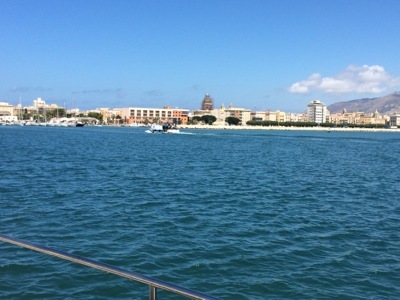 €125 per night, it's now September and the marina's are almost empty, we stayed on anchor for a couple of nights in flat calm conditions, we have come to prefer on anchor, more private and secure, I can play my banjo without driving anyone but Linda mad, however, the forcast for a few days was not looking good with the Scirroco coming in at up to 50kn, and the fishermen coming in from their fishing grounds to get out of it, so we did a deal with the marina @ €60 per night for a few days to let it blow over, and the wind did blow as predicted.
Trapani is a small city with a nice shopping area in the old part, as for the rest, it is very say working class and run down, the people in these areas look somewhat more fierceful than the Sardinians, but we saw no bad behaviour, the area around the marina and fish dock was filthy beyond believe, the fishing boats here are in bits, and hygiene is not high on their list, the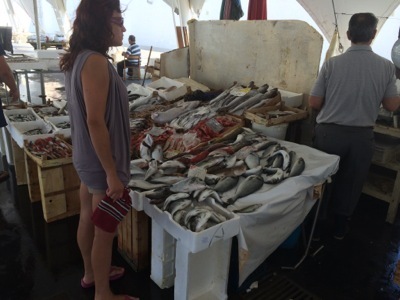 harbour is full of rubbish, rotten fish, rotten vegetables from the local market and all sorts of rubbish floating about the marina.
To pass the time and get out of Trapani, we took a bus from the main station to a town inland, having paid for our tickets we waited at the appointed stop for the bus to arrive at 15.40, at around this time a bus did come and we enquired if this was the right bus and showed the driver our tickets, there was a longish debate in Italian between the driver and some of his passengers, he then beckoned us on board and off we went, now it turns out that this is not the right bus, but he is a nice guy and is going that general direction in anyway, we don't know this, after about an hour driving through the country he stops at a cross roads and tells us with sign language that we should get off here and wait for the other bus, " what other bus" were still waiting an hour later and the town looks to be a couple of miles up a steep mountain, we decide to try hitching a lift, an nice army officer stops and has some English that he learned off the Irish whilst serving in Bosnia some years ago, so he takes us up the mountain after first stopping off at his mothers cottage to deliver 5 gallons of fresh water, she still has no running water, then we arrive in the little village outside a small bar with about twenty auld guys sitting about playing cards and he tells us that this is the bus terminus for to go back to Trapani, great stuff, so we go into the bar to enquire about the time of the next bus, seven thirty from here, €5.80ea, it's now 18.15 so we go for a ramble, cup of coffee and we can take the bus in good time, so 19.15 were back at the bar sitting with all the nice old men, 20.00 still no bus, we think ah sure it's Sicily, no hurry, just then a bus arrives, were first in the que, I show the driver our tickets, he tells us this is not the bus to Trapani, the bus to Trapani is at 07.30 tomorrow morning, our jaws drop to the floor, so off the bus and back into the bar, can you call a taxi for us please, signore, there are no taxies here, no hotels either, Madre Di Dio, what the F!!!! Are we going to do now, were in T shirts, shorts and flip flops, after rambling about like two hobos, its now dark and getting cold we tell our story to a policeman using a guide book we have just purchased, and he very kindly rings one of his mates who arrives in full uniform, gun and all and takes us back to Trapani after screwing us for €70 which given the alternative I was happy to pay.
The winds died off and we felt it was time to move on, having studied the weather forcast and taken a look over the harbour wall things looked alright to go, maybe a little fresh, there's some white water out there mind, but sure were fed up here at this stage, so off we set for Capo San Vito to the N some 28M distant, jaysus, you'd want to see the waves when we got out there after three days of savage winds the white water that looked kind of harmless was 4 meter waves, herself was not at all too happy to say the least, but were both northsiders and I couldn't suffer the shame of going back to the marina with our tail between our legs, I noticed the fishermen hadn't gone back to sea yet and that should have been a sign to take heed of, so we battled on in what seemed like mountainous sea's in up to 30kn of wind from the NW putting us onto a lee shore, however, DeDanann can take conditions like this in her stride, she has an easy motion, as we galloped along with reefed sails all the way to the headland of San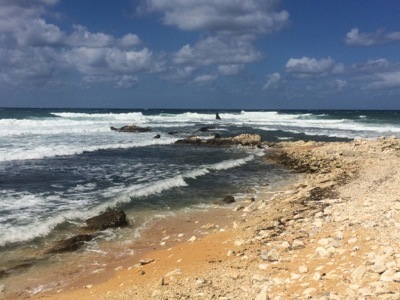 Vito, the confused sea as we rounded the headland to run SE a few miles to the port there were some experience, there seemed to be craters opening up before us in which poor auld DeDanann might disappear, Linda who was now seasick would look at me when DeDanann would fall off a wave for assurance and ask are we ok, I would reply casually " nothing to this boat " and then privately kiss my Saint Christopher medal and ask Neptunas for mercy.
Needless to say, we were glad to get into the very nice marina San Vito, a cup of tea and all was right with the world, I was expecting to go down below to a mess of pots and pans all over the place, but not a locker opened, Linda does a good job of stowing everything and damping down with towels, not a drop of water anywhere below, she really is a fine safe boat.
The town of San Vito is a nice tourist spot, all Italian or French, we have not come across any British or Irish tourists since leaving the Balearics, we enjoyed our stay here fishing and swimming off the boat, again like Sardinia, we struggle with the food, all fish, no meat, a butcher is almost non existent here.
Our time here is coming to an end and we are going onto the Isola Ustica, and then E to the Aolian islands of which there are seven in this archipelago,so goodbye for now.
DeDanann Out.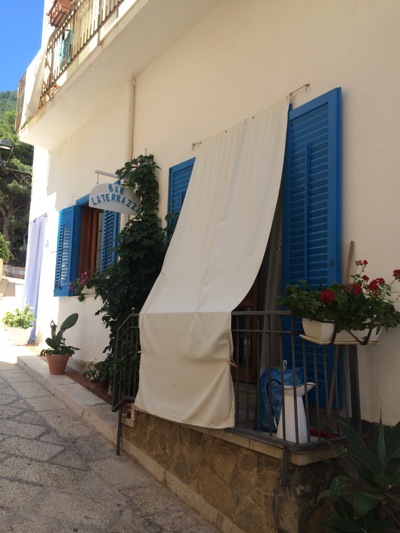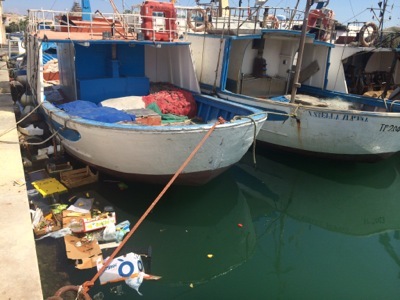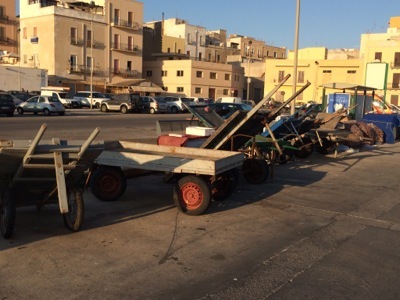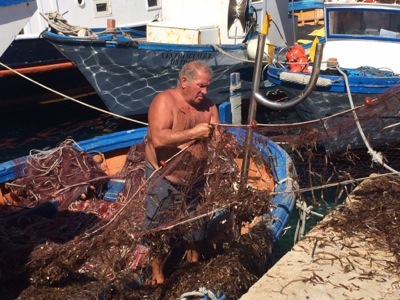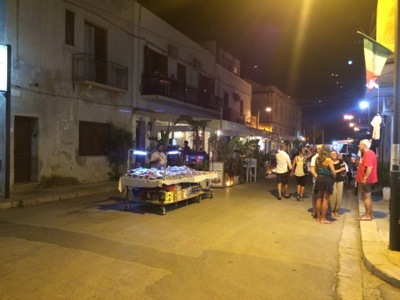 Registered in the Republic of Ireland. Registered No. 81187