Classic Conditions Conclude RS Aero Season at Howth
29 October 2023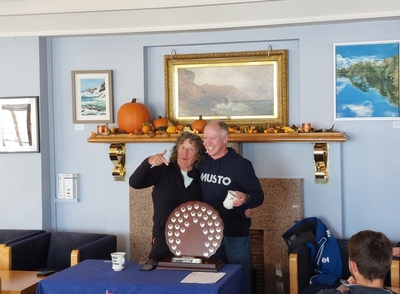 The Irish RS Aero fleet completed its 2023 Summer Season at the KODC Advisory sponsored RS Aero Eastern Championship held at Howth Yacht Club over the weekend.
The sixteen competitors enjoyed classic Howth conditions with an Easterly breeze and waves providing challenging but exhilarating racing.
A key part of the Irish RS Aero class events has been providing a coaching or training session on the afternoon before the event with the goal of improving the levels of all sailors. At the session on Friday afternoon, the Irish fleet got to benefit from the expertise of top UK Aero sailors Noah Rees and Jack Miller who were fresh from coming second and third at the Aero World Championships held in Sardinia in August. The two lads were so generous with their time and knowledge with go faster tweaks, tips, and tricks which the Irish fleet would put into practice in the racing over the weekend.
On Saturday three excellent forty-minute races were completed under the guidance of PRO Harry Gallagher. The efficiency and quick turnaround between races meant the fleet adjourned to HYC to enjoy some excellent food and drinks before all retired to watch the Rugby World Cup final. Only one race took place on Sunday as the race committee made the sensible decision to call it a day following a large squall and wind-against-tide conditions.
The event was won by HYC's Daragh Sheridan (Pictured top), enjoying "home court" advantage in his local waters. The win by one point from Jack Miller in second and Noah Rees a further two points back in third was testament to the close nature of the racing.
Pictured above: 2nd place Jack Miller (Felpham / Paignton SC)
The Howth event concluded another successful season for the Irish class. Alongside the choice of rigs for sailors of all sizes and abilities, a popular attraction of the Aero class is the training as mentioned. Also, the ease of being able to travel to international events in interesting venues where charter boats are available has seen Irish Aero sailors travelling far and wide. Next year will see plenty of Irish participation at the easily accessible Europeans in Carnac, France, and the Worlds in Hayling Island in the UK. Next year will also see a full calendar of regional events and a return to Howth for the Irish Nationals in June 2024 which will again be generously supported by KODC Advisory.
Pictured above: 3rd Overall Noah Rees (Torpoint Mosquito SC)
Pictured above: HYC's John Phelan - 8th Overall
If you would like to get involved there are a number of second-hand boats available currently and you would be assured of a warm welcome by all in the class. Contact: [email protected] or checkout https://rsaeroireland.ie/ to find out more.
Full results available here:
https://hyc.ie/results?utf8=%E2%9C%93&year=2023&event_type=open&event_title=RS+Aero+Easterns&result_class_name=Overall&commit=Get+Result
Prizegiving Gallery here:
https://hyc.ie/gallery/albums/364-2023-kodc-advisory-rs-easterns
Registered in the Republic of Ireland. Registered No. 81187