DeDannan in the Balearics
11 August 2014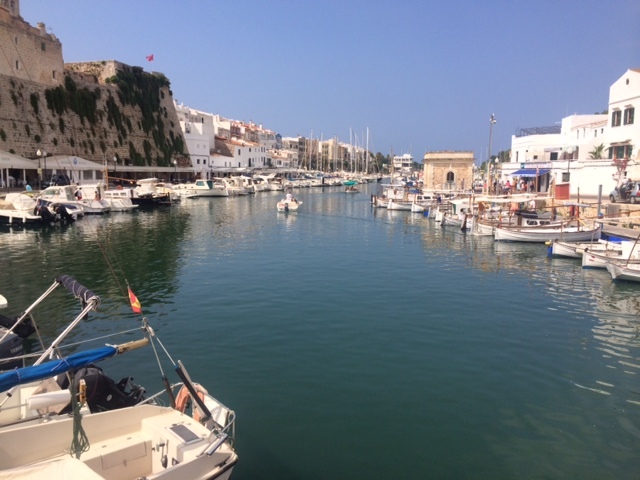 Since my last report in early July when the refit of DeDanann was near to completion, just as we were loading the boat for the off we had a near disaster, Linda was in Dublin visiting the grandchildren, and I came back from being out for the afternoon and evening, the electrician estavan, who I might add is a very good and experienced sparks, had gone home for the evening and turned on the 24v inboard charger as this had been off for a few days to facilitate the works and the battery bank had gone down, in anyway when I returned I got that horrible smell of rotten eggs, I recognised this as battery trouble and when I opened the engine bay to my horror I saw all 8 batteries starting to melt such was the heat, so I immediately disconnected everything and sat on watch till the next morning when estavan came, it turned out that one battery had failed within the bank and it drew the power of all the others through it and with the charger going at full belt created this tremendous heat which we suspect would have caused the batteries to go on fire, I cringe at the thought of another phone call to insurers after the Safari incident last December. A whole new battery bank and service of the charger was the order of the day.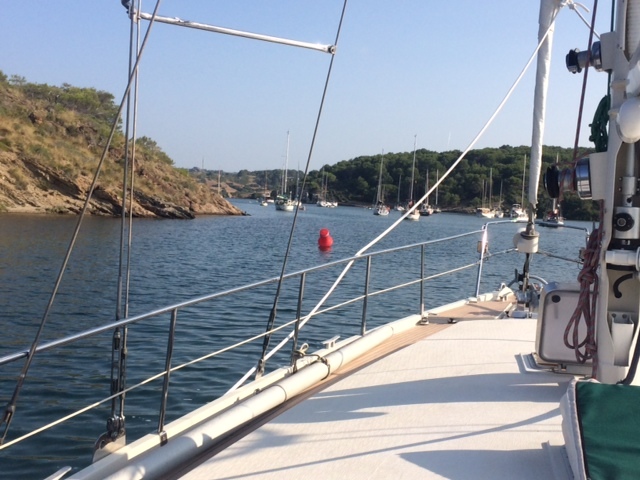 We eventually got the works finished, and had her polished all over by two young Ukrainian fellows who I came across living rough on a nearby abandoned building site, Alexi who is an artista,(dancer) and alexandrou who I think was lost to the world, but both good workers, they
reminded me of the young Irish that I met back in the eighties on the building sites of London, we paid them in cash, food, and drink, and by god could they drink, in fact I had to near starve them of the cash until the end as they would disappear for the day to go drinking, I got really thick with both of them one afternoon when they returned to the boat quite drunk and wanted to stand in the dinghy polishing the hull,as I sent them away quite forcefully, Alexi looked me in the eye, put his arm around me, (6ft 4") I'm 5'8' and said : Paddy understand: and promised to be on the job sober 7.30 next morning.
They got the job done eventually, and we enjoyed their company, poor Alexi had his arm broken defending himself from a violent attack before we left, I saw a lot of similarities to the Irish who had to leave there home country to find a living elsewhere, this type of survival is often the making of a young man or woman, a lot of the very wealthy Irish builders I knew both in Ireland and the Uk came up this way having learned the hard way.
We spent three months refitting DeDanann in puerto de Andratx, she lay on this mooring for many years under her previous owner, I had hoped to get under way for the end of June but the works just dragged on and on at the Balearics pace, the weather was nice and we were relaxed, every week I would go see the Capitano, a man of very few words, he demands respect from the staff who fear him greatly, (he has not yet learned that respect must be earned) and he would look at me and say Señor, when are you leaving ?, I would near beg to be allowed another week which he would remind me this is the last week, and so it would go each other week, eventually, I got to the stage that when we met he was saying ; are you still here ? and I would plead my case and of course be relieved of great sums of money for the pleasure of being there, that's spain for you.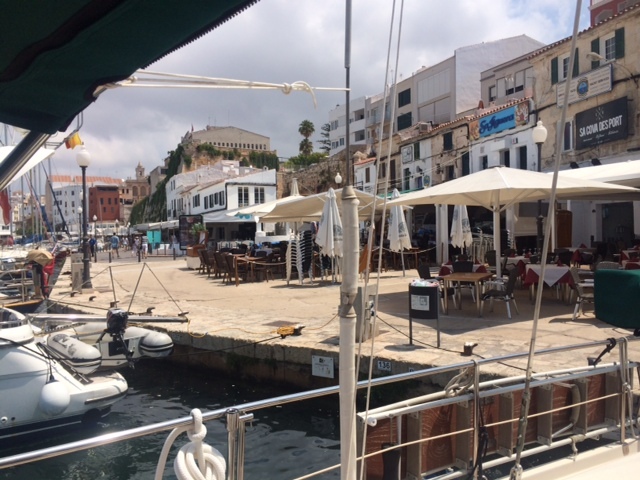 We eventually got under way on Saturday 2nd August @ midday and motored around to the north west coast for the long trek past Pt Soller and onto Cuitadella, Menorca, the winds were light and we motor sailed in calm seas the 100 odd miles arriving on the town quay at 01.45, we moored up to a large audience of punters eating and drinking on the dockside cafés, I did an excellent job in a confined space ( quite by fluke ) in mooring DeDananns 54ft length, I privately wiped the sweat running down my neck and said thanks be to jaysus that didn't go wrong.
Sunday morning saw us evicted from the town quay at midday for not having made a reservation, so we headed out to go N around Menorca to a really nice calle called Addaia, there is a real tricky entrance through rock invested waters, but we have been here before and it was still day light so we went in and anchored off the small marina in a really tranquill setting, this is one of the treasures along with Cuitadella of the Balearics, I went for a swim while the mate cooked dinner, she may not be a great sailor but she is a great sea cook for sure, late in the night I took out my banjo and after a while was joined by a clarinet on a French yacht down in the anchorage, I would play some nice Irish slow air and he would play some French cafe music, we both played ( I dreamt I dwelt in marble halls ) to the amusement of the other yachts from all over, a skipper who hails from Belfast on a fine yacht called Emerald called over in his dinghy the next morning to thank us for the lovely music, I never got to meet the French man as he had upped anchor early in the morning.
On Monday evening we pulled up our new Rocna 33kg anchor which so far holds very well and headed out for the long trip across to Alghero, in Sardinia, (200) miles, the forcast was for good weather, the sea was calm and the wind on the nose @ 10 knots so we motor sailed on a course of 80* with main and mizzen set, I slept after a nice Irish stew and some red wine to wash it down from 11.00 till 02.00 in the cockpit whilst the mate kept an eye out for any traffic, then Linda hit the sack whilst I stood watch until 10.00 the next morning and then slept soundly until 13.00. During the night we came within 50 meters of a large yacht heading N to France, even though we were watching each other for a long time we had to slow down to give them right of way or we may very well have hit each other, It kept me mindful of keeping a close eye on things even in such a big ocean, their was a few other boats in the distance during the night, the radar and Ais are a great asset on these night passages and keep one amused watching the various targets coming and going out of view.

We passed the night listening to the music of Jimmy Crowley from Cork singing his great collection of maritime songs, my love is a tall ship, the shores of malabar, jimmy is a sailor himself and this comes out in his music.
DeDanann under her previous owner (Topas) was a gin palace and despite being an ocean going boat never left within sight of the shores around Andratx, as we bobbed about the waves in the dark of night on our way to Sardinia I got the feeling she was quite happy under her new Irish owners, with a refit, new sails and now crossing the med to the music of Jimmy Crowley, the Cheiftainns and of course DeDanann after whome she is now named she lifted up her skirt in approval to the wind which backed to the N @ 18/20 knots under full sail and we thumped along @ 9 knots for all of Wednesday, the last four hours saw the sea rise to two meters and I had to reduce the head sail as the mate was having concerns about the height of the waves coming from abeam, we picked up the light at capo caccia as darkness fell and this had a soothing effect on her as we were now closing the land, we arrived in the bay of Alghero at midnight and as I never like to enter a port I don't know in the darkness we dropped anchor in 5 meters of calm water beside the Isla Maddelena, had a nice supper of boiled eggs and toast and hit the sack till the morning.
DeDanann out.
(Tony Olin is cruising and reporting from his new boat in the Mediterranean - see his previous report here)
Registered in the Republic of Ireland. Registered No. 81187