Sun and a hint of summer for opening HYC dinghy racing night
15 May 2023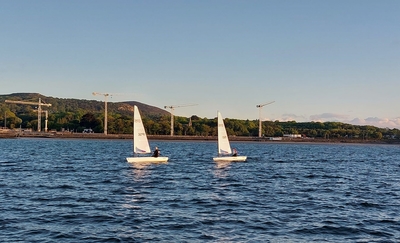 Last week saw the first Thursday night dinghy racing of the season at Howth Yacht Club. It was a glorious sunny evening with a light northeasterly breeze of 5-12 knots. It was perfect conditions to shake off any cobwebs for those who had not been sailing during the winter.
Race officer Harry Gallagher and his team ran two Olympic courses for the mixed fleet with everybody starting together. This added an additional element of fun as everybody had to take into account the different speeds and wind shadows of the various boats.
Race 1 saw almost the entire fleet arriving at the windward mark in a tight knit bunch with all to play for. Mike Evans, with son Andrew crewing in his RS800 along with Dec McManus and Jeremy Beshoff in their new B14 took off followed by the ILCA 7 of HYC Sailing Manager Matthew Cotter, Carla Fagan in her ILCA 6 and next were the RS Aeros of John Phelan, Daragh Sheridan and Abby Kinsella. After three laps, Sheridan came in first followed by Carla and Matthew.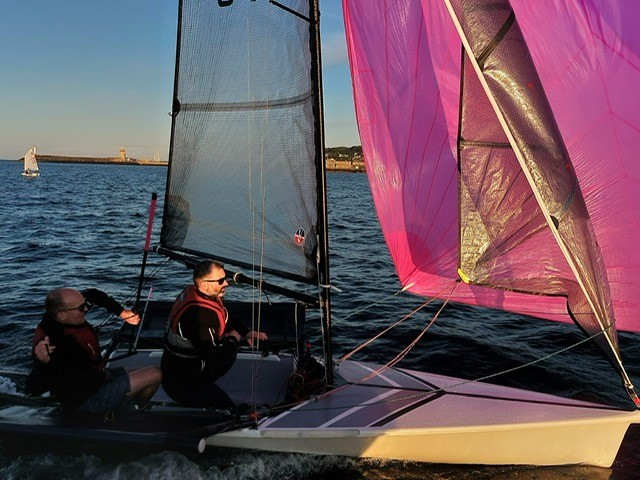 Race 2 saw the course shortened to two rounds. This saw a clean sweep of the podium by the three RS Aero 6 rigs of Sheridan, Phelan, and Kinsella. The race saw a great dice between John and Abby with John constantly trying to get enough of a gap to hold off Abby's lightening pace on the downwinds. Following the Aeros was Cillian Macken in an ILCA 7 and Dylan Cassidy in his ILCA 4. The faster skiffs struggled to make up the required time on handicap on the other boats, but we are sure they will have their days over the summer.
It was great to see recent Youth Nationals winner Harry Dunne out in his Optimist and we hope more will join him over the summer. What an opportunity to learn from one of the best Optimist sailors in the country!
As part of the aim of helping everybody to learn and have fun, a quick briefing before and after sailing has been added to the dinghy racing programme, enabling the sharing of experiences and the opportunity to ask questions. Participation was high for the Q&A, and will continue throughout the summer.
We hope, as numbers grow, to introduce a mentor-buddy system that will see less experienced sailors assigned a more experienced sailor to help them improve...a relationship that we believe will benefit everybody involved. There was a great atmosphere last night with everybody helping each other out -- if you're thinking about coming out to sail on a Thursday evening, please do join us. You won't regret it!
Registered in the Republic of Ireland. Registered No. 81187