The first regional event of 2023 for the 1720 class comes to HYC
27 April 2023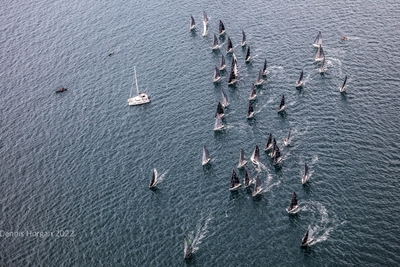 The 1720 Easterns is the first regional event of 2023 for the 1720 Class. The resurgent class, which has been around since the 90's, has the highest participation numbers in one-design keelboat racing in Ireland. While there is a relatively small entry -- at 13 -- for this event, there will be plenty of quality on the water; with past champions entered as well as a new owner in the two Jonny's, who have joined the fleet for the first time this season. We are being ably managed by Scorie and her team on the water.
A few new initiatives by the class are being run this year with an overall season points championship and class-subsidised coaching.
There is a new trophy, the Joe English Cup donated by the English family, which will be awarded to the top performing boat at the end of the season. This is the first event where valuable ranking points can be won.
In conjunction with Irish Sailing and the 1720 class, we have an on-the-water coach in professional coach and sailor Mike Richards providing coaching during the regatta. Mike will be allowed to provide input during racing so will be able to provide valuable nuggets to the participants. The debrief will be streamed live on the 1720 Facebook page.
It's time to pray to the wind gods that we have a decent breeze on Saturday morning so that we can get in to watch the Heineken Cup Semi Final!
--- Report by Ross McDonald
Registered in the Republic of Ireland. Registered No. 81187