Bronze medal for Rocco Wright at European Championships in Italy
20 March 2023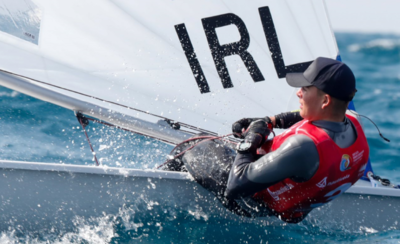 It was a top-notch weekend for Irish athletes, at home and abroad.
With all the excitement over St. Patrick's Day revelry (and then the following day of national pride), you might have missed the final race day of the 2023 ILCA Senior European Championships...But HYC's own Rocco Wright certainly didn't; and after a week of doing battle on the water, his last day of racing put the tin (or perhaps bronze) hat on the matter. Rocco was recovering from an illness and hadn't sailed in a month when he stepped out in Andora, Italy, for the tournament, and still somehow found himself standing on the podium on Paddy's Day...The sailor will be taking his medal home to a very proud Club and country.
Please see below for the full report from Irish Sailing, and our many thanks to them and Thom Touw (via SmugMug) for the photography in this piece.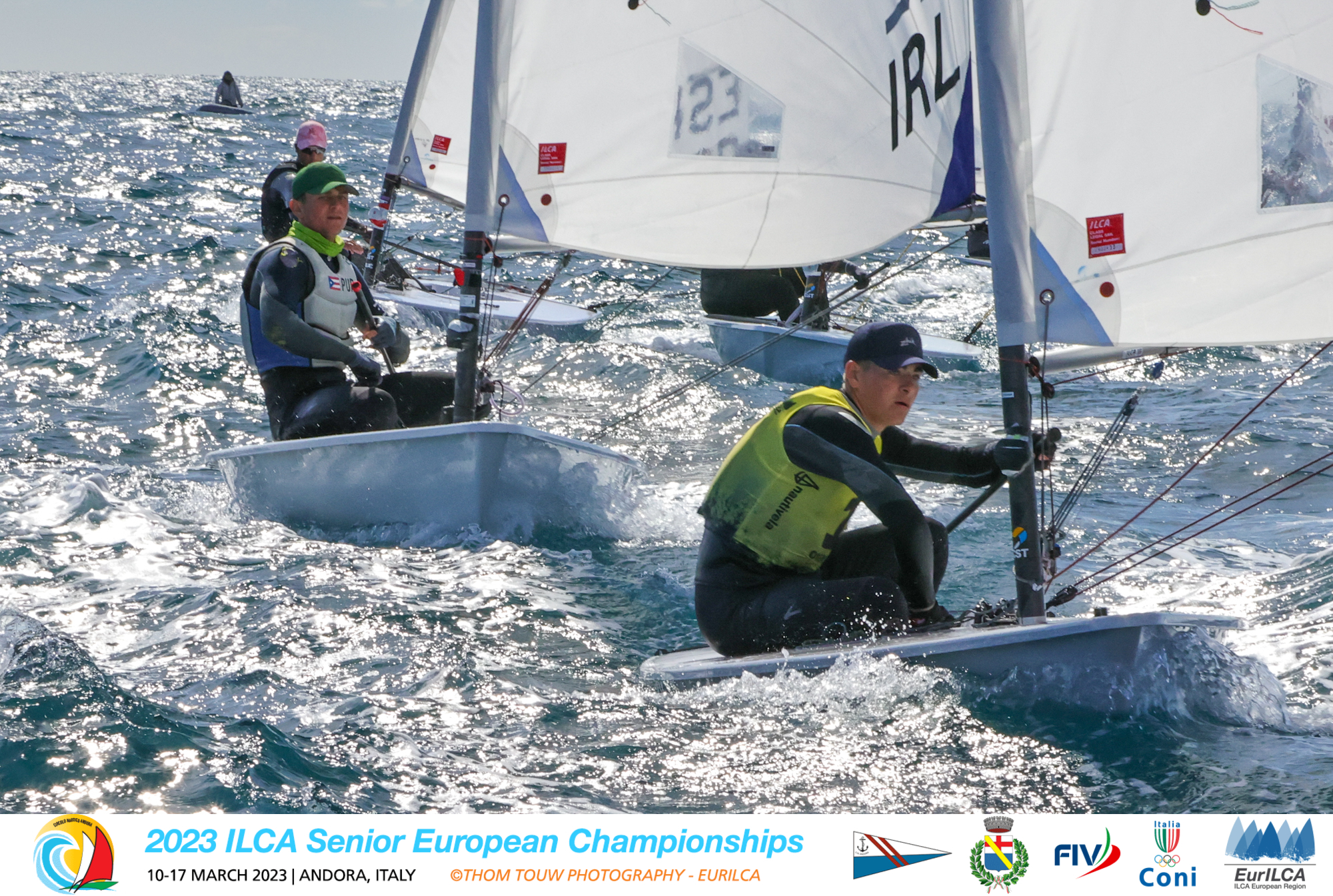 After an eleven race series at the ILCA European Championships (Andora, Italy 17/3/23) defending title-holder Rocco Wright (Howth Yacht Club) emerged with the bronze medal for his event after a close final day of racing.
Mattia Cesana of Italy edged ahead to become the new ILCA6 men's champion.
Along with Greek sailor Athanasios Kyfidi who took the silver on tie-break, the leading trio had enjoyed a week long duel at the front of their 71-boat event in a range of conditions. Although winning second in one of the final day's races, a race win would have been needed to dislodge Cesana.
"Rocco was getting caught in a group on the starts today when he needed to do his own thing," commented Rory Fitzpatrick, Irish Sailing's Head Coach. "He also hadn't been sailing for four weeks as he was recovering from illness."
The ILCA 6 event also saw Fiachra McDonnell (Royal St. George Yacht Club) place ninth overall with some very solid performances over the series that augurs well for the future.
In the men's senior ILCA7 event, Finn Lynch (National Yacht Club) worked back from twin disappointments on Thursday to finish tenth European and the 13th overall in his event.
"It was a very, very up and down week for me, a good start and a decent ending," he said after racing ended. "I was happy with how I was sailing but definitely lots of room to improve."
The series had started with plenty of promise including straight fifth places in the qualification round, setting the Carlow sailor on a good trajectory into the final round.
"Today we tried to be at least top ten of the Europeans and we managed that, it's a good result, a good average but obviously we wanted to be in the fight for the medal," commented Irish Sailing Laser coach Vasilij Zbogar. "But a bad race and a lost protest makes that almost impossible in this tough fleet."
"There are good signs - we're always there (in the top results) which is most important."
Although Ewan McMahon was able to comfortably qualify for the Gold fleet, including a race when he placed second behind Lynch in an unusual 1-2 result for IRL sail numbers, the Howth sailor ended the event in 45th overall.
Meanwhile, his sister Eve rounded off her regatta in the ILCA 6 women's event in 14th in the European Championship. The 19-year old is on her first full season at senior level and is making steady progress after her triple Gold medal season in 2022.
"Eve had a good day and is definitely making progress in the fleet and learning a lot with more to come," commented Rory Fitzpatrick, Irish Sailing's Head Coach. "She doesn't have as much time in the boat as the older seniors but is getting faster and just needs to improve her speed."
The Irish squad are next in action at the Trofeo Princesa Sofia in Palma, Mallorca at the start of April.
For full results from the competition, please follow this link: https://2023-senior.eurilca-europeans.org/
Registered in the Republic of Ireland. Registered No. 81187