Squib haul distributed widely
22 January 2023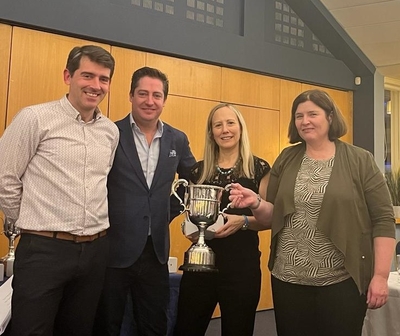 Surging in numbers this year, the Squibbers gathered in HYC for the annual Squib dinner and the 2022 club racing prizegiving. The welcoming and friendly nature of the Squib fleet, plus their involvement in the Taste of Racing, saw club racing participation reach 11 boats this year. In 2023, we welcome Tom McMahon into the fleet and with the return of a few familiar faces we are quietly confident that 2023 will see active boat numbers in the mid teens.
Presenting the prizes, Rear Commodore Gary Cullen commended the Class on its growth and noted the considerable contribution of the fleet to the running and success of various activities in HYC.
Kerfuffle duo, Emmet Dalton and Neil Merry, rocked up to the prizegiving in matching blouses that would make Rod Stewart blush (I only mock because I couldn't pull the look off) to collect first prize in Series 1, 3 and Mini-Series. This year, the most consistent winner in the Tuesday night racing was Simon Sheahan in O'Leary, who took home 2nd prize in Series 1, 2 & 3. Absolutely Fabulous foiled Chatterbox's clean sweep of the Saturday series, with Mary Faherty & Linda Darbey winning first prize in the Saturday Series 1.
Chatterbox team, Jeff & Stephen Kay -- who weren't here on the night and presumed missing in action after the Leinster game -- took first prize in the Tuesday series 2 and in Saturday Series 2 & 3. Worryingly for the rest of the fleet, the pair seemed to take first place whenever they showed up last year, so message to the brothers for this year: get your behinds on the water in 2023 and win more silver!
Aurora's Phil Merry, Puffin's Emer Harte, O'Leary's Simon Sheahan & Cool Beans' Thomas O'Reilly all took home glassware for 1st place wins in the Tuesday HPH results.
--- Report by Thomas O'Reilly, Squib Class Captain
Please click here to visit the prizegiving photo gallery.
Registered in the Republic of Ireland. Registered No. 81187