Additional Marine Services for Members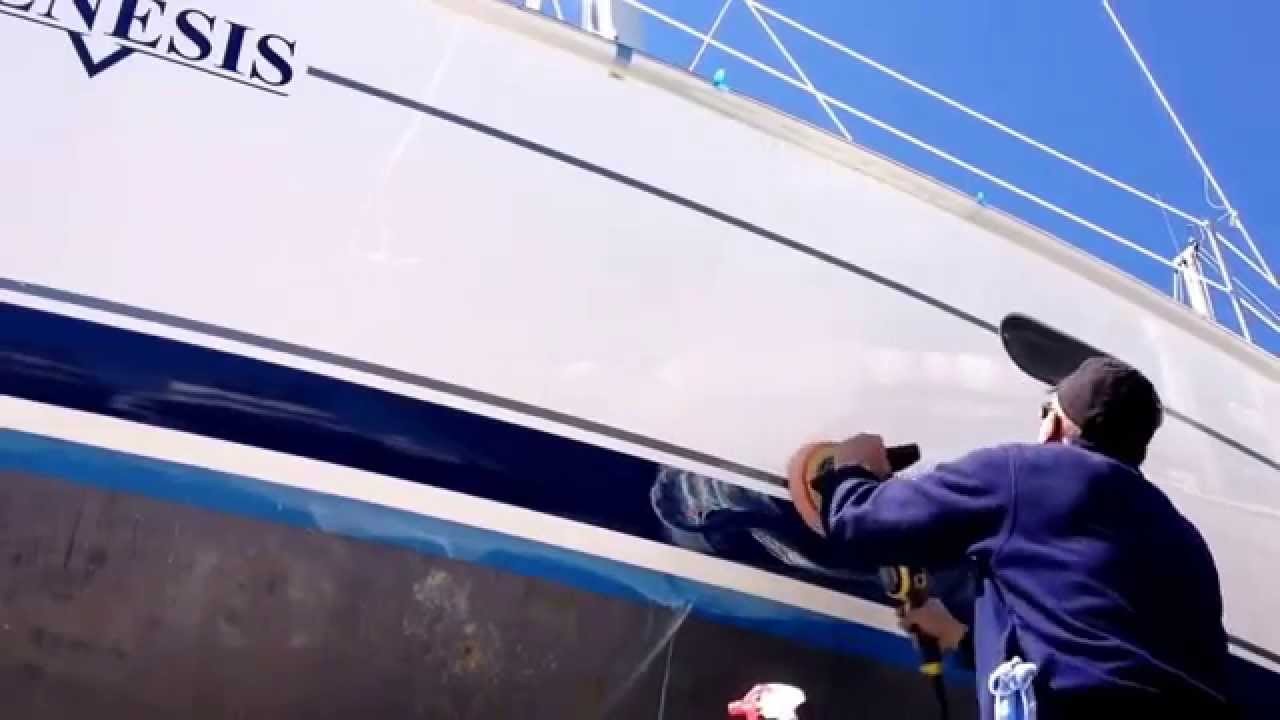 A 'marine services survey' conducted in 2016 indicated strong interest in a number of additional services. The Marina & Harbour Committee are to run a series of pilot schemes to tune the services, pricing, resourcing and actual interest for such services. The following services are initially planned:
Yacht polishing
Boat wash-down
Boat check
Unattended scrub
1. Yacht Polishing
A full restoration polish, with waxing, is designed to restore the hull finish, eliminate minor scratching and scuffing and retain the shine for 2-3 years without refinishing. The process entails a skilled operator polishing the hull mechanically with coarse, medium and fine polishes and similarly graded buffing pads with the option of a synthetic sealant /wax coat to finish which the boat owner may elect to apply themselves. The boat owner would likely scrub, prepare and apply anti-fouling at the same time. These prices are intended to compare closely with private direct labour charges to date but now offered through HYC by fully insured employees.
The rates per metre are as follows:
Polish: €30.00 per metre (LOA)
Wax: €15.00 per metre (LOA)
(Minimum charge 8m boat)
Crane lifts & cradle: €100.25 (rates below)
Collect & return to berth: €40.00
(*Based on a 10m boat)
Note: Member Cradle Rates
7.6 to 9m €103.00
9.7 to 11 m €116.00
11.1 to 12.5m €129.00
Over 12.5m €141.00
2. Boat Wash Down
This is a common basic service. It entails a hose down (not pressure wash) of the decks and sprayhood with a mild detergent. It should take about one hour and is priced at €30.00 for a light-clean and €60.00 for a 'deep clean'.
For heavier soiling a more intensive wash with supplied materials or the boat owners preferred ones is estimated to take up to 3hrs. It may require pressure washing on gelcoat surfaces and standard hose pressure on canvas and teak decks. (note: teak and specialist cleaners are owner supplied).
Boat washes will be performed on Sundays during the Winter Roster. Summer schedule will be reviewed following the pilot.
Priced at €60.00.
3. Boat Checks
Members on the marina and on moorings have expressed an interest in regular checks on their boats whilst abroad or indisposed. All boats on the marina and the marina are checked every morning serious issues requiring attention are reported. The checks envisaged requires on board access and may cover dehumidifier tank empty, bilge check, battery charge check, on deck check of warps, boom cover, furling headsail, halyards etc.. In preparation for the service, the owner will brief the marina service provider on the location and access to the check points in scope. This data will be incorporated into a Service Manual, including copy diagrams from the boat manual, which will be kept on board and at each scheduled or requested check the marina operator will initial, date and time each check and note and report and abnormalities. The boat owner will receive an email or text following a normal check and an additional phone call if action is required.
Boat checks will be performed daily during the morning marina check.
Set-up charge €20 & all checks €20.
4. Unattended 'scrub'
Underside wash down with high-pressure hose and includes the collection and return of the boat to berth/ mooring. This involves the engagement of 2 members of staff.
Price: €80.00 (excludes the crane charge)
For the period of the pilots please book any service by emailing fred.connolly@hyc.ie
Registered in the Republic of Ireland. Registered No. 81187